What Is Loss Aversion?
Loss aversion is when your fear of loss outweighs your joy of gains, and it happens to stock market investors.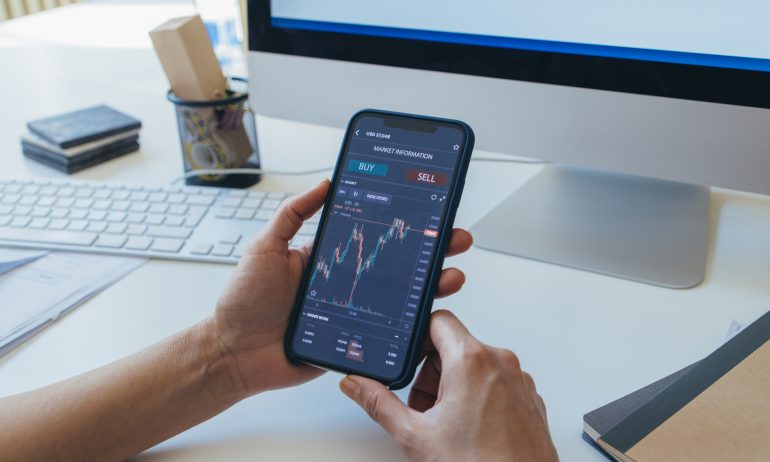 Many or all of the products featured here are from our partners who compensate us. This may influence which products we write about and where and how the product appears on a page. However, this does not influence our evaluations. Our opinions are our own. Here is a list of our partners and here's how we make money.
---
The investing information provided on this page is for educational purposes only. NerdWallet does not offer advisory or brokerage services, nor does it recommend or advise investors to buy or sell particular stocks, securities or other investments.
When the stock market is volatile, like it has been so far in 2022, investors can get nervous. They might even start to think about pulling their money out. This behavior is known as loss aversion bias, when people are more sensitive to losses than gains of a similar value.
Daniel Kahneman and Amos Tversky, the pair who coined the term in 1979, said loss aversion is a cognitive bias in which "losses loom larger than gains."
"For example, a $500 loss hurts us more than the pleasure of gaining $500," Prasad Ramani, a chartered financial analyst, said in an email interview. He's the co-founder of Syntoniq, a Seattle-based behavioral fintech company.
Understanding loss aversion
Individual investors often deal with more loss aversion than institutional investors, says Randy Frederick, managing director of trading and derivatives with the Schwab Center for Financial Research.
That's because individuals might not have the bigger picture in mind, he says. Yes, the U.S. economy is dealing with supply chain disruptions, Russia's invasion of Ukraine and inflation, but it's not all bad, says Frederick.
The Federal Reserve has raised rates and will likely raise them again. But those interest rate increases are an effort to get inflation under control.
"If you take inflation out of the picture, overall the economy is in very good shape," Frederick says.
Michelle Poston, a certified financial planner at Infinitas, based in Overland Park, Kansas, advises investors not to try to time the market and not jump out on a bad day.
The average stock market return is about 10% per year. Sometimes it's lower, sometimes much higher. But Poston encourages retail investors to remember that bull markets (the good economic times) usually outlast the bear markets (the not-so-good economic times).
Where does loss aversion occur?
Loss aversion shows up quite a bit in behavioral economics.
When the market dips, if an investor is close to retirement, or already withdrawing money from an IRA, 401(k) or brokerage account, they may get nervous about losing what they've built, and worry about maintaining their standard of living.
Another example is when people are so fearful they avoid getting started with investing at all.
Tela Holcomb, creator of Trade Your 9 to 5, teaches stock and options trading and investing and says she's seen that firsthand.
Say a person grew up in a single-parent household and struggled to get ahead, says Holcomb, who's based in Las Vegas. Then, perhaps they're scared to start investing because any potential losses might mean they'll be back to struggling financially.
But she tells clients that investing is for the long run, and investors should remember that.
"You are buying it for years to decades," she says. "You don't want to allow day-to-day news or movement to affect you."
To minimize loss aversion, keep the facts, not feelings, in mind.
Frederick says to remember that the markets can't go all the way to zero. Even if you lose some money in the short-term, if you have a long-term investing strategy, and a long-term focus, now may still be a good time to buy stocks.
"I can't tell you where the bottom is, or how far down it will go, but it will come back. Historically it always has," he says. "I often tell people there aren't many places in life where procrastination pays off. Investing is one of those. It's paid off nicely for 200 years."
Poston says if you have a financial advisor, talk to them before you make any emotion-based decisions.
If you have a well-diversified portfolio, she says you can still benefit from investing in the market. And don't forget, if you act on your concern about loss, you're giving up all upside potential during the recovery phase.
And loss aversion has another downside, too, Poston says.
If investors are too conservative with their investments, they could risk running out of money. Holcomb says many times, people panic and make emotion-based decisions because they don't have a plan.
"Think about what kind of news or circumstance could that company find itself in that would make you take your money out," she says. "That will help you calm your nerves because you have a plan if it were to happen."
Ramani recommended a three A's approach: Awareness, Analysis and Action.
He said that to avoid making emotion-based decisions, first be aware that emotions can lead to poor decisions. Second, he said, analyze how prone you are to particular decision-making biases, and third, come up with steps to de-bias yourself, so you don't act on them without careful thought.
Holcomb works with a lot of people of color who are new to investing and are wary of risk. However, she says she tells all of her clients to start investing sooner rather than later to take advantage of compound interest.
And she says she knows it's scary to be the first person in your family to invest in the stock market, but to build generational wealth, someone has to be the first.
"It is one of the easiest places to build wealth," she says. "It's been a space that previously hasn't been so easily accessible to us [people of color], and the time is now."
Ramani said investors should understand that loss aversion is just one factor that influences their decision-making.
"Also, no behavioral trait is 100% good or bad; they all tend to have both good and bad sides, which we can use to our advantage. Gaining a good understanding of one's behavioral tendencies can help us become significantly better at investing."
Advertisement
Fees

$0

no account fees to open a Fidelity retail IRA

Promotion

Up to $600

when you invest in a new Merrill Edge® Self-Directed account.

Promotion

Free

career counseling plus loan discounts with qualifying deposit

Promotion

None

no promotion available at this time
Get more smart money moves – straight to your inbox
Sign up and we'll send you Nerdy articles about the money topics that matter most to you along with other ways to help you get more from your money.