Social Security Full Retirement Age: What to Know
The age at which you retire can have a big impact on your finances. Here's what you need to know.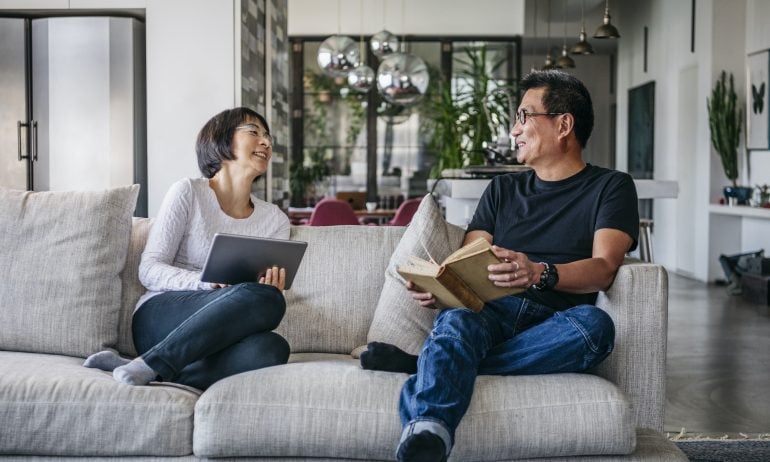 Many or all of the products featured here are from our partners who compensate us. This may influence which products we write about and where and how the product appears on a page. However, this does not influence our evaluations. Our opinions are our own. Here is a list of our partners and here's how we make money.
---
The investing information provided on this page is for educational purposes only. NerdWallet does not offer advisory or brokerage services, nor does it recommend or advise investors to buy or sell particular stocks, securities or other investments.
Full retirement age for Social Security
The full retirement age ranges from 66 to 67, depending on your year of birth. If you were born in 1960 or later, the retirement age is 67 years old. However, if you were born before 1960, use the tool below to find out when you can celebrate and start cashing out.
Before 1983, the full retirement age was 65, but it has since changed. Congress raised it because people were living longer and getting healthier as they age.
Finding your full retirement age
While you can choose to retire at any age, if you're relying on Social Security benefits to retire, the age you choose matters. How much you receive from Social Security every month depends in part on how much you've earned, your age and when you start claiming benefits.
The earliest you can begin claiming Social Security benefits is age 62, but there is a catch: By claiming early, you'll get a reduced monthly benefit. For someone whose full retirement age is 67, starting benefits at age 62 means taking a nearly 30% monthly hit.
On the flip side, if that person waits until age 67 to draw benefits, they'd get 100%. From there, it gets better; if they can hold off until 70, their monthly take could increase by as much as 8% a year. (There is no incentive to claim after age 70.)
Retirement age calculator
Need to figure out when you can retire? Use the calculator below to find out.
How to determine when to start Social Security benefits
How long your family members tend to live
If you come from a healthy genetic stock — lots of relatives who became octo- and nonagenarians — and you also expect to live long and prosper, waiting to file until age 70 may be the better way to go. Extra padding on Social Security checks can come in handy if there's a good chance you might outlast the rest of your investment income.
But filing early can ease the financial burden if you're dealing with pricey health issues, especially if you stop working and lose access to employer-provided health insurance before you're covered by Medicare. If those health issues mean you may have a shorter life expectancy, waiting to take benefits simply may not be worth it — unless you're looking to boost your surviving spouse's future benefits. (There's more on this below.)
Whether you're still working
Once you reach your full retirement age, you can continue to work and still get your full Social Security benefits penalty-free. Individuals under full retirement age for the entire year who have already begun claiming benefits and earn over the annual limit will be penalized with a $1 deduction from their benefit payment for every $2 earned above that limit ($18,960 in 2021 and $19,560 in 2022). You'll still get credit for those earnings, and the SSA will recalculate your benefit once you reach full retirement age.
If you're eligible for benefits on someone else's record
If you're half of a twosome — even a divorced twosome (if married over 10 years) — the effect of all the issues above should be considered for both parties and, if living together, on you as a couple. For example, a spouse in poor health may want to start benefits earlier while the healthier one delays filing. Or if you're the higher earner, you may want to delay receiving a heftier benefit while you're still alive and, if you die first, leave behind higher survivor protection for your spouse.
If you want to invest the cash
Nowhere does it say you're required to spend the money you get from Social Security. You can invest it in stocks, bonds, real estate or whatever. (We lay out a range of options in a piece on how to invest money.)
One investment-related thing you cannot do with Social Security money is count it as "earned income" to qualify for contributions to an IRA. However, you can still invest via a regular taxable account. Just remember that in the short term, some investments can be very volatile and not appropriate for any cash you know you'll need in the near term (the next five years or so). Weigh that against the guaranteed return you would get on your money by waiting to file and amassing more delayed retirement credits.
The most common age to retire is 62 according to the U.S. Federal Reserve. Though this coincides with the earliest age you're eligible to draw Social Security, when you retire doesn't necessarily have to revolve around Social Security or retirement account rules. Often it will depend on how much you have saved.
According to the IRS's 2021 Retirement Readiness Among Older Workers research series, about a quarter of respondents have no retirement savings. Half have saved less than $250,000 (with half of those respondents having less than $50,000).
A 2021 Gallup poll of retired Americans found that 32% retired between the ages of 60 and 64 while 24% retired over 65. Only 9% retired under 55.
Many people consider their eligibility for various retirement benefits alongside their personal financial situation to pinpoint their optimal retirement age.
Advertisement
Fees

$0

per trade for online U.S. stocks and ETFs

Promotion

Up to $600

when you invest in a new Merrill Edge® Self-Directed account.

Promotion

Get $100

when you open a new, eligible Fidelity account with $50 or more. Use code FIDELITY100. Limited time offer. Terms apply.

Promotion

Get up to 12 free stocks (valued up to $30,600)

when you open and fund an account with Webull. Promotion ends 8/31/2022.
Other retirement ages to know
65 (you enroll during the seven-month period surrounding your 65th birthday).

Missing the initial enrollment period for Medicare Part B can result in a late penalty — a 10% increase in monthly premium for each 12-month period.

Roth individual retirement account

Distributions are allowed beginning at age 59 ½.

You can withdraw contributions to a Roth IRA penalty-free at any age. If you make a nonqualified distribution of earnings before age 59 ½, you may owe taxes and a 10% early withdrawal penalty.

Traditional IRA, 401(k), 403(b), SEP IRA, SIMPLE IRA

Distributions are allowed beginning at age 59 ½.

A 10% early withdrawal penalty for taking nonqualified distributions before age 59 ½.
Think it through and get a second opinion
Deciding when to flip on the Social Security benefits switch isn't a decision to make lightly. Once you start taking benefits, the amount you receive sets the base for how much you'll get for the rest of your life. Also, annual cost of living adjustments will be based on that amount.
For context, the average monthly Social Security benefit paid out in 2020 was just over $1,500. For today's seniors, that represents a major income artery — roughly one-third of the money they have to live on, according to SSA data.
You get one do-over in your lifetime: If you start receiving Social Security benefits, then decide you can hold out longer to get a higher payout, there's a 12-month window to change your mind and repay the money you've already received. Not sure where you stand today? The SSA's retirement estimator provides a ballpark benefit amount based on your actual Social Security earnings record.
If you find you have more questions on Social Security issues, a financial advisor can help you run through various scenarios taking into account the income streams available to you, ongoing investment returns, taxes and other parts of retirement planning.
Deciding when to take Social Security is a decision that will affect the rest of your life. Hiring a pro to talk you through the options can be a worthy investment.
Get more smart money moves – straight to your inbox
Sign up and we'll send you Nerdy articles about the money topics that matter most to you along with other ways to help you get more from your money.