Survey: Crypto Is Popular but Plagued With Misconceptions
Cryptocurrency is a mystery to folks who don't use it and a source of confusion even for those who do.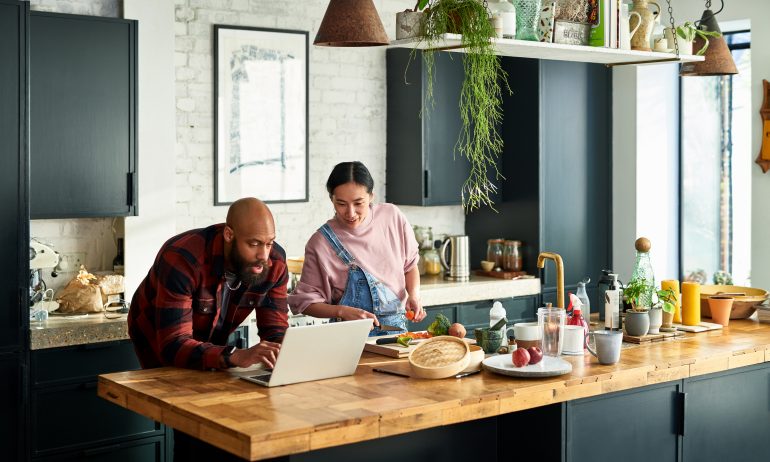 Many or all of the products featured here are from our partners who compensate us. This influences which products we write about and where and how the product appears on a page. However, this does not influence our evaluations. Our opinions are our own. Here is a list of our partners and here's how we make money.
---
The investing information provided on this page is for educational purposes only. NerdWallet does not offer advisory or brokerage services, nor does it recommend or advise investors to buy or sell particular stocks, securities or other investments.
People without cryptocurrency may view the crypto market's 2022 upheaval with a cursory glance — they have no skin in the game. But many Americans are invested in crypto, according to a new NerdWallet survey, and misunderstandings about their investments could be detrimental when things are volatile.
An estimated 64 million Americans owned cryptocurrency, according to and at the time of the NerdWallet survey, conducted May 25-27 online by The Harris Poll among more than 2,000 adults. Then, relatively early in the current crypto market upheaval, more than half (54%) of those investors said they'd sell off their crypto if the market seemed unstable. For those who have left the market, and those enduring the current ride, understanding the concepts around this novel and developing monetary vehicle is crucially important.
Editorial note: Throughout this report, "current" crypto owners and investors refers to those who owned crypto at the time of the survey fielding.
Cryptocurrency is complex — more than two-thirds (68%) of Americans say they don't fully understand the concept and how it works, according to the new survey. Perhaps even more telling — 37% of current crypto investors feel the same way.
"The technology behind cryptocurrency is complicated, and many of the concepts are being put to the test using real money provided by everyday investors," says NerdWallet investing writer Andy Rosen. "Especially now, people involved with crypto should do their homework and make sure they really understand what they're dealing with."
One in 4 Americans (25%) currently own cryptocurrency. Men at 33% (vs. 16% of women); millennials at 42% (vs. 31% of Generation Zers, 27% of Generation Xers and 7% of baby boomers); and Black non-Hispanic Americans at 32% (vs. 29% Hispanic and 20% white non-Hispanic Americans) are among those more likely to own crypto.
Average value of crypto indicates both small and large investors. On average, current crypto owners say their investments value $5,512. But 1 in 5 current crypto owners (20%) say the value is less than $100.
Investment diversification is the most common reason for owning crypto. Among Americans who have ever owned crypto, 48% say it was to diversify their investments. Nearly one-third (31%) cite popularity on social media.
Cryptocurrency is a puzzle even for current crypto owners. Almost two-thirds (64%) of current crypto owners say the concepts around cryptocurrency are needlessly complex, and 37% say they don't fully understand the concept of crypto and how it works.
Advertisement
Fees 

0% - 3.99%

varies by type of transaction; other fees may apply

Promotion 

Get $200 in Crypto

when you sign up. Terms Apply.

Promotion 

None

no promotion available at this time

Promotion 

Get $5 in Crypto

after opening a Webull account, activating crypto trading, and completing one [1] crypto trade before 3/31/2023.
The state of crypto ownership
For those not invested in cryptocurrency, it might seem like a trend, used by only the most technically inclined and younger generations. But this isn't necessarily true — many Americans own crypto, and some hold thousands of dollars of value in it.
Roughly one-third (32%) of Americans have owned crypto, and 1 in 4 (25%) currently do, according to the survey. The rate of crypto ownership varies fairy widely across some demographics:
Men are more likely than women to own cryptocurrency (33% vs. 16%).

Younger generations, and particularly millennials, are more likely to own crypto (31% of Gen Zers, 42% of millennials, 27% of Gen Xers vs. 7% of baby boomers).

Both Black non-Hispanic Americans (32%) and Hispanic Americans (29%) are more likely than white non-Hispanic Americans (20%) to currently own the currency.

Parents of children under 18 years old are more likely than Americans without children under 18 to have crypto (41% vs. 16%).
How much they're investing
The median value of crypto held by these investors is $500, though a smaller share of big-dollar investors pushes the average up to $5,512.
This wide difference between the median and average could indicate some people are trying their hand with the investment with some discretionary income or "fun money," while others see it as a larger investment vehicle.
One in 5 (20%) crypto owners say their crypto is currently valued at $100 or less. At the other end of the spectrum, about 1 in 5 (21%) say their crypto is valued at $5,000 or more.
Why they're choosing cryptocurrency
Crypto could be seen as the trendy cousin of traditional investment. Its newness on the scene could explain why some people choose not to invest. Jumping on a bandwagon because TikTok told you to might seem like a scary approach when we're talking about money. But this newness and popularity are precisely the reasons some crypto owners have dived in.
The most commonly cited reason among Gen Zers who have ever invested in crypto was popularity on social media (45% of this generation cited this reason versus 32% of millennials, 24% of Gen Xers and 11% of baby boomers).
What results are they seeing
More than four-fifths (83%) of current crypto owners view the currency as a long-term investment. And like other long-term investments, it's bound to see ups and downs.
Crypto investors' results are mixed — 50% of current owners say they've lost more money than they've gained investing in the currency. One might expect a similar share to regret getting into crypto, because of those losses, but just one-third (33%) of current owners regret investing in cryptocurrency.
It isn't clear how many of these investors plan to stay committed. But the survey found more than half (54%) of current crypto owners say they'd sell off their cryptocurrency if the market seemed unstable.
Despite this, nearly 4 in 5 (81%) of current crypto owners say they wish they would've started investing in the currency sooner.
"We've all read stories about people who bought into projects early and are now millionaires, but these successes are just one part of the story," Rosen says. "With any investment — crypto or otherwise — it's wise to think long-term. If you believed in the potential of crypto before, ask yourself whether this market turbulence has really changed your opinion of its ultimate value."
Understanding crypto is not an easy task, and 37% of current crypto investors say they don't fully understand the concept of crypto and how it works. Even some of those who do understand the ins-and-outs admit they're hard concepts to grasp — 64% of current investors say the concepts around cryptocurrency are needlessly complex.
Here's where some of their knowledge is lacking:
Tools for crypto ownership and transacting
About half (49%) of all current crypto owners think holding crypto on an exchange means the same thing as having it in their crypto wallet. It doesn't. You can store your cryptocurrency on an exchange, where the platform offers convenience and some assurances of security. But a crypto wallet is your personal storage, one that uses a private key to ensure you're the only one spending or trading your digital currency.
Roughly 1 in 5 (21%) crypto owners are unsure whether a private key can be used to prove ownership of crypto assets, and 8% believe it can't. It can. A private key is a random series of letters and numbers used to keep your crypto secure in your crypto wallet. It's similar to a password in that only the owner has access.
About 2 in 5 (39%) of current crypto owners say they don't fully understand the tax implications of transacting with (e.g., mining, buying, selling) crypto. And there are tax implications. Namely, there are two primary actions that create a tax requirement with crypto: acquiring crypto through mining, and selling crypto or using it for a purchase.
More than half (55%) of current crypto owners don't think capital gains and losses on crypto are taxed in the same way as other investments. But they are. If you sell or use crypto for a purchase, and the value is higher or lower than the value when you first acquired it, you must account for this. Higher and you'll need to pay capital gains; lower and you may be entitled to deduct a capital loss.
Mining and crypto generation
Creating crypto is arguably one of the most complex crypto concepts. According to the survey, 28% of crypto owners obtained the currency through mining, and 27% through staking or rewards programs. Both mining and staking are methods of crypto generation.
Nearly 3 in 5 (59%) crypto owners think all cryptocurrency can be created through both crypto staking and mining. In fact, many cryptocurrencies don't support staking. Bitcoin, one of the most popular cryptos, is just one example.
Nearly half (48%) of current crypto investors don't know that some cryptocurrencies use more electricity than some entire nations. Crypto mining consumes massive amounts of energy. For example, at the time of this report, Bitcoin uses more energy than the entire country of Finland.
Tips for prospective crypto investors
Nearly 7 in 10 (68%) Americans have never owned crypto. This group marks a massive potential pool of first-time investors. The behaviors and misconceptions of current crypto owners can offer some tips for the curious:
1. Get informed. Before you put your money in any investment, it's worth taking time to learn the ins and outs. NerdWallet's library of crypto content is a good place to start. In general, seek out information from reputable sources, whether you prefer to consume it on YouTube or from a financial advisor.
If you're learning from social media, friends and family, make sure to fact-check what you hear. Your loved ones may not intentionally lead you astray, but, as this survey shows, most people find the topic confusing and many crypto owners aren't fully informed.
2. Take inventory of your long-term financial goals. Cryptocurrency is an investment, and a relatively risky one at that. You're likely to see volatile movement — both up and down — in your crypto portfolio. Because it's riskier than, say, index funds, one general rule of thumb is to keep it (and other risky investments) to no more than 5 to 10% of your portfolio.
Before you inject too much money into it, you may also want to consider whether you're on track for retirement and other long-term financial goals. If not, crypto may not be the right thing to bank your home purchase or retirement on.
3. It's OK to start small. Even professional crypto investors have struggled to account for the factors that are driving values in the crypto market. If you're interested in learning about this new field, beginners have the ability to try things out when crypto prices fall, without putting large amounts of money on the line.
"With an emerging investment class like crypto, a modest sum can go a long way," Rosen says. "If it delivers the eye-popping returns your buddy told you about, great. But if you catch the market on a downward turn, you'll be glad you didn't risk your financial health."
Get more smart money moves – straight to your inbox
Sign up and we'll send you Nerdy articles about the money topics that matter most to you along with other ways to help you get more from your money.