What Is a Captive Auto Lender?
Know the pros and cons of choosing captive auto loan financing.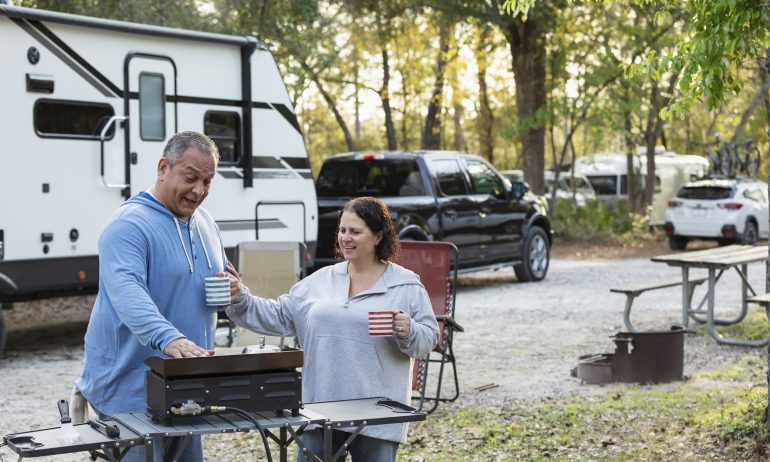 Many or all of the products featured here are from our partners who compensate us. This influences which products we write about and where and how the product appears on a page. However, this does not influence our evaluations. Our opinions are our own. Here is a list of our partners and here's how we make money.
Captive auto lenders — the financing subsidiary of auto manufacturers — make loans and leases for the specific car brands they sell. Examples of captive lenders, also called captives, include Ford Credit, GM Financial, Toyota Financial Services and Hyundai Motor Finance.
Often, when you get a car loan at a dealership, the loan will be through a captive auto lender. In the second quarter of 2023, captives held 29% of the total vehicle financing market and 58% of new vehicle financing, up from 47% in the previous year, according to Experian's State of the Automotive Finance Market Report.
What are the pros of financing with a captive auto lender?
Captive auto lenders have an interest in selling their parent company's cars, so they tend to offer more attractive financing to help move those cars. Captives also claim to have more flexibility in tailoring terms and incentives for car buyers than other lenders. Here are some examples:
Special financing and cash-back offers
When you see special financing offers, like 0% APR or 1.99% APR, those deals are being offered by a captive auto lender. Other auto lenders, like banks and credit unions, can't compete with these low rates. However, such low rates are usually available only to borrowers with very good and excellent credit.
Some auto manufacturers also offer cash rebates, which you can put toward reducing your loan amount. These cash offers may be restricted to financing with the car maker's captive lender, or they may be available no matter where you finance.
Usually, if both a special APR and rebate are available for a car, you can choose only one.
Special auto loan financing and rebate offers aren't as common as they were before the pandemic. You can check car manufacturer or captive lender websites to find what offers might be available and see details on qualifying.
Simplified car financing and buying
Captive auto lenders usually have online applications where you can pre-qualify or get preapproved for your car loan before going to a dealership. You will still need to finalize the loan at the dealership but will have much of the application process complete.
For example, Ford Credit offers an online application with pre-qualification to give you an idea of how much you can finance before going to a Ford dealership or shopping for a Ford vehicle online. The pre-qualification uses a soft inquiry on your credit report, so there isn't an inmpact on your credit score. The application shows the nearest Ford dealerships, and you can opt to have your application sent to your preferred dealer.
"When you order a vehicle, financing approvals are good for up to 180 days. And Ford protects any low APR or other incentives until the vehicle is delivered," Craig Carrington, executive vice president, Ford Credit North America said in an email.
When you finance with a captive lender, you will typically be able to manage your loan through the lender website. Carrington notes that Ford Credit customers are able to change their loan due date, get a loan payoff amount or get lease-end information online.
You may be asked for consent to send your application to additional finance companies when you apply to a captive lender online or at a dealership. Often these other finance companies are banks or credit unions. If you agree, it may help you find the lowest rate, but it could result in multiple hard inquiries on your credit report.
What are the cons of captive auto financing?
There aren't a lot of disadvantages to using captive auto financing, especially for borrowers who are able to be approved for a below-market interest rate. However, here are a few items to be aware of:
Shorter terms and higher payments
The lowest interest rates offered by captives are usually available for shorter loan terms only, such as 36 months. If you want a 60-month loan to keep your monthly payment low, that may be possible only with a higher rate.
Comparing with noncaptive lenders
If you go straight to a dealership and take captive financing without comparing other lender offers, you could miss out on a better rate. Dealerships may have a greater incentive to steer you toward their brand's captive lender instead of other lenders.
In many cases, the captive lender's rate will be the lowest rate you can find. However, if the rate you're offered is close to market rates, you might benefit from getting auto loan preapproval with a different lender, such as a bank or credit union. If you do find a lower rate, present it to the dealership to see if the captive lender can beat it.
Also, if a cash rebate is on the table, and you can't use it with captive lender financing, weigh your options. Would you save more by taking the rebate and using it with a noncaptive lender's financing?
Car buyers with bad or no credit
Those with poor or no credit, won't qualify for the lowest rates offered by captive lenders. On the positive side, they might have a better chance for approval than with other lenders.
Captive lenders aren't just looking to make a loan; they also want to gain a repeat car buyer. That's why some captive lenders do take into account more than just credit scores when approving auto loans.
"While we can't finance everyone who applies, we work hard to identify people who are good auto credit risks, even if they have limited credit experience or less-than-perfect credit scores," Carrington said. "We look at the customer in total."
Get more smart money moves – straight to your inbox
Sign up and we'll send you Nerdy articles about the money topics that matter most to you along with other ways to help you get more from your money.