How Much Does a Car Inspection Cost?
Car inspections can look at safety standards, emissions or used-car issues and vary in price depending on the type.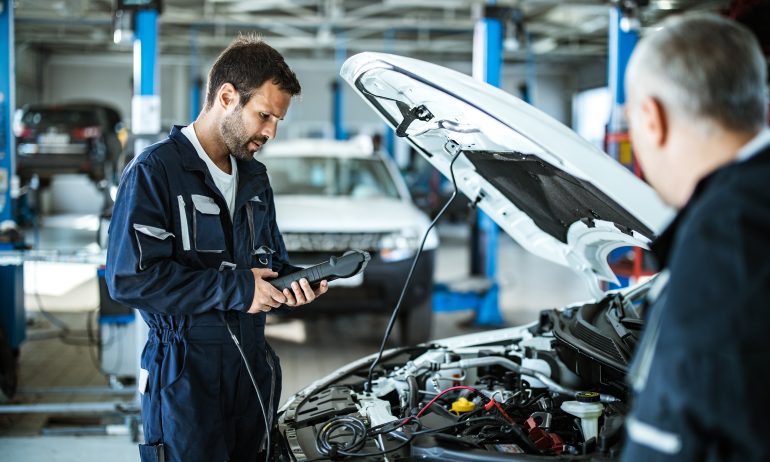 Many or all of the products featured here are from our partners who compensate us. This influences which products we write about and where and how the product appears on a page. However, this does not influence our evaluations. Our opinions are our own. Here is a list of our partners and here's how we make money.
Car inspections are not only part of maintaining a car — in some states, they're required for car registration. But they can also pop up when you're looking to purchase a used car.
How much you'll pay out-of-pocket for an inspection depends on the type you need, the state in which you live and the kind of car being inspected. While these inspections are not a large part of the total cost of car ownership, they can alert you to the big issues that are.
When budgeting for a car inspection, it's important to understand the type of inspection you need.
A safety inspection looks at how well your car drives and whether it's safe to operate on the roads. These are mandatory in some states, either annually or biannually.

Emissions testing measures how well your exhaust system is working to avoid unnecessary pollution. These are mandatory in 33 states, either annually or biannually.

A used-car inspection looks at the condition of a car you plan to purchase from a dealer or private party. An inspection is recommended but not mandatory.
Not all states require safety inspections; states that do mandate them have their own requirements for what inspections evaluate and how often cars have to have them. Most inspections will check your car's basic safety features to look for issues such as:
Tire problems, such as worn tread on primary and spare tires.

Brake wear and tear on brake pads and rotors, including brake fluid leaks.

Loose steering and alignment that can affect driving.

Damaged suspension, including shock absorbers.

Cracked or chipped windshield that can obstruct your view.

Dysfunctional seat belts that won't operate properly during an accident.
If you're moving to a new state, check requirements for registering your vehicle to find out if you need a current car inspection.
Cost of safety inspections
If your state requires a safety inspection, you should plan to spend from $10-$50, on average. There are several factors that can affect the total cost of a safety inspection.
The cost to have your car inspected varies by state. Delaware provides inspections for free. Most states that require safety inspections set a limit on how much inspectors can charge. In those few states that leave it up to individual shops to set prices, a safety inspection usually doesn't cost more than around $50.
Where you get it inspected
Depending on your state, you might have the option of going to a state-run facility or using a private shop with trained technicians. These options might charge different rates in states where the prices are not mandated.
An inspection for a new vehicle, motorcycle, moped or trailer might cost less than one for a standard used car. The actual price difference will depend on state regulations.
Inspections for new cars are likely to cost less within the first few years because a new car is unlikely to have developed any issues in that time. For example, Texas discounts the cost of safety inspections for cars that are 2 years old or newer from $25.50 to $7.
Some states will also adjust inspection prices for vehicles that were made before a certain year. While North Carolina exempts vehicles over 30 years old from annual safety inspections, Texas offers a discount for vehicles that are over 25 years old.
Some states offer inspection exemptions based on car designations such as classic, vintage or antique. Check your state's requirements to see if your vehicle qualifies.
Some states require emissions testing, also known as smog checks, to measure pollutants in a car's exhaust. An emissions test looks at two aspects of your car:
How well your systems that affect emissions — such as transmission and fuel system — are operating.

How much of certain pollutants are emitted from the exhaust system.
Requirements for passing emissions inspections vary by state and can even vary by car age and type of fuel used.
If your car fails an inspection and requires repairs, consider asking for a waiver. If your state offers one, you might be able to avoid some repairs or get an extension of the time you have to complete them.
Cost of emissions testing
The average cost of emissions testing runs from $10-$50. Like with safety inspections, there are a few factors that can affect how much you have to pay.
Not all states require emissions testing, and some states only require emissions testing, but not safety inspections. Some states, like North Carolina, only require emissions testing in certain counties, so requirements depend on where you live in the state. In states where prices are dictated, your state, county or even city can determine the maximum rate that an inspection station can charge you.
Gas-powered vehicles produce emissions whenever they're driven, but hybrid vehicles only create emissions when using gasoline as fuel. And fully electric vehicles don't create emissions when they're driven. Because of this difference, many states exempt all-electric vehicles from emissions testing.
Most vehicles made in 1995 or earlier must be tested for emissions using a different method than the one used on newer cars. Depending on your state's requirements, this could affect the total cost of emissions testing.
Some states only require emissions testing, but not safety inspections. Others combine the two into a single cost. Research your state's requirements to better estimate the total cost of meeting your state's standards.
Buying a used car can be a gamble. One way to lessen the gamble is to get a proper used-car inspection. How you go about the inspection can determine how much you'll pay out-of-pocket.
Some dealerships offer certified pre-owned vehicles. These are usually gently used cars with low mileage that have been inspected by the dealership. Certified pre-owned vehicles often undergo a more rigorous inspection than that performed for an annual inspection and often come with a warranty that's not offered for non-certified vehicles.
While you won't pay for the dealership's inspection separately, you will pay for the more in-depth inspection and repair process with a higher price tag for a certified pre-owned car. On average, you can expect to pay around 17.5% more than you'd pay for a non-certified used car. To put that in perspective, for a $20,000 used car, that could tack on an extra $3,500 to the total price. But look at it as paying for peace of mind, knowing that you're less likely to have to pay for repairs in the near future.
If you're not buying a certified pre-owned vehicle, it's a good idea to have a used-car inspection before you buy to ensure the vehicle is safe to drive, meets state requirements and has no underlying mechanical issues. This is especially true if you're buying the car from a private owner. If you're purchasing a used car from a dealership, the dealership should have already inspected the vehicle; however, if you want to ensure that the dealership is being honest about its condition, you can hire a third-party mechanic to do a second inspection for you.
If a dealership doesn't work with you if you want to hire a third-party mechanic to inspect a car, it's best to look for a vehicle elsewhere — it could be a sign that they're hiding something.
You pay upfront when you schedule a third-party inspection. The inspection often looks at general safety standards along with issues related to used cars, including:
Frame damage from an accident.
This type of third-party inspection can run you from $100 to $300, depending on who you hire and the type and age of your vehicle.
Want to refinance your auto loan? See if you pre-qualify.
Just answer a few questions to get personalized results from our lending partners.
Get more smart money moves – straight to your inbox
Sign up and we'll send you Nerdy articles about the money topics that matter most to you along with other ways to help you get more from your money.