How Much Does a Car Starter Cost?
How much you pay depends on your car model and budget, but you could usually expect to shell out $70 to $425.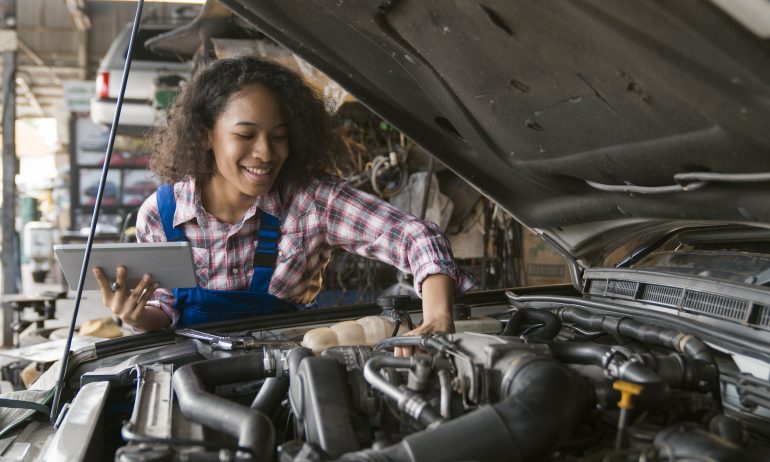 Many or all of the products featured here are from our partners who compensate us. This influences which products we write about and where and how the product appears on a page. However, this does not influence our evaluations. Our opinions are our own. Here is a list of our partners and here's how we make money.
A new car starter can cost $70 to $425, and installing it can cost you several hundred dollars to $1,000 or more.
The final cost will depend on your car, where you buy the starter and how you install it. If you research and consider your choices, you can likely find an option that will fit your budget.
Average car starter lifespan
A car starter can give you around 80,000 starts before you should expect it to struggle, regardless of the mileage you drive. This is around 150,000 miles for some cars, while some starters can last the vehicle's life.
Like all car parts, starters are affected by factors such as time and climate. As a result, they're susceptible to wear and tear, and you place a demand on the part every time you start your car. Car starters also tend to last longer in warmer climates, so driving in harsh winters could shorten a car starter's lifespan.
A quick search of a retailer's inventory shows you can purchase a car starter on your own for anywhere from $70 to $425. Of course, the average cost depends on your car model, but most car starters will be in the middle of that range for non-luxury cars.
Electric vehicles don't have starter motors like gas- and diesel-powered cars. Instead, electric cars provide electricity to the motor, similar to how a light switch works.
Factors that affect car starter cost
Not all car starters are mounted in the same place. Some car models require more time for a mechanic to access and remove the starter before replacing it. You will likely pay more labor costs if the mechanic needs to work more to access the starter.
The brand and model of car starter you install will depend on your car's engine design. If you drive a luxury or oversize vehicle, your options are likely to be more expensive than those for cheaper or smaller cars.
Here are a few examples of available price ranges for starters for different makes and models of vehicles.
Cheaper options are available with refurbished or remanufactured starters. These are often available at major auto parts stores; some come with warranties, though they might be limited in what they cover.
The ring gear is a circular gear that engages the starter to turn over the engine. A broken ring gear means even a new starter isn't going to get your car running. If you need a ring gear along with a starter, you can plan on adding around $180 to the total cost.
While you might be able to save money purchasing the parts on your own from a retailer, you run the risk of buying the wrong model, whereas a dealership or mechanic will be able to order the exact part you need. Ordering through a professional will also likely come with a warranty on the parts and labor.
If you decide to have a professional install the starter, you will need to budget for the cost of labor, which is often an hourly rate. Depending on where the starter is located in your engine and how difficult it can be to access, it can take an hour or a few hours to complete the installation. This is going to affect your total cost.
A reliable car starter can't be underrated, and you don't want to go cheap on replacing a bad one. However, you can do a few things to avoid overpaying.
Ask for a quote upfront. Regardless of where you plan to take your car to have a starter installed, ask for a quote on the parts and labor.
Compare quotes. If you can, talk to more than one shop to compare quotes. While the parts might cost around the same amount, other fees might differ from one shop to another.
Ask if the quote is for OEM parts or aftermarket. Original equipment manufacturer parts are sold by the same manufacturer as your car and guaranteed to fit and work the way they're supposed to. However, they are often more expensive. If you are comfortable using aftermarket parts, ask for a quote using them instead and see what the price difference would be.
Install it yourself. If you have the right tools and a working knowledge of cars, you can save labor costs by installing the starter on your own. YouTube videos can be a big help. But fair warning: If you mess something up, you might have to pay more to fix it.
Want to refinance your auto loan? See if you pre-qualify.
Just answer a few questions to get personalized results from our lending partners.
Get more smart money moves – straight to your inbox
Sign up and we'll send you Nerdy articles about the money topics that matter most to you along with other ways to help you get more from your money.