Know Your Car's Maintenance Schedule to Keep Service Costs Down
There can be a huge disconnect between what your car actually needs to keep it rolling and what the service advisors at the dealership recommend.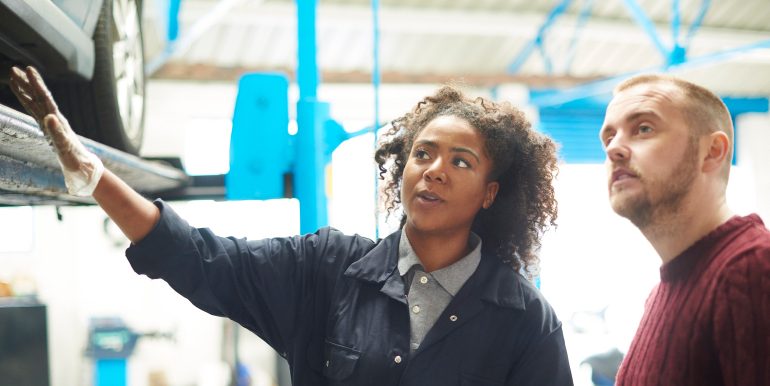 Many or all of the products featured here are from our partners who compensate us. This influences which products we write about and where and how the product appears on a page. However, this does not influence our evaluations. Our opinions are our own. Here is a list of our partners and here's how we make money.
You're stuck in traffic with nothing to do when the sticker in the upper-left corner of your windshield catches your eye. It says it's time to bring your car in for routine maintenance.
Looking closer, you see that your car was serviced three months ago and you've driven it only about 3,000 miles since the last oil change. Suddenly, the specter of a blown engine or roadside breakdown looms in your mind. So, just to be safe, you call the dealership and schedule a service appointment.
If this describes how you handle your car's maintenance, you're probably throwing money down the drain. Those little stickers, stuck there by quick-change oil shops and dealership service departments, are effective sales tools — but inaccurate reminders to service your car.
Let's back up for a second and revisit a possibly sore subject: the owners manual gathering dust in your glove compartment. We're not about to try to shame you into reading it from cover to cover. But it does have one essential section: your car's maintenance schedule.
The maintenance schedule is a chart that tells you how often your car needs to be serviced and what work needs to be done. The schedule was created by the good folks at the factory who designed and built your car — not the guys at the dealership selling you a $120 transmission flush, "just to be on the safe side."
When your vehicle has less than 36,000 miles, little maintenance is needed to keep it purring: usually oil changes and tire rotations. As your car ages, more maintenance is required. Remember, we're talking about "scheduled maintenance" here, not repairs.
Most people service newer cars at the dealership where they bought the car. But as the car ages, they might go to independent mechanics or chain repair stores such as Pep Boys. There is a big difference between the new car dealership's service department and independent mechanics.
'Recommended' maintenance
Here's a dirty little secret that will save you a ton of money: There can be a huge disconnect between what your car actually needs to keep it rolling and what the service advisors at the dealership recommend. The dealership's service advisor (insider tip: he's more of a salesman than a mechanic) may hand you a list of "dealer-recommended" services. If you put this side-by-side with what's in your owners manual, you'll see the dealer is recommending a ton of extra stuff. Look closer at the dealer's list and you'll see that most of the recommended things are fluid replacements, adjustments and inspections.
That's why it is essential to read and understand your maintenance schedule.
The smart way to service your car
Here's all you need to do when setting up an appointment at a dealership's service department:
Find your maintenance schedule. You can get this either from your owners manual or online by doing a Google search such as "2014 Toyota RAV4 owners manual." Here is a listing of all service manuals.

Photocopy or print out the schedule. You'll see why in a few seconds.

Schedule a service appointment. Ask for the service department and tell them exactly what is needed. Don't say, "I'm ready for my 15,000-mile service visit." Just read them what the owners manual says.

Be ready for the upsell. When you get to the dealership, the service advisor will probably say, "You have 15,000 miles on your car. Here's what we recommend," and hand you a sheet of services. Pull out your copy of the maintenance schedule, hand it to the service advisor and say, "But my manual says I only need this work done."

Handling extra recommendations. Sometime later, you're settled in the service lounge, eating free doughnuts, when your service advisor reappears and says something like, "We checked your car over and it looks like you also need ..." — fill in the blank. The advisor could be recommending a brake job, a fluid change or the replacement of some part you've never heard of. If you have a good relationship with your service advisor and trust him or her, you could just go ahead and have the work done. But if it is not a safety-related issue, it doesn't hurt to say, "I'd like to hold off on that until my next visit."
Understand your service reminder
Since most people don't read the owners manual, carmakers have come up with service reminders in the form of an indicator light, or "idiot light," that appears on the gauge cluster (near the speedometer). Often, it comes on well before the service is actually required to give you time to schedule the appointment. Since you now have the manual open or have found it online, read the paragraph or two that explains what the light means.
There are two types of systems:
Set mileage system. The light comes on every time you have driven a set number of miles and an oil change is needed. This varies among different carmakers, but it is roughly every 5,000 miles. In some systems, you can set the interval yourself.

Oil sensor system. An onboard computer analyzes how the car is being driven, and the light comes on when an oil change is required. Driving only short trips will trigger the light sooner; highway driving means you can go many more miles between service visits.
Just remember, there is no point to over-servicing your car or changing the oil more frequently than is needed. It doesn't help your car, and it hurts your automotive budget.
Want to refinance your auto loan? See if you pre-qualify.
Just answer a few questions to get personalized results from our lending partners.
Get more smart money moves – straight to your inbox
Sign up and we'll send you Nerdy articles about the money topics that matter most to you along with other ways to help you get more from your money.