Do You Need an Electric Car Loan to Buy Your EV?
Auto loans designed for electric vehicle buyers can have helpful features, but always double-check the bottom line.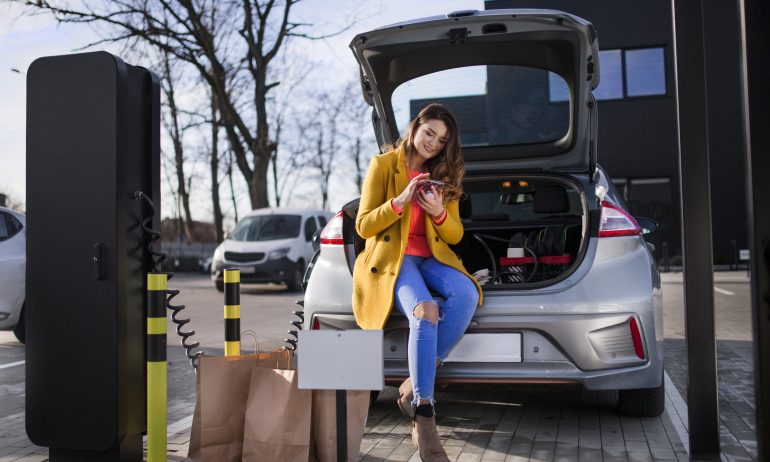 Many or all of the products featured here are from our partners who compensate us. This influences which products we write about and where and how the product appears on a page. However, this does not influence our evaluations. Our opinions are our own. Here is a list of our partners and here's how we make money.
You aren't required to use a specific type of auto loan when buying an electric vehicle. While lenders have restrictions on where you can shop — some lenders won't finance that bargain you found on Craigslist, for example — those selling the cars are less picky. They typically just want the check to cash.
That said, auto loans branded with terms like "electric vehicle financing" or "green loans" might have features specific to electric vehicles, or EVs, that aren't found in traditional auto loans, like including in the loan amount the cost of installing Level 2 charging in your home. That convenience can make these loans worth considering if you're buying an EV, though you shouldn't restrict your search to these types of loans exclusively.
What makes EV loans different
As far as money changing hands is concerned, there isn't a technical difference between an EV loan and a traditional auto loan. In both cases, a credit union, bank or other lender supplies you with funds to purchase a vehicle, and you pay it back with an interest rate that's determined by factors such as your credit score.
"Interest rate" and "annual percentage yield," or APR, are not interchangeable terms. APR includes the cost of fees, making it the more useful figure of the two when comparing one loan option to the next.
What makes EV loans different is that they could contain a variety of services and features unique to EV ownership, including:
Loan amounts that include the cost to install a Level 2 charger at your home.

Higher loan limits compared to limits on gas-powered cars.

Access to experienced EV owners who can answer questions for first-time EV owners.

Expertise in dealing with direct-to-consumer vehicle manufacturers, like Tesla or Rivian.

Deferred, or balloon, payments. These allow a buyer to commit to paying a chunk of the principal, plus interest, until a later time, often at the end of the loan. This lowers your monthly payment, though committing to paying a four- or five-figure amount at a future date is risky.
It's common to see a lender that offers both EV and traditional loans reserve its lowest rates for EVs. Remember that the rate offered to any one applicant may not equal the lowest advertised rate.
Also, the EV discount offered by a loan provider is a comparison only to other loans offered by that company — not to loans offered by any other company. So, for example, you may see EV loans advertised as being 0.25% or 0.5% lower than that company's standard loans. That's great, but it's certainly possible you'll get a rate elsewhere that's even lower, even if it's not labeled an EV loan.
You're more likely to find EV-specific loans with a credit union than at a traditional bank. Credit unions largely serve specific geographic areas or groups of people with a shared affiliation, and you must be a member to apply for a loan. So, a rate you find online is only an option if you're eligible to join.
You don't need a bank to get an auto loan. Nonbank lenders offer consumers another financing option. In fact, some of these types of lenders even focus exclusively on EV lending. This expertise can be helpful as you navigate the buying process, though EV expertise doesn't always translate into the lowest rates.
Car manufacturers often offer financing for new vehicles, a practice called captive lending. These manufacturers sometimes offer perks for new EVs that they don't offer with other vehicles. For example, at the end of your financing term, Ford lets you return your EV for credit if you choose a repayment plan that has a final balloon payment.
The best way to find the lowest rate is to work with more than one lender. Here are some tips to navigate that process:
Get preapprovals from two or three different lenders. This will ensure you're getting a competitive interest rate versus settling for the first rate you're approved for. It also will put you in a stronger negotiating position if you purchase an EV from a dealership. To limit the impact on your credit score, submit all applications within a two-week period.

If you have bad credit, look into lenders that specialize in working with people who have lower credit scores. Credit unions are often a good place to start. Although EVs are becoming more affordable, it might be better for someone with bad credit to get a gas vehicle because gas vehicles usually come with lower price tags, which means lower loan payments.
Get more smart money moves – straight to your inbox
Sign up and we'll send you Nerdy articles about the money topics that matter most to you along with other ways to help you get more from your money.