How Much Does It Cost to Tow a Car?
Towing a car can cost less than $100, but some circumstances will cost you a lot more to have it towed.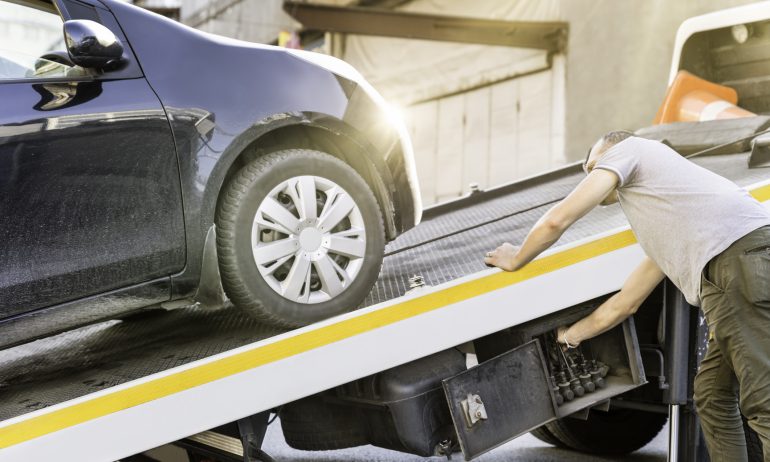 Many or all of the products featured here are from our partners who compensate us. This influences which products we write about and where and how the product appears on a page. However, this does not influence our evaluations. Our opinions are our own. Here is a list of our partners and here's how we make money.
While the final bill depends on several factors, the national average cost to tow a car is around $100. But your bill might be higher if you've been in a collision, your car is stuck in mud or snow, or you drive an oversized vehicle.
You might be able to save some money if you have a roadside assistance policy, but actual savings depend on the plan you chose and your situation.
The total cost of owning a car should include plans for handling these kinds of expenses. Here's a rundown of the costs of towing a car, as well as questions to ask when getting a quote.
Breaking down the costs of towing a car
Most towing services charge a base fee to hook up your car to the tow truck. This fee can range from as low as $35 to as high as $100 and doesn't include actually towing your vehicle.
You'll also pay a per-mile charge that can vary from one towing company to another. Prepare to pay anywhere from $2 to $7 per mile. Some services might include the first few miles in their base fee to save you from paying a per-mile fee for a short tow.
Towing for motorcycles is often cheaper per mile than other vehicles.
There are additional situations that can cost you more when hiring a towing service. These include if you:
Call at night, on a holiday or weekend. Needing a tow service outside of standard days and daytime hours can cost you more, as well.

Have a larger car. Bigger, oversized and heavier vehicles can incur a more expensive rate, up to 25% more.

Have been in a collision. If your car is damaged and requires a flatbed tow truck, your rate could be more expensive.

Call during bad weather. If a tow service sends out a tow truck in bad weather, such as flooding or a snowstorm, be prepared to pay a higher rate.

Are stuck. If your car needs to be freed before it can be towed, you should expect to pay an additional fee of up to $250.

Are broken down in a harder to reach area, such as a mountainous road. The extra mileage for the truck to reach you, and dangerous terrain, can raise your towing rate.
Most electric vehicle manufacturers recommend that electric cars be towed on flatbed trucks to avoid damaging the vehicle. Certain models can be towed with two wheels on the ground, but each model is different. Check your manual and tell the towing service in advance that you're driving an electric vehicle.
Policies that cover towing costs
Insurance roadside assistance
Whether insurance will pay to have your car towed depends on your policy. Some insurers will pay for towing services if you're involved in an accident that's covered by your insurance provider, but towing coverage is not a given, even in full-coverage plans.
Some auto insurers offer optional policies for towing services, but these are add-ons to your standard auto policy. Optional policies that cover towing expenses are often called roadside assistance policies and generally cover the costs of a variety of other services, such as jump-starts and winching services if your car gets stuck.
Roadside assistance policies tend to run between $30 and $60 a year, depending on the coverage. A policy will have limits on what or how much it covers, but it can offset the majority of a standard tow service within a certain distance or to the nearest auto shop.
Some companies that are unaffiliated with insurance offer roadside services as a perk to their customers. These include some credit cards and vehicle manufacturers, which might offer roadside assistance during the warranty period.
Roadside assistance companies
Independent roadside assistance companies, such as AAA, offer policies that are unaffiliated with your auto insurer. You pay for the policy in advance and receive either free or discounted services when you need to have your car towed.
Most roadside assistance companies offer plans that come with tiered benefits. More expensive plans that provide towing assistance will tow your car farther than their cheaper counterparts — but you'll have to pay more upfront to qualify for the service.
These plans can start at $60 a year for basic coverage and charge upward of $130 a year for premium coverage. Before signing up for a roadside assistance company, make sure there's no overlap with your insurance's roadside assistance — if you have any.
What to ask when hiring a tow service
If you're in a tight spot or unsafe situation, you'll probably want to hire whichever company can get your car towed the fastest. But if you've got time to call more than one tow service, compare their rates and ask about the following to avoid overpriced charges.
A full quote based on where you want it towed. A tow service should be able to provide you with an estimate of how much it'll cost for one of its drivers to tow your vehicle to its destination. Make a note of the cost to compare with other companies.
Hookup and per-mile fees. These fees are the foundation of towing costs, and the higher these fees, the more you're likely to pay if the driver has to take your car farther than you planned.
Extra charges based on your situation. Ask if you'll be charged any additional fees or higher rates because of your situation, such as needing to use a flatbed or being pulled from a ditch, and how much those fees are.
How long it'll take for them to arrive. This can be important, especially in bad weather. If getting towed quickly is important to you, a higher bill might be worth it.
It's important to note that if a company can't or won't provide you with pricing upfront, it's best to look for another company. Considering you're calling for a tow, you'll want to make sure you hire someone who will help and not price-gouge you.
Want to refinance your auto loan? See if you pre-qualify.
Just answer a few questions to get personalized results from our lending partners.
Get more smart money moves – straight to your inbox
Sign up and we'll send you Nerdy articles about the money topics that matter most to you along with other ways to help you get more from your money.