How Much Does Wheel Alignment Cost?
You should plan to pay at least $100 and potentially over $300, depending on the make and model of your vehicle.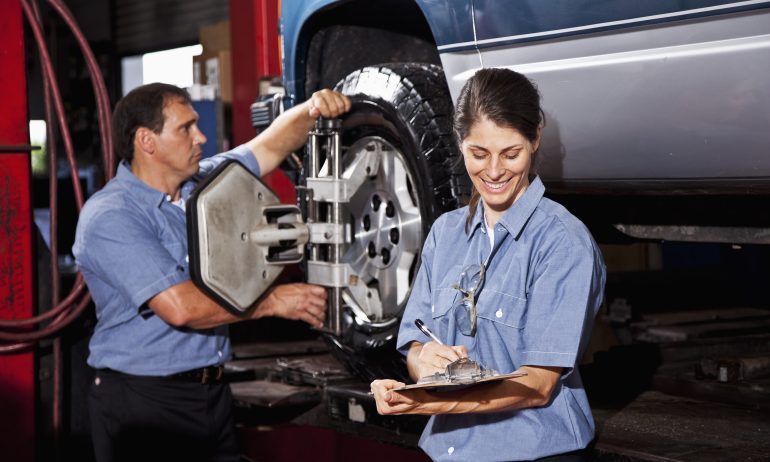 Many or all of the products featured here are from our partners who compensate us. This influences which products we write about and where and how the product appears on a page. However, this does not influence our evaluations. Our opinions are our own. Here is a list of our partners and here's how we make money.
Having your wheels aligned might not be something that comes to mind when you think about your car's regular maintenance. But you'll need to plan for an alignment at least a few times — if not numerous times — during your car ownership.
Depending on your vehicle's make and model, where you live and the type of alignment your car needs, you should expect to pay from $100 to $200. But some luxury car owners could pay $300 or more for a four-wheel alignment.
Despite often being referred to as wheel or tire alignment, the process actually adjusts your car's suspension. Alignment corrects the angle at which your tires contact a road's surface to help them touch the ground more evenly as you drive. This alteration can make your car easier to handle and extend the life of your tires.
A car's wheel alignment can be affected by any driving that jars or jostles the vehicle, such as hitting the curb or driving over a pothole. However, normal wear and tear causes all vehicles to slowly become misaligned over time, regardless of how well drivers avoid obstacles.
Tire balancing isn't the same as wheel alignment, but they're often recommended together. When tires are balanced, the weight of the vehicle is evenly distributed across all the tires. Having your tires balanced can also support even tread wear and extend the life of your tires.
When do you need to have your wheels aligned?
Because a car can still be driven with poor alignment, many people don't have their wheels aligned until they notice certain issues. Signs that your wheels might need alignment include:
Your vehicle is pulling in one direction when you let go of the steering wheel.

The steering wheel looks off-center when the car is driving straight.

The steering wheel is vibrating.

Your tires have uneven wear on their tread.
These issues can also be caused by problems unrelated to wheel alignment. That's why it's smart to have them checked out as soon as you notice them.
It's also a good idea to have your wheels aligned when you purchase new tires.
How often do you need your wheels aligned?
The answer largely depends on road conditions you tend to encounter.
If you drive along rough roads or regularly hit potholes or curbs, your wheels are likely to be knocked out of alignment more often. In this case, you're going to benefit from having your wheels aligned more frequently than drivers who drive only on well-maintained roads.
But the occasional pothole and rough road are part of driving a car. So aim to have a mechanic check your alignment every year or so to ensure you're not missing signs of misalignment. If you drive less than 6,000 miles a year, stretching that time frame out to every two years will likely work as well.
Factors that affect the cost of wheel alignment
Several factors can influence the total cost of wheel alignment. Here are a few to keep in mind.
Make and model. Most cars need a four-wheel alignment. But vehicles with solid rear axles and certain luxury or exotic cars (high-performing and eye-catching vehicles) must be aligned differently, which can affect the price of an alignment.
Condition of the suspension. If suspension components are damaged or in bad shape and need to be replaced, they can worsen your alignment and increase how much you pay for alignment work.
The type of shop. Having work done at a dealership will cost more than getting a wheel alignment at your local mechanic shop. Consider a local tire shop; most specialize in alignment as well.
Where you live. Having wheel alignment performed on either coast tends to be more expensive than in other areas. And prices can differ from city to city, as well as from one shop to the next.
Average cost of wheel alignment
Most drivers will pay from $100 to $311 for an alignment of all four tires. The table below shows how the average price can differ by location and make and model according to Kelley Blue Book.
| | | | |
| --- | --- | --- | --- |
| | | | |
| | | | |
| | | | |
| | | | |
| | | | |
| 2017 Land Rover Range Rover | | | |
Some shops offer free alignment checks if you're already having work done, but all mechanics will charge for the actual alignment.
Some auto shops offer packages for multiple alignments at a discount. Others offer lifetime alignments at a large discount, but you pay upfront. If you think you'll have your car long enough to warrant several alignments at the same shop, ask about these options.
Tips for maintaining good wheel alignment
Avoid poorly maintained roads. This isn't always possible, but try to take well-maintained roads when you can. Avoiding potholes and bumpy streets can help you sidestep potential alignment issues.
Don't brake hard at high speeds. Doing so compresses the suspension at the front of the car, especially if you hit a pothole or speed bump at the same time.
Maintain tire pressure. If the air pressure varies between tires, the height of your vehicle is affected, which has a direct impact on your car's alignment. Underinflated tires can also cause your car to pull in one direction. Keeping your tires properly inflated is an easy step to maintain alignment.
Want to refinance your auto loan? See if you pre-qualify.
Just answer a few questions to get personalized results from our lending partners.
Get more smart money moves – straight to your inbox
Sign up and we'll send you Nerdy articles about the money topics that matter most to you along with other ways to help you get more from your money.