Electrify America: What It Costs, and Where to Find Chargers
Electrify America has a national footprint and you get lower members-only prices for a few dollars per month.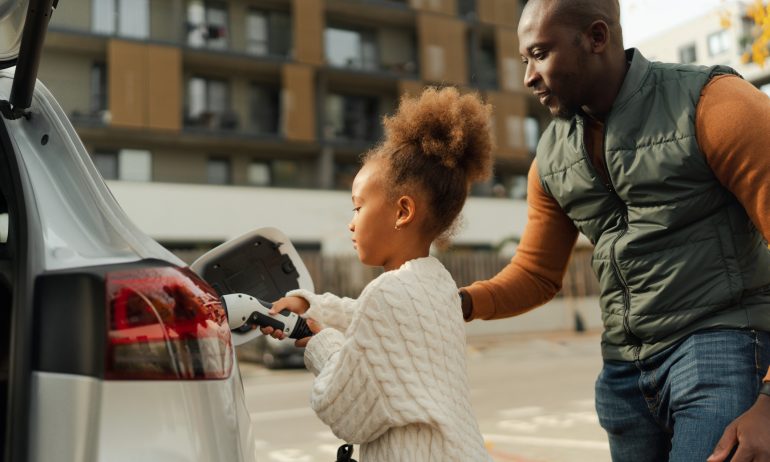 Many or all of the products featured here are from our partners who compensate us. This influences which products we write about and where and how the product appears on a page. However, this does not influence our evaluations. Our opinions are our own. Here is a list of our partners and here's how we make money.
Electrify America is an electric vehicle charging network with more than 3,400 fast chargers at nearly 800 locations across the United States. 
The company's chargers are located in 46 states, primarily along interstate highways and clustered around metro areas. Rates depend on location. Customers who sign up for a Pass+ membership, which costs $4 per month, pay lower rates. 
Electrify America network details
Electrify America has chargers in more than 800 locations. Its charging stations primarily offer DC fast charging using CCS connections, which charge at the fastest available charging speeds — up to 150 or 350 kW. That's fast enough to add 100 or more miles in under 30 minutes.
The network also has a few locations with Level 2 connections, which are slower, and a few others with DC CHAdeMo connections, which are fast but compatible with fewer types of electric vehicles. 
When comparing networks, it's important to consider where and how you want to charge. There are many charging networks to choose from, and you aren't prohibited from using multiple charging networks. However, you might find it convenient to develop a go-to option, much like you might have a preferred gas station or grocery store.
For example, the charging network EVgo has about as many stations as Electrify America, but they are mostly located in metro areas with limited coverage on long stretches of interstate highways.
On the other hand, Tesla's charging network has more locations throughout different regions.
Some charging networks might be made up primarily of Level 2 charging connections. These are helpful if you're parked by a charger for a while (at a movie theater or while out to dinner, for example) but less so if you're hoping for a few quick stops amid a long drive. 
While Electrify America's network is among the largest high-speed networks, there are some notable gaps in some parts of the country, including West Virginia, the I-20 corridor that runs from Dallas to Birmingham, Alabama, and the northern Great Plains.
Electrify America pricing
The cost to charge an EV depends on where you connect. Prices differ by state, and Electrify America clearly lists them on its website — notable because transparent pricing isn't available on all charging networks. 
Rates are usually based on the amount of electricity transferred to your vehicle. A few state rates are based on the amount of time you spend charging regardless of energy used. If you join Electrify America's Pass+ for $4 per month, you'll see prices up to 25% lower than standard prices. 
Example charging costs, and how they compare with gas
A common rate at Electrify America chargers is 48 cents per kilowatt hour. Say you want to add 50 kWh, or about 200 miles of range on a Tesla Model 3. Your total cost would be $24 ($0.48 × 50). Pass+ members might pay 36 cents per kWh, or $18.
How does that compare with the price of gas? In February 2023, the average national price at the pump was about $3.50 per gallon, though prices were nearly $5 in some locations and as low as $3 in others. A Honda Accord that gets about 30 miles per gallon would need 6.6 gallons to add 200 miles of range, costing between about $20 and $33 depending on where you filled up.
Some car manufacturers, including Audi, Ford and Kia, include free charging at Electrify America stations with certain vehicles. These perks sometimes have a cumulative cap on the amount of free charging, like 250 or 500 kWh, while others offer unlimited charging within a specific window of time.
How to charge with Electrify America
As you approach an Electrify America charging station, you'll see the max charge speeds for that charger shown on its front, as well as the available connection types. 
You might see a station with a notice that it uses "balanced charging." This means that multiple chargers share a connection to a single power source. If that's the case, the fastest available charging speed — up to 350 kWh — is only available if a single car is charging. If multiple cars are charging simultaneously, the top speed will be limited to up to 150 kWh, even if a higher top speed is otherwise displayed. 
After connecting the charger to your vehicle's charging port, you'll proceed with your payment. If you're not a Pass+ member, you pay with a card or mobile wallet. If you're a Pass+ member, you'll use the Electrify America app to initiate your payment. 
Get more smart money moves – straight to your inbox
Sign up and we'll send you Nerdy articles about the money topics that matter most to you along with other ways to help you get more from your money.