What Is MSRP?
MSRP stands for manufacturer's suggested retail price. It must be displayed on the Monroney sticker on a new car's window.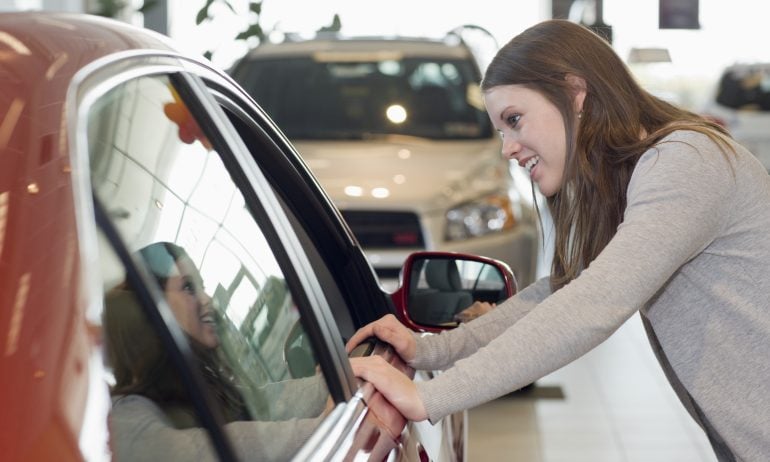 Many or all of the products featured here are from our partners who compensate us. This influences which products we write about and where and how the product appears on a page. However, this does not influence our evaluations. Our opinions are our own. Here is a list of our partners and here's how we make money.
MSRP is an acronym that stands for manufacturer's suggested retail price. It's how much a carmaker recommends a dealer should sell a new car for.
However, that's all it is: a recommendation. Dealers can choose to sell a vehicle for either below or above MSRP. If you're looking to buy a new car, you'll find many have been selling for higher than MSRP in the current car market due to inventory shortages.
What is included in MSRP?
MSRP includes the base price of the vehicle and any factory-installed options, but it typically does not include any destination or handling fees.
On a dealer lot, you can find a vehicle's MSRP on the federally mandated window sticker. You may hear it referred to as the Monroney sticker, named after the lawmaker who helped make them a requirement on new cars.
However, this definition of MSRP is just a rule of thumb. Automakers can vary on how they display the MSRP on the window sticker, so make sure you take a close look at what they specifically include.
For example, Ford stickers list "Total MSRP," which includes the base price, options, and destination and delivery charges. Honda, on the other hand, shows the MSRP separately from the "Total Vehicle Price," which includes destination and handling charges.
The sticker price is the final price on the window sticker, and many people use the phrase interchangeably with MSRP. However, the sticker price often includes additional charges that aren't included in the MSRP, such as destination and handling fees, as well as the gas guzzler tax for new passenger cars that fail to meet certain fuel economy standards.
The invoice price, also known as dealer invoice or dealer cost, is how much the automaker charges the dealer on paper for a vehicle. However, the actual price that the dealer pays the automaker can vary because manufacturers often offer rebates and incentives for dealers to bring down that number.
Unlike the MSRP, you won't find the invoice price on the window sticker. However, you can ask the dealer for the invoice price or look online for this information from a car research site like Edmunds.
Out-the-door price vs. MSRP
Although it's helpful to know numbers like the MSRP, sticker price and invoice price, the most important figure for negotiating is the out-the-door price.
The out-the-door price is the total amount you'll pay for the vehicle, which includes taxes, registration fees, title fees, documentation fees, dealer-installed options and any added dealer markups. It gives you a realistic picture of how much you'll spend on a car because additional charges can add up to thousands of dollars on top of the MSRP.
When you negotiate, always focus on the out-the-door price instead of individual fees. This lets you focus on the most important number: the total price you have to pay.
Dealer addendum sticker vs. MSRP
Dealer addendum stickers are typically placed right next to the Monroney sticker on the car window. While the MSRP on the window sticker includes factory-installed options, this supplemental window sticker lists additional charges from the dealer, such as dealer-installed options, additional packages and warranties and any market adjustments. These extras are typically high-profit items for the dealer, so it's important to pay attention to this sticker if you see it.
Some of the add-ons may be useful to you, but others may not. Don't be afraid to ask the dealer to remove any unneeded extras. It can be complicated — but not impossible — to cancel unwanted dealer extras after you've already made the purchase.
Are new cars selling above MSRP?
In the current car market, many new cars are being sold over MSRP, a significant change from pre-pandemic car shopping, where significant incentives and deals were the norm.
That's because new car inventory is overall still low, although it's slowly improving. Some makes and models have more inventory than others, though, so it's important to shop around.
"If you're getting something that is around MSRP, don't feel ripped off," says Jessica Caldwell, executive director of insights at automotive research firm Edmunds.
Get more smart money moves – straight to your inbox
Sign up and we'll send you Nerdy articles about the money topics that matter most to you along with other ways to help you get more from your money.