Should I Sell My Car for Extra Cash?
If you're facing financial hardship, you might want to sell your car for extra cash. But is selling always a good idea?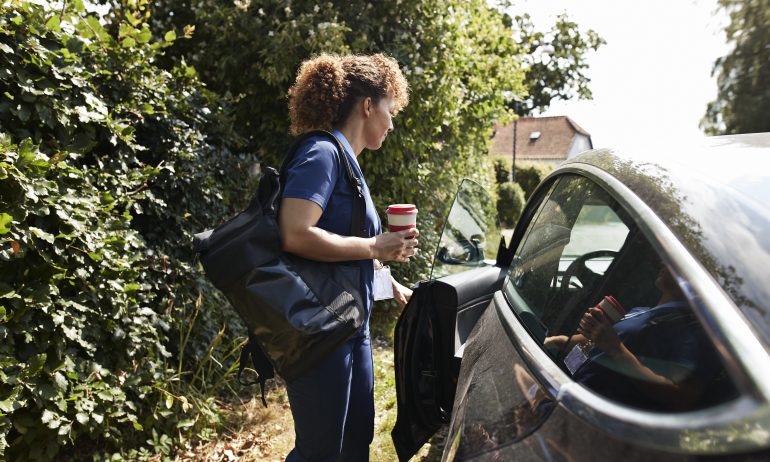 Many or all of the products featured here are from our partners who compensate us. This influences which products we write about and where and how the product appears on a page. However, this does not influence our evaluations. Our opinions are our own. Here is a list of our partners and here's how we make money.
Selling your car makes financial sense when the money you could get from the deal is more useful to you than keeping the vehicle. This might be the case if you've lost your job or can't afford the payments.
But there are a few things to keep in mind when preparing to sell your car for an income boost, such as how the car market could work for or against you, and how you'll get around without the vehicle.
If you're thinking of selling your car for extra cash, here are a few tips to prepare for the change, situations in which it'll make financial sense to follow through and things to understand about how the car market affects your car's value.
When it makes financial sense to sell your car
Whether it's best to keep or sell your car depends on your financial situation. But here are some scenarios in which selling your car might make financial sense.
You can't afford the payments
If this is a realistic possibility given your situation, selling your car to either pay off your loan entirely or to greatly reduce the amount you owe is worth considering.
The car's not worth the cost of repairing it
If your vehicle needs a new transmission, which can cost more than the vehicle's value, repairing it doesn't make financial sense in most cases. For example, a new transmission in a 2012 Ford Focus SE Hatchback 4D runs over $4,800, but the car is only worth about $2,200. This is a situation in which selling the car to get a spare $2,000 in your pocket might be worth it.
But if you need the car for transportation, and buying a car in better condition isn't an option, it might be better to repair the vehicle, even if it costs more than what the car is worth.
Driving no longer makes financial sense
The costs of owning a car include a lot of factors that can change from year to year, including gas prices, parking costs, registration fees and insurance rates. If you are able to get where you need to go without a personal vehicle, it might make more financial sense to sell your car and offload those costs.
This might be the case for people in households with multiple cars who realize they could get around just as well with one less car. It could also apply to people who live in areas with good public transportation or who work from home and rarely need to leave their immediate neighborhood.
The car's value is more useful elsewhere in your finances
If you're in a financial situation where you need to cash out the equity you have in your car to pay for other major expenses like rent, selling your car might be a smart move.
Take a serious look at your financial situation and evaluate which bills are the most important. If your car doesn't rank in the top few spots, that's a clue that it's time to rethink the investment.
If you need a car to get to your job and know you can sell your current vehicle for a good price, consider selling it, buying a cheaper car and putting the rest toward other financial needs.
What to consider when selling your car for extra cash
Before you drive down to a dealership or advertise your car on Facebook Marketplace, you need to have an idea of what to expect when you sell your car. And having a game plan in place for being without a car is a must.
Here are a few tips to keep in mind before making the sale.
If you're selling your only car, plan how to get around
Make a plan for how you'll get to different locations like work, child care centers, grocery stores and medical centers. If you're going to be relying on public transportation, make sure the services work with your schedule. Calculate the cost of getting around without a car to ensure the cost of public transportation won't be more than the cost of owning a car.
Be realistic about what your car is worth
Age, mileage and condition have an impact on what an online car-buying site or private individual is willing to offer you for the car. If your car has body damage, is old enough to need costly repairs or has more than 100,000 miles, you're likely to get less money for it than if it was newer or in better shape.
Know the minimum price you're willing to accept
If you want to use the cash from selling your car to pay for a specific item or pay down bills, consider the minimum price you'd need to make the sale worthwhile. For example, if you want to sell the car to help cover rent while you're between jobs, know how much you need to make out of the sale to serve that purpose.
Things to keep in mind about car market volatility
Economic changes can affect the value of your car
Economic factors like demand, available inventory, supply chain shortages and economic uncertainty can all affect vehicle prices. Depending on how these factors interact, the value of your car could change. If you don't need to sell your car immediately, you might be able to get more money if you wait until the market is working more in your favor.
Demand for certain cars can affect the value of your car
If your model of car is in high demand, it's likely to have a higher value. This is especially true in a car market with low inventory. Car research sites like Kelley Blue Book and Edmunds release regular lists of best-selling cars and most popular cars — these can help you determine if your car is in high demand.
But if your car is not in high demand or dealers have a high inventory available, you are going to get less money when you sell it, because buyers have a lot of options.
You might not get what you think the car is worth
Knowing what you paid for your vehicle and how much money you've put into it over the years can skew your idea of how much you think your car is worth. But other buyers and dealers aren't going to have an emotional attachment to your car and are looking for the best price. So when you go to sell your car, remember that the market dictates how much your car is worth, which might be less than you expect.
Get more smart money moves – straight to your inbox
Sign up and we'll send you Nerdy articles about the money topics that matter most to you along with other ways to help you get more from your money.