Can a College Withhold Transcripts?
Colleges in most states can withhold transcripts if you owe an unpaid balance or have defaulted on a student loan.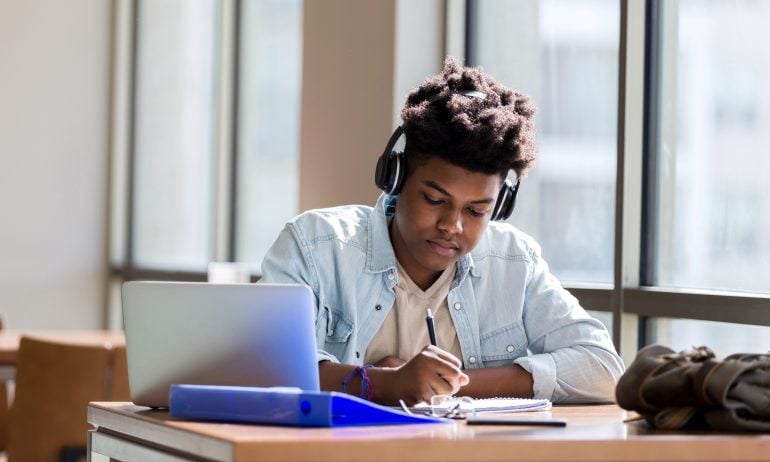 Many or all of the products featured here are from our partners who compensate us. This influences which products we write about and where and how the product appears on a page. However, this does not influence our evaluations. Our opinions are our own. Here is a list of our partners and here's how we make money.
Public and private colleges can withhold your transcripts if you have an unpaid balance of any amount, or if you've defaulted on a student loan.
The practice is known as transcript withholding or "transcript ransoming." Roughly 6.6 million students in the U.S. cannot obtain their transcripts due to as much as $15 billion in unpaid balances, according to an October 2020 report by Ithaka S+R, a not-for-profit research and consulting firm.
Transcript withholding is a practice that most affects students at community colleges, which tend to enroll people who have less access to higher education, including Black and Latinx students, older students and first-generation students, according to data analysis by Policy Matters Ohio.
Students whose transcripts are withheld don't necessarily owe large amounts. Nearly two-thirds (64%) of institutions say they withhold transcripts for unpaid balances as low as $25, according to the results of a 2020 survey by the American Association of Collegiate Registrars and Admissions Officers, a nonprofit professional association.
If your transcript is withheld, there are multiple possible consequences:
It could prevent you from attending a new school. Whether you're trying to finish a degree, transferring to a new college or applying to graduate school, transcript withholding means you could be blocked from acceptance into a new academic institution.

It could hurt your job prospects. If your academic credentials cannot be verified, you could be disqualified from a job, depending on the employer. Not being able to get a job means it will be more difficult to repay your debt.

You won't be able to access new student loans. If your transcript is being withheld due to a student loan in default, you won't be able to take on new federal student loans.
What can you do if your school is withholding your transcript?
If your school withholds your official transcript, request an unofficial transcript; the school must provide you with one, and it might satisfy the requirements of an employer or another college you're applying to. If your school is withholding your unofficial transcript, submit a complaint to the Consumer Financial Protection Bureau.
Find out the amount you owe. Contact your school's financial aid office to find out how much money you need to repay in order to obtain your transcript. Ithaka S+R found the average amount students owe is about $2,300.
Pay the balance if you can afford it. Depending on the amount you owe, try to pay off the past-due amount using savings, income or a loan from a friend or family member.
Negotiate a payment plan. Talk to your school's financial aid office about a potential payment plan, and get a concrete timeline for when your transcripts will be released.
Consider a loan, but be aware of the costs. You can't take on a new federal student loan to pay off past-due balances, but if you absolutely need to get rid of your debt immediately, some private student loans or personal loans may be available to cover past-due debt. You'll have to meet income and credit requirements to qualify, and these loans could carry high interest rates and fees.
There are signs that transcript withholding may end
Nearly 100% of schools surveyed by Ithaka S+R say they participate in the practice of withholding transcripts.
However, there are signs that the tide is turning: States like California and New York have banned the practice at their public colleges and universities, while Washington has limited situations when withholding can occur.
And in December 2021, U.S. Education Secretary Miguel Cardona said he supports ending transcript withholding, asserting the practice prevents underserved students from staying enrolled and completing college. No bill has passed Congress and no change has been announced by the Department of Education.
Spot your saving opportunities
See your spending breakdown to show your top spending trends and where you can cut back.