How to Consolidate and Refinance Your Student Loans
Consolidate federal loans by visiting the federal student aid website. Refinance private student loans by shopping lenders.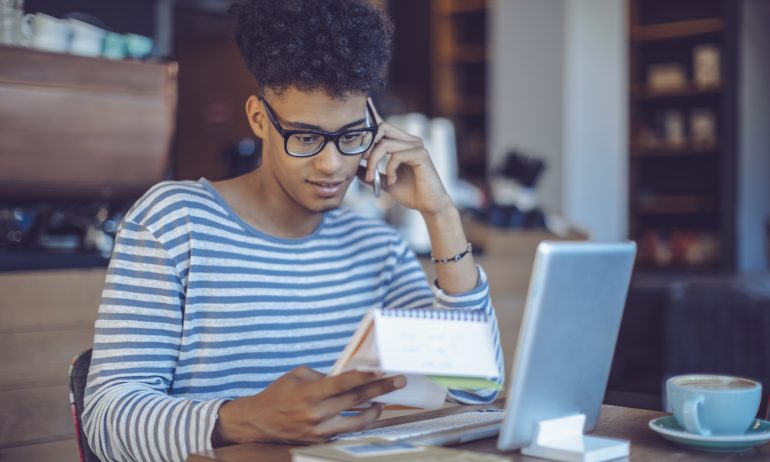 Many or all of the products featured here are from our partners who compensate us. This influences which products we write about and where and how the product appears on a page. However, this does not influence our evaluations. Our opinions are our own. Here is a list of our partners and here's how we make money.
A student loan consolidation combines multiple student loans into a single, new loan that will ideally save you money, lower your monthly payment or both.
You can consolidate multiple federal student loans into a single federal loan through the Department of Education. Or, you can trade in multiple federal or private loans for one, new private loan in what's more commonly called a student loan refinance. 
Refinancing and consolidating may sound similar, but there are some key differences:
Consolidation through the Department of Education is only available for federal student loans and does not lower your interest rate, though you can extend your loan term to lower your monthly payments.
Refinancing is available for both private and federal student loans through a private lender. Once you refinance a federal student loan, it becomes a private loan and is no longer eligible for federal programs like income-driven repayment or other loan forgiveness programs.
Consolidation vs. refinancing
| | Student loan consolidation | |
| --- | --- | --- |
| | Combines multiple federal loans into one federal loan. | Combines private and/or federal loans into one private loan. |
| Which loans can I combine? | | Private and/or federal loans. |
| | | |
| | No. Consolidation may lower your payments by extending the loan term, but your interest amount will increase. | |
| Can I access federal loan protections, repayment options and forgiveness programs? | | |
| Will I pay just one monthly bill? | | |
Consolidating private student loans
The interest rate offered will depend on your financial history — including your credit score, income, job history and educational background. You typically need a credit score in at least the high 600s to qualify, and average interest rates for a refinance range from around 5% to more than 9%.
Consider private student loan consolidation if you have:
Existing private student loans.

Good or excellent credit, generally defined as credit scores of 690 or higher.
If your credit score or income is less than ideal, you can apply with a cosigner who has stronger creditworthiness.
Though you can refinance federal and private student loans, you may want to hold off on refinancing federal loans. Interest rates on federal student loans are still currently at zero, and payments are paused until later this year. Consider waiting until the student loan payment forbearance ends and any potential loan cancellation and income-driven repayment credits are applied, if you qualify.
How to consolidate private student loans
1. Research student loan refinance lenders that meet your needs. Lenders can offer products that cater to different situations. For example, some lenders will refinance international student loans. Other lenders may offer a refinance even if you didn't get a degree.
2. Receive multiple interest rate offers. You may need to submit some basic information to prequalify, but this generally does not impact your credit score. Your goal is to find the lowest rate possible.
3. Choose your lender and loan terms. Know your interest rate — fixed or variable — and your repayment term. These are key factors that impact your monthly payment and total cost. 
4. Complete the application. Once you understand and are comfortable with the loan offer, you'll need to formally apply by completing an application.
If approved, you can sign all required documents and wait for the new lender to pay off your current lender. Just keep paying your current lender until your refinance is complete.
Current rates from private refinancing lenders
Want to pay less for your student loans?
See if you pre-qualify for refinancing and compare real rates — not just ranges or estimates.
Federal student loan consolidation
One major benefit of a federal loan consolidation is that it can combine multiple student loan payments into a single bill. There is no credit requirement, but there is also no chance of a lower interest rate. 
Consider federal student loan consolidation if you:
Need to consolidate to be eligible for income-driven repayment, public service loan forgiveness or other relief programs. This is the case if you have Federal Family Education Program, Perkins or parent PLUS loans.

Want a single federal loan payment, but don't need it to be drastically lower.
You're generally eligible for federal student loan consolidation once you graduate, leave school or drop below half-time enrollment. 
When you consolidate federal loans, the government pays them off and replaces them with a direct consolidation loan. Your new fixed interest rate will be the weighted average of your previous rates, rounded up to the next one-eighth of 1%. So, for instance, if the weighted average comes to 6.15%, your new interest rate will be 6.25%.
Your new loan term could range from 10 to 30 years, depending on your total student loan balance. Repayment will typically start within 60 days of when your consolidation loan is first disbursed.
Consolidating your federal loans through the Department of Education is free; steer clear of companies that charge fees to consolidate them for you.
How to consolidate federal loans
Log in to studentaid.gov to access the direct consolidation loan application. You'll need to finish the application in one session, so gather the documents listed in the "What do I need?" section before you start, and set aside about 30 minutes to fill it out.
1. Enter which loans you do — and do not — want to consolidate.
2. Choose a repayment plan. You can either get a repayment timeline based on your loan balance or pick one that ties payments to income. If you pick an income-driven plan, you'll fill out an income-driven repayment plan request form next.
3. Read the terms before submitting the form online. Continue making student loan payments as usual until your servicer confirms consolidation is complete.
If your loans are in default, consolidation is one of a few methods to get your loans back on track. To consolidate defaulted loans you'll need to make three full, on-time consecutive monthly payments on the defaulted loan and agree to enroll in an income-driven repayment plan.
How to use income-driven repayment plans
Frequently asked questions
Should I consolidate my student loans?
Can you consolidate federal student loans?
How do I consolidate my student loans?
Spot your saving opportunities
See your spending breakdown to show your top spending trends and where you can cut back.