What Are the FAFSA Requirements?
To qualify for financial aid, you'll need to verify your citizenship, enrollment status and financial need.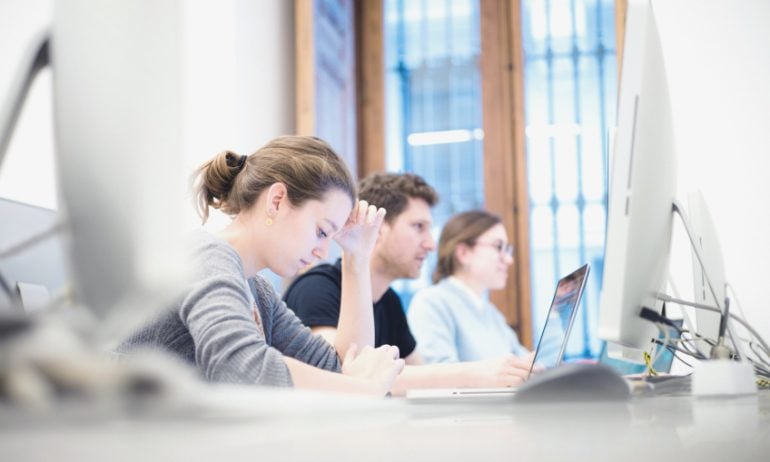 Many or all of the products featured here are from our partners who compensate us. This may influence which products we write about and where and how the product appears on a page. However, this does not influence our evaluations. Our opinions are our own. Here is a list of our partners and here's how we make money.
All college students attending eligible schools qualify to submit the Free Application for Federal Student Aid, or FAFSA. You're likely to get some kind of aid if you apply, but you may not be eligible for all types. The list of requirements for need-based aid is extensive, and not meeting some can lose you aid eligibility altogether.
Here's what you need to know about FAFSA requirements and aid eligibility.
To be eligible for financial aid, you'll need to:
Have a high school diploma or a recognized equivalency, such as a GED, or have completed a state-approved home-school high school education.

Be a U.S. citizen or an eligible noncitizen with U.S. national status, or have a green card, an Arrival/Departure Record (I-94), battered immigrant-qualified alien status or a T visa or a parent with a T-1 visa.

Have a valid Social Security number.

Be registered with the Selective Service. This applies only if you're a male between the ages of 18 and 25 and aren't already on active military duty.

Be enrolled or accepted for enrollment in an eligible degree or certificate program.

Maintain satisfactory academic progress in college if you're already enrolled. Standards for satisfactory academic progress vary by school.
There are no GPA requirements for incoming students. There are also no income requirements for federal loans, but there is for need-based aid like work-study, certain scholarships and the Pell Grant.
Why your age (and dependency status) matters for eligibility
Your age may affect how much aid you can receive. That's because your age largely determines if you're an independent or dependent student and thus whose information you report on the FAFSA.
Federal aid programs assume dependent students have the financial support of their parents.
By age 24, you're considered independent. For the 2021-22 school year, you're independent if you were born before Jan. 1, 1998. Independent students have higher borrowing limits than dependent students.
You're also considered independent if you're married, a veteran, in a graduate program or have dependents of your own.
If you're dependent, include both your information and your parents' on the FAFSA. If you're independent, report only your information. If you're independent and married, include your spouse's information as well.
What you need to submit the FAFSA
You'll need to have several documents ready to complete the FAFSA and qualify for aid. If you are an independent student you do not need to include your parents' information. Necessary documents include:
Your Social Security card.

Your driver's license (if you have one).

You and your parents' 2019 tax returns.

You and your parents' 2019 W-2 forms.

You and your parents' 2019 untaxed income records.

Your parents' current bank statements.
All applicants will need to create an FSA ID that you'll use to sign the FAFSA and promissory notes. Find out all the information you'll need to fill out the FAFSA with this checklist.
On the FAFSA, you'll need to sign a certification statement saying you:
Aren't in default on a federal student loan.

Don't owe money on a federal student grant.

Agree that all aid will be used for educational purposes only. That includes tuition, fees and room and board.
If you're eligible for aid, accept all free money, such as grants and scholarships, then consider work-study options before taking out any federal student loans.
How you could lose eligibility
You'll no longer qualify for aid if you can't meet the basic eligibility requirements listed above. You could also lose eligibility if you:
Don't maintain satisfactory academic progress in your program, according to your school's standards. This might include a grade-point average minimum or number of credits completed.

Default on a student loan.

Are convicted of possessing or selling illegal drugs while receiving financial aid.

Were an eligible noncitizen, but your status expires or is revoked.
A specific type of aid may no longer be available to you if you:
Are no longer enrolled in a program that makes you eligible to receive funding, such as a TEACH grant.

Reach the maximum annual or aggregate lifetime loan limits for unsubsidized or subsidized student loans.
Even if you don't qualify for more loans, you'll need to repay any loan you've already taken.
Spot your saving opportunities
See your spending breakdown to show your top spending trends and where you can cut back.