How to Become an Airline Pilot
Airline pilots, nationwide, earn a median salary of $130,444.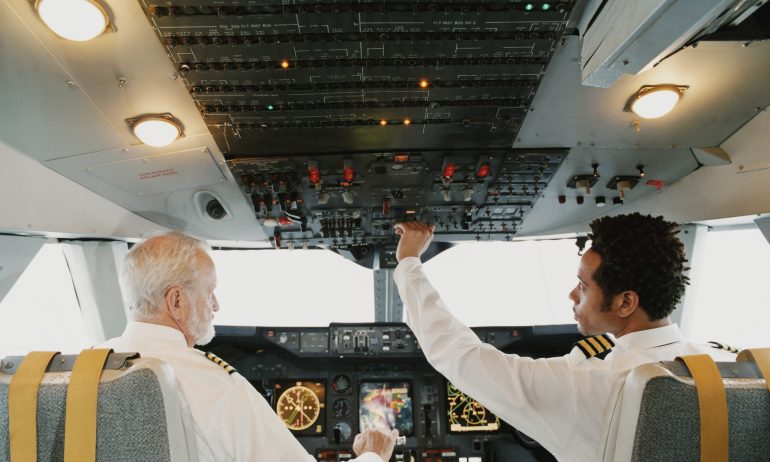 Many or all of the products featured here are from our partners who compensate us. This influences which products we write about and where and how the product appears on a page. However, this does not influence our evaluations. Our opinions are our own. Here is a list of our partners and here's how we make money.
Airline pilots fly and navigate commercial airplanes and helicopters. Openings for airline pilots are expected to grow faster than average through 2030, according to the Bureau of Labor Statistics. To become an airline pilot, you'll typically need a bachelor's degree, flight training, experience as a commercial or military pilot, and specific certificates and ratings from the Federal Aviation Administration.
Student loans from our partners

The following information comes from the most recent data (May 2020) by the Bureau of Labor Statistics.
Median pay: $130,444 per year.
Annual projected number of new jobs: 113,900.
Projected employment growth from 2020-2030: 13%.
10 cities and metropolitan areas with the highest concentration of airline pilot, copilots and flight engineer jobs
Denver-Aurora-Lakewood, Colorado.

Charlotte-Concord-Gastonia, North Carolina-South Carolina.

Minneapolis-St. Paul, Bloomington, Minnesota-Wisconsin.

Las Vegas-Henderson-Paradise, Nevada.

Chicago-Naperville-Elgin, Illinois-Indiana-Wisconsin.

Seattle-Tacoma-Bellevue, Washington.

Atlanta-Sandy Springs, Roswell, Georgia.
Education and training required
Minimum education required: Bachelor's degree.
Training needed: Airline pilots typically need a bachelor's degree and must complete flight training with independent FAA-certified flight instructors or at flight training schools. Colleges and universities may offer pilot training as part of a two-year or four-year aviation degree. Newly hired airline pilots will need on-the-job training that meets federal regulations, including several weeks of ground school and flight training. Airline pilots also have to maintain training, have experience with certain maneuvers and procedures, and undergo regular medical examinations.
Licensing needed: Airline pilots undergo extensive FAA-issued certification and ratings, typically in this order:
Student pilot certificate.

Private pilot certificate.

Commercial pilot certificate.

Airline transport pilot certificate.
Each of these requires a knowledge test on the ground and a practical flight exam.
How to pay for your education
Financial aid availability: Becoming an airline pilot typically requires a bachelor's degree. If you attend a traditional college to get your bachelor's degree, you typically can access federal aid dollars through Title IV funding. First, submit the Free Application for Federal Student Aid to access need-based aid and federal student loans. If you have a financial gap to fill, consider private student loans. Former service members can use tuition assistance programs or the GI Bill to pay for training.
If you attend a private technical school with a flight training program, you may find the school offers its own loan programs or the equivalent of a "buy now, pay later" financing option. Use these with caution since rates may be much higher than federal student loans. Compare the program available at these schools with any offered by a nearby community college.
Typical cost to become an airline pilot: The cost of becoming an airline pilot varies by where you get your bachelor's degree and flight school training. They will be separate expenses. For example, ATP Flight School, which has locations nationwide, costs $87,995 with no previous experience or $68,995 when you already have a private pilot certificate.
To compare the costs of bachelor's degrees, you can use the College Scorecard to search schools by "Field of Study." This will show you median debt, graduation rates and salaries at U.S. schools.
Loan forgiveness available: Airline pilots are unlikely to receive student loan forgiveness. However, there is an aviation degree loan repayment program in Minnesota that residents may be eligible for.
Hours: Pilots have variable work schedules, including overnight layovers. Long working hours are expected but depend primarily on the routes you fly. However, airlines must adhere to federal regulations that set maximum work hours and minimum rest requirements for pilots.
Where airline pilots work: In aircraft flight decks, which are often sealed. Airline pilots work in small teams and close to co-workers for long periods. Flight assignments are typically based on seniority.
Risks: Fatigue, jet lag and mental stress are all expected due to long hours and the job's level of concentration and responsibility. Fatalities are uncommon, but pilots have a higher fatal injury rate than other occupations.
Benefits: Airline pilots receive full benefits, including health, dental, vision and life insurance, paid time off, a flexible work schedule and extensive travel opportunities. There are unions for airline pilots tied to specific airlines or pilots can join the largest union worldwide, the Air Line Pilots Association, International.
Get pre-qualified in just 3 minutes with Credible
Check multiple student loan lenders to get accurate, pre-qualified rates with no impact to your credit score.
Spot your saving opportunities
See your spending breakdown to show your top spending trends and where you can cut back.