What We Know About Biden's Student Debt Relief 'Plan B' So Far
After the Supreme Court struck down Biden's broad student debt cancellation proposal, a 'plan B' could provide more targeted relief to vulnerable borrowers.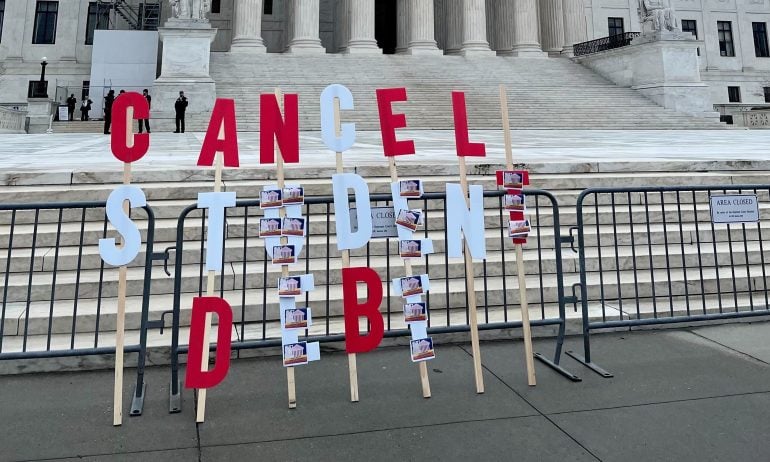 Many or all of the products featured here are from our partners who compensate us. This influences which products we write about and where and how the product appears on a page. However, this does not influence our evaluations. Our opinions are our own. Here is a list of our partners and here's how we make money.
President Joe Biden's first student debt cancellation plan led a short and fiery life. In August 2022, Biden announced eligible borrowers would see up to $20,000 in federal student debt erased. By November, federal judges had frozen the proposal. The Supreme Court declared the plan unconstitutional in June.
"Today's decision has closed one path," Biden said in a press conference after the Supreme Court ruling. "Now, we're going to pursue another. I'm never going to stop fighting for you. We'll use every tool at our disposal to get you the student debt relief you need and reach your dreams."
The regulatory process for this new path began this fall, revealing details about what it could hold. It's narrower in scope, it's justified by a different law and the soonest it could forgive debt is 2025.
But don't count on success yet. Here's what we know — and don't know — about Biden's student debt cancellation 'plan B' so far.
Far fewer would qualify under plan B. The proposed relief has strict eligibility criteria to target the most vulnerable borrowers.
According to negotiation notes released in early November, the Education Department wants to cancel student debt for the following four groups:
Borrowers with balances greater than what they originally borrowed. If the interest on your loan grew to be larger than your principal balance, the government would erase any amount above what you originally borrowed. 

Borrowers who've been in repayment for at least 25 years. Your remaining balance could be erased if you've been in repayment for at least 300 months by July 1, 2025, including periods of default, deferment or forbearance. 

Borrowers who attend programs that did not provide sufficient financial value. If you went to a career-training program that created unreasonable debt loads or provided insufficient earnings, or you attended an institution with unacceptably high student loan default rates, your loans could be forgiven. 

Borrowers who never applied to other relief programs for which they're eligible. If you're eligible for targeted loan forgiveness programs like Public Service Loan Forgiveness (PSLF), or could have reached the loan forgiveness threshold for an income-driven repayment (IDR) plan, you could get your relief, even if you never applied for these programs. Forgiveness amounts would depend on the terms of the program for which you're eligible. 
The Education Department is also considering extending the relief to a fifth borrower group: those experiencing "financial hardship." This definition is not yet set in stone. Here are some potential criteria borrowers may need to qualify for this group:
Attended a school that closed. 

Have parent loans and student loans of their own.

Are enrolled in Medicare.

Did not finish their program. 

Face major medical or childcare costs.

Have declared bankruptcy. 
By contrast, 43 million borrowers were eligible for Biden's original relief plan. Anyone who earned less than $125,000, or $250,000 as a married couple, would've qualified for up to $10,000 in student debt cancellation; those who received a Pell Grant to help pay for school would've been eligible for up to $20,000.
Higher Education Act justifies plan B
The White House is leveraging the Higher Education Act, or HEA, to push plan B forward. The 1965 legislation laid the foundation of the modern U.S. college funding system. It established and governs grants, federal loans and other programs to help students pay for school, and it empowers the secretary of education to "compromise, waive, or release" federal student loans.
Biden's 'plan A' would have canceled debt via the Heroes Act of 2003. Passed by Congress following the 9/11 attacks, this law allows the secretary of education to "waive or modify" student debt obligations for borrowers affected by a war, military operation or national emergency. The White House argued that the pandemic was a national emergency worthy of loan cancellation, but the Supreme Court ultimately ruled this interpretation unconstitutional.
Though the HEA also allows the secretary to waive federal student loans, it doesn't include specific requirements like a national emergency.
The government has called on the HEA to cancel student debt in specific instances before. The HEA allowed for the creation of the PSLF and IDR programs, which erase student debt after eligible borrowers make payments for a set number of years. The Biden Administration has overseen 715,000 borrowers approved for almost $51 billion in loan forgiveness under the PSLF program, the Education Department said in October. The HEA is also behind the $6 billion Sweet v. Cardona settlement in 2022, in which some 300,000 defrauded borrowers will get their debt discharged and past loan payments reimbursed.
Forgiveness would occur in 2025
The Department of Education is leveraging the HEA's "compromise and settlement authority," which means it is issuing a new regulation through a process called negotiated rulemaking. This back-and-forth between regulators, negotiators and the public kicked off on June 30 and could take up to a year to complete.
The Education Department received 26,000 public comments as of late September.
A committee composed of an Education Department representative and non-federal negotiators from groups like the NAACP, the National Consumer Law Center and The Pennsylvania State University first met to discuss the relief plan on Oct. 10 and 11. A second negotiation occurred on Nov. 6 and 7 and a third round is scheduled for December.
Draft rules are expected next year. If the plan prevails, the Education Department could roll out forgiveness in the summer of 2025.
Biden's plan B still comes with a long list of unknowns, as regulators iron out the details in negotiated rulemaking. Sign up for Education Department alerts to keep up with the latest announcements.
Here are the key outstanding questions:
How much relief will borrowers get?
Under the current version of plan B, the amount of forgiveness varies depending on how the borrower qualifies for the relief, but those numbers haven't yet been finalized.
The original plan included up to $20,000 in relief per individual borrower.
How will the relief be administered?
As of early November, negotiators have left open the possibility of most relief being automatic for eligible borrowers — but that could change.
In Biden's original plan, borrowers had to apply for the debt cancellation. Around 26 million borrowers submitted an application before lawsuits froze the rollout.
What will the final rules be?
Concrete details will become available in 2024. In the meantime, we don't have draft or final rules — just notes from the negotiated rulemaking process. Some details are undecided or subject to change.
For example, the Education Department aims to forgive interest balances greater than the amount originally taken out by a borrower. However, they've not yet settled on how long a borrower needs to have been in repayment to qualify for this relief.
What will the 'financial hardship' definition be?
The Education Department is considering extending relief to borrowers facing financial hardship. However, this is not yet set in stone, and regulators haven't finalized what could qualify as a "financial hardship." The list of possibilities ranges from having childcare expenses to earning less than 400% of the federal poverty line.
We don't know if this plan will succeed – and we won't know for sure until it actually rolls out to borrowers.<br><br>Even if the plan survives negotiated rulemaking, lawsuits or lawmakers could freeze or kill it. Congress could also step in and block the regulation via the Congressional Review Act (CRA), which is a tool it uses to overturn rules created by federal agencies.
The president has veto power over a CRA, but Biden is up for reelection in 2024. The relief could fail if it no longer has White House support. Keep in mind that forgiveness isn't slated until 2025, once the election is over.
Don't count on the plan B yet
Don't make any financial decisions based on the chance that this plan B could happen. Instead, look at the real options in front of you right now.
For example, millions of longtime borrowers are already getting their remaining debt canceled through a one-time IDR account adjustment. And for others, options like PSLF and a new IDR plan called SAVE can lower your monthly payments and forgive your remaining debt after 10 to 25 years of repayment — no plan A or B needed.
Spot your saving opportunities
See your spending breakdown to show your top spending trends and where you can cut back.