Student Loan Forgiveness and Forbearance: Where We Stand
Joe Biden extended payment forbearance and targeted relief, but broad loan forgiveness appears less and less likely.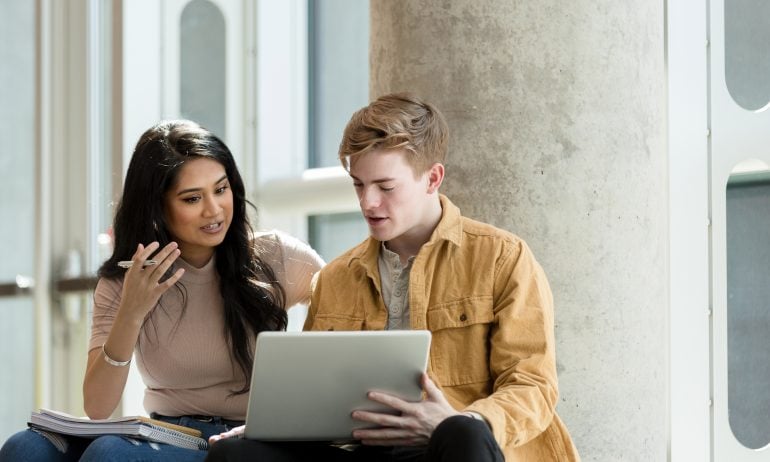 Many or all of the products featured here are from our partners who compensate us. This may influence which products we write about and where and how the product appears on a page. However, this does not influence our evaluations. Our opinions are our own. Here is a list of our partners and here's how we make money.
Federal student loan forbearance ends Jan. 31. By then, most borrowers will not have made a payment in nearly two years.
But their debt is still waiting for them, and so are several outstanding questions:
By February, most federal student loan borrowers will not have had their loans forgiven; rather, they will resume making monthly payments on their outstanding balance. But some borrowers could see targeted relief come their way, and other elements promised in Biden's campaign platform are included in ongoing budget negotiations. Here's where things currently stand.
Since Biden took office in January, the administration has extended targeted relief to specific student loan borrowers rather than broad forgiveness for all. The total amount of loan discharges approved since January reached $9.5 billion as of August, affecting more than 563,000 borrowers, the Department of Education says.
Forgiveness so far has come through changes to rules, including:
And while no loans were discharged for borrowers who are working toward , the 22 payments they miss during forbearance count toward the total needed to qualify. Public Service Loan Forgiveness, or PSLF, for example, requires 120 on-time payments while borrowers work in a qualifying job before the remaining balance is discharged.
Although Biden has voiced support for broad student loan forgiveness, he has not yet offered a specific proposal or amount. Depending upon pending legal interpretation, Biden could use executive authority to cancel debt or ask that Congress pass a bill doing so.
Members of Congress have urged Biden to cancel $50,000 in debt per borrower, but the president has reiterated that if he used his authority for broad loan forgiveness, it would not be for more than $10,000 per borrower.
"I expect that any forgiveness issued by Biden, if any, will not be unilateral amongst all student loan borrowers," Jan Miller, president of Miller Student Loan Consulting, said in an email. "The only way broad forgiveness for all is happening is if Biden makes it happen via executive order, [but] ... Biden hasn't been very keen on forgiveness from the start, so I suspect the chances are low."
No provision in Biden's 2022 budget proposal included broad student loan forgiveness, lessening the odds it will become reality. He had proposed forgiveness in the following instances during his presidential campaign:
Biden's 2022 budget proposal does integrate some plans introduced during his campaign, providing relief for current and future students and borrowers, but would have to pass both houses of Congress to become law. They include:
Additionally, Biden campaigned on a plan for a new student loan forgiveness program for borrowers who provide a public service. Under this proposal, up to $50,000 could be forgiven; $10,000 of your debt would be automatically canceled for each year you perform eligible service, for up to five years total. It would not replace PSLF.
A group of senators, in a letter sent to Department of Education Secretary Miguel Cardona, outlined a tapered modification of IDR and a more limited expansion of PSLF, suggesting Biden's plans for these programs may face roadblocks.
The ongoing Jan 31. Borrowers with federal student loans should begin making plans soon to ensure they're prepared for when payments restart in February.
If you have been paying your loans through the forbearance period, there is no reason to stop now unless your financial situation changes. And if you haven't been paying since forbearance began but can afford to restart, now to save money on interest and help pay off your loans faster.
For those who owed interest at the beginning of the forbearance period, that interest will , or be added to what is owed on the loans, when the pause ends. But any payments made prior to then will first go toward accrued interest rather than your principal, so paying the accrued interest off now can save you money on interest later on.
If you're unsure whether you'll be able to afford your student loan payments come Feb. 1, start setting aside your monthly student loan payment now to see if you can work it into your budget.
If you're having trouble setting your payment aside or know you'll have , contact your servicer ahead of Feb. 1 to discuss plans.
An IDR plan will limit payments to a portion of your income and will extend your payment term. By contacting your servicer prior to Feb. 1, once your payments do resume, you'll be ready with a payment plan that works for your income.
Borrowers with questions about their loans or those in special circumstances should contact their servicer prior to Feb. 1 to ensure a smooth restart to payments.