What to Watch for as Student Debt Cancellation Heads to the Supreme Court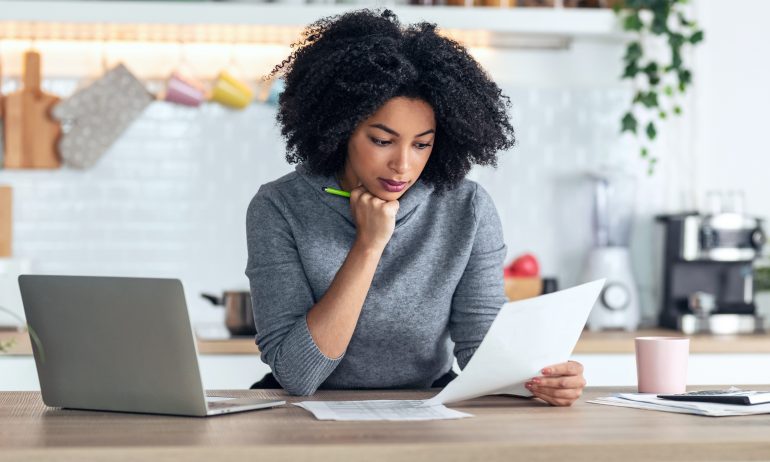 Many or all of the products featured here are from our partners who compensate us. This influences which products we write about and where and how the product appears on a page. However, this does not influence our evaluations. Our opinions are our own. Here is a list of our partners and here's how we make money.
The highest court in the land will soon turn its attention to President Joe Biden's plan to erase up to $20,000 in federal student debt for some 40 million eligible borrowers. 
On Tuesday, Feb. 28, the Supreme Court will consider two key lawsuits that have put this one-time student debt relief on ice. The court will decide the fate of Biden's plan in the months to follow. 
Don't count on the relief happening yet. Here's what else borrowers need to know about the upcoming oral arguments and why you should still plan for repayment. 

Tackle your student loan debt with Summer
Get customized repayment solutions for every step of your student loans journey.
What's going to happen on Feb. 28? 
Biden v. Nebraska: A federal appeals court in Missouri froze forgiveness rollout after six GOP-led states sued the Biden administration, alleging the debt cancellation would harm their states' revenues. 

Department of Education v. Brown: A federal judge in Texas declared the plan illegal, alleging the Education Department does not have the power to order student debt cancellation via the legal avenue it used. 
Oral arguments are a major part of how the court makes decisions, says Frederick Lawrence, a distinguished lecturer at the Georgetown University Law Center in Washington, D.C.
Arguments typically last about an hour per case, with each side holding the floor for about 30 minutes. The justices interject with questions throughout.
"All nine justices will ask questions in order of seniority," Lawrence explains. "The parties will answer those questions as best they can, and they will have summarized their own arguments as well. Then, the case is fully submitted to the court."
Justices may base their questions on publicly available documents called "amicus briefs," which are intended to inform and influence the justices' opinions. Advocacy groups, think tanks, legal experts and lawmakers have already submitted dozens of briefs to the court.  
A few days later, the justices will hold a conference behind closed doors, at which they'll deliberate the case and take an unofficial vote, says Lawrence. A majority of the court — five justices — must agree on the final opinion, which will determine if student debt cancellation stands or falls. 
Expect demonstrators on Feb. 28, too. More than a dozen organizations, including the NAACP, the Student Debt Crisis Center, or SDCC, and the National Education Association, are co-sponsoring a rally outside the court in support of student debt cancellation, while oral arguments unfold inside. 
Organizers anticipate hundreds of attendees, along with politicians and other speakers, says SDCC executive director Cody Hounanian.
What will the Supreme Court decide? 
We don't yet know how the justices will rule, but it's not likely to be a unanimous decision, says Lawrence. 
"It's very, very hard to say in advance," he says. "We don't really have a lot of learnings from these justices on this particular issue."
The questions that justices ask during the arguments may indicate which way they are leaning, but that's not a sure bet. For example, justices could ask a specific question to fill a gap in their understanding  — or because they want to influence another justice, explains Lawrence.
Borrowers should not count on any relief until a decision is issued. 
"It's good to pay attention to what's coming out of the Supreme Court case, but I also think it's a really good idea to not base any action on what you hear about the case until we see a final decision," explains Stacey MacPhetres, senior director of education finance at education and child care company Bright Horizons. 
When will the final decision come out? 
The final decision will come out in the early summer, most likely.
The court doesn't have a strict decision deadline, but they traditionally decide by the end of the current term — the very end of June, or sometimes the first week of July, says Lawrence. Decisions sometimes roll out earlier, but Lawrence says that's unlikely in this case, because it deals with complicated issues of federal power.
"Typically, the ones that get decided quickly … are relatively straightforward," he says. 
Borrowers likely won't hear any news out of the court between oral arguments and the final decision announcement.
What's at stake for borrowers? 
Biden's relief plan would act as an "offramp" to help struggling borrowers avoid falling into default and readjust to making monthly payments after three years of paused student loan bills, says Persis Yu, deputy executive director at the Student Borrower Protection Center, a nonprofit student loan borrower advocacy organization. All told, borrowers hold more than $1.6 trillion in outstanding federal student loan debt.
"I don't know many people in the world, and certainly none of the clients that I've ever worked with, who would say that, 'all of a sudden, I can start making several hundred-dollar payments that I didn't have to make the month before,'" Yu says. "It's a big issue for older Americans, it's a big issue for people with disabilities, it's a big issue for communities of color, it's a big issue for low-income communities."
Certain borrower groups would receive a bigger boost from the relief. For example, Black women carry more student debt proportionate to other groups — and have the most to lose if the cancellation falls. And nearly 90% of the relief would go to borrowers who earn less than $75,000 per year, the White House estimated; two-thirds of relief applications came from neighborhoods with an average income below $40,000, a recent Politico analysis found. 

Tackle your student loan debt with Summer
Get customized repayment solutions for every step of your student loans journey.
How does the hearing affect the student loan payment pause? 
The White House has already extended the pause, also called forbearance, nine times. Under current guidance, payments are scheduled to resume 60 days after the Supreme Court releases its final ruling, or 60 days after June 30, 2023 — whichever comes first. 
Interest on student loan balances will also start accruing at that point. 
What should borrowers do while they await a final decision from the Supreme Court? 
Don't wait for the 60-day notice based on the Supreme Court's final decision: Evaluate your financial situation now.
"For those who have a balance above cancellation, you have to prepare, period. You're going back into loan repayment at some point regardless," MacPhetres says. Even if your balance could potentially be completely wiped out, she advises, "start this month by reducing your budget by your payment amount and put that into a separate account. If [cancellation] passes, then you have a nice cushion that could be your emergency savings." 
If you don't know what your monthly student loan bills will look like, call your servicer and ask. If you don't know who your servicer is, log in to your studentaid.gov account or call the Federal Student Aid Information Center at 1-800-433-3243.
Spot your saving opportunities
See your spending breakdown to show your top spending trends and where you can cut back.