Buying a House in 2023
Give yourself plenty of time to find a suitable property, and hire a real estate agent with deep experience in your market.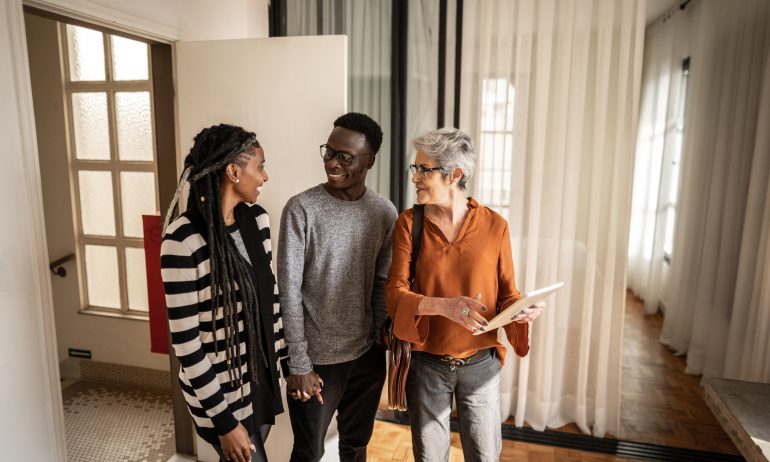 Some or all of the mortgage lenders featured on our site are advertising partners of NerdWallet, but this does not influence our evaluations, lender star ratings or the order in which lenders are listed on the page. Our opinions are our own. Here is a list of our partners.
A shortage of homes for sale continues to stymie buyers in 2023, leaving sellers holding most of the cards.
"I have seen the same buyers at many open houses," Trevor Gearin, a real estate agent with Century 21 McLennan & Co. in Methuen, Massachusetts, said via email. "I have seen some of them for well over a year."
If you're thinking about shopping for a home this fall, give yourself plenty of time to find a property, and then bring your A-game to the negotiating table.
Here's what's happening out there and how to prepare.
After soaring in the past three years, home prices have mostly held so far this year, dipping a bit in some regions and creeping up in others.
In June, the national median price for existing homes — those that were owned and occupied before going on the market — was $410,200, less than 1% under the all-time-record high set in June 2022, according to the National Association of Realtors (NAR).
In its most recent forecast, the NAR predicts the median price for existing homes will ebb 0.4%, and the median price for new homes will fall 1.9% in 2023 compared with last year.
Any price drop should come as welcome news to buyers. But today's higher interest rates make borrowing money more expensive, crimping affordability even further if, like most buyers, you need a mortgage to buy a home.
Nationally, affordability retreated this spring after recovering a tad in the winter, according to the latest available NAR Housing Affordability Index. When the index is at 100, it means that a family with a median income can qualify for a mortgage on a median-priced home. In January and February, the national index was at about 104. In March, April and May, the index fell to 97.9, 97 and 93.8, respectively. The index in May was 4.5 points under the level in May 2022.
Affordability varies widely by region. The most affordable region in May was the Midwest, with an index of 122.7, and the least affordable was the West with an index of 67.1, according to the NAR.
An index provides a snapshot. Prices and affordability also vary within regions and metropolitan areas, so it's important to get to know the market in your area and stay within a price range you can afford, whether you make more or less than your area's median income.
Historically low mortgage rates are long gone
After hovering at historic lows through the COVID-19 pandemic, mortgage rates began rising in 2022, with the 30-year fixed rate more than doubling from 3% at the beginning of the year to more than 6% at year's end. So far in 2023, the 30-year fixed rate has danced between about 6% and 7%, averaging 6.75% in June, according to rates provided to NerdWallet by Zillow.
Mortgage rates have risen in concert with the Federal Reserve's actions to quell inflation. Since March of 2022, the Fed has increased short-term interest rates 11 times. The most recent rate hike, a quarter of a percentage point bump, was announced July 26.
"While significant progress has been made when it comes to inflation, the Fed believes that we aren't quite at a point yet where we can back off completely from raising interest rates," Michele Raneri, vice president and head of U.S. research and consulting at TransUnion, said in a prepared statement. "We may be waiting for a protracted period of cooling inflation before we see a halt to interest rate hikes."
However, if you get a mortgage now you won't necessarily be stuck with that rate forever. You may be able to refinance later if rates drop.
Properties are selling fast
Homes are selling quickly because there aren't enough of them on the market. In June, there was a 3.1-month supply of listed homes, meaning it would take about three months for all the homes to sell at the current pace, according to the NAR. In a balanced market, the supply of listed homes would last about five to six months.
Part of the problem is that homeowners who would like to move are staying put because they bought their homes or refinanced their mortgages when rates bottomed out near 3%. "Those folks aren't moving, so that's inventory that's just locked up," says Nate Johnson, president of Real Estate Solutions Group at RedKey Realty Leaders in St. Louis.
In June, properties typically were on the market for 18 days, according to the NAR. That was up from 14 days in June of 2022, but still represented an electric sales pace.
Well-maintained, well-priced homes in great locations are snapped up in days in the St. Louis market, Johnson says. Homes that need some work or are in less-than-ideal locations may stick around for a few weeks.
"If there are no offers on the opening weekend, it's a good opportunity for a buyer to get a home without paying over the list price," he says.
Multiple offers are the norm
Homes for sale in June received an average of 3.5 offers, up from 3.4 offers the prior year, according to an NAR survey of its real estate agent members. One-third of homes sold above list price.
"Five to six offers are not out of the question for a well-priced home," Johnson says.
Ramez Tabri, an agent with Century 21 Real Estate Alliance in the San Francisco Bay Area, sees a bit of a shift, though, as we head toward the fall.
"We're seeing more opportunity for negotiation now compared to a month or two ago," he says. "It really depends on the property's price. If it's priced over the market, there's more opportunity."
Mortgage loans from our partners