Can I Sell My House While in Forbearance?
You can sell your house while in forbearance. The process will differ depending on your equity, and you may have options to stay in your home.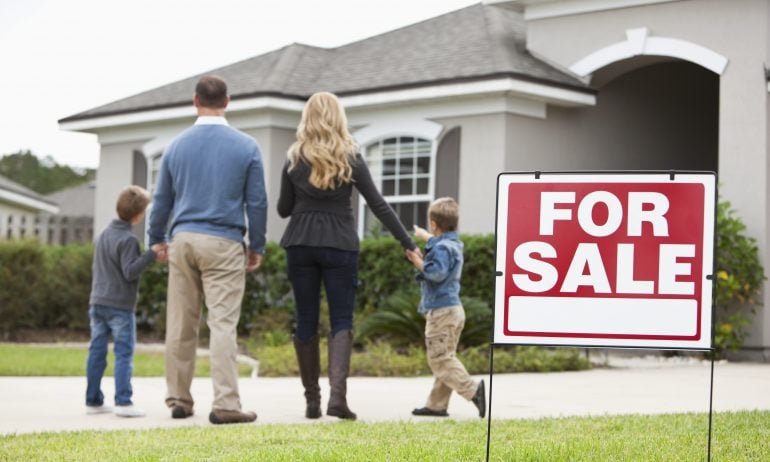 Some or all of the mortgage lenders featured on our site are advertising partners of NerdWallet, but this does not influence our evaluations, lender star ratings or the order in which lenders are listed on the page. Our opinions are our own. Here is a list of our partners.
If you are among the roughly 1 million homeowners the Mortgage Bankers Association says are in mortgage forbearance, you may have thought about selling your home.
Although, yes, you can sell your house in forbearance, that doesn't mean you have to, especially if you have equity in your home. Only 7% of homeowners exiting forbearance opted to pay off their loans by refinancing their mortgage or selling their home, according to MBA data from June 2020 through October 2021. If you're underwater on your mortgage — meaning you owe more than the home's value — you won't be able to sell your house as usual, but you too have options.
Here are three ways to consider all the angles of selling your house while in forbearance.
1. Understand the situation
You may be wondering if you can sell your house while in forbearance because you're worried about being able to resume the monthly payments. Maybe you want to sell to take advantage of rising home prices, or you need to move for work. The process of selling your home while in forbearance would vary depending on how much your home is worth.
If your home is worth more than what you owe
If the value of your house exceeds what you owe, you should be able to sell your home while in forbearance, just as any interested homeowner would. The main difference is that you must pay the lender any missed or deferred payments from the sale proceeds.
Since home prices have appreciated in recent years, most homeowners in forbearance should have enough equity in their house to sell now if they wanted to, says Frank Nothaft, chief economist at CoreLogic, a housing data company based in Irvine, California. CoreLogic puts the average annual equity gain for each borrower at $51,500 in the second quarter of 2021.
If your home is worth less than what you owe
Selling your home in forbearance could be more complex in cases where you owe more on your home than it's worth. If you can't pay the difference out-of-pocket between the mortgage balance and the home's value, you have two options to sell. But be aware, they both may negatively impact your credit score:
A short sale is where you sell the home for less than what you owe on the mortgage. You may be eligible for a short sale if you don't qualify for or cannot pursue a loan modification, but you must get your lender's approval. You may also be required to pay the difference between the sales price and what you owe after the home sale is complete, but that depends on where you live.
Deed in lieu of foreclosure
If you cannot sell your home through a short sale, a deed in lieu of foreclosure is a possibility. With a deed in lieu of foreclosure, you turn over the ownership of your home to the lender or investor. While this option can help you avert foreclosure, you may have to leave right away after giving up the house.
If you want to refinance or buy another home after exiting forbearance, you may not be able to do so as soon as you would like. If you have a loan with Fannie Mae or Freddie Mac, a Federal Housing Finance Agency rule says you have to wait three months after the forbearance ends to be eligible to refinance or buy again. You also must be current on your mortgage for three months in a row under a forbearance plan or have repaid the total forbearance amount you owe.
2. Educate yourself on other options
If you are above water on your mortgage, you may have options that don't involve selling your home, but your eligibility will depend on the type of loan you have:
Extend mortgage forbearance: Increases protection under the CARES Act for a maximum of 18 months if you are still experiencing financial hardship.

Refinance your mortgage: Replaces your existing mortgage with a new one to lower your interest rate or monthly payments.

A loan modification: Restructures your loan, potentially lowering payments and lengthening the loan term.

Repayment plan: Adds part of what you owe to your monthly payment for a limited time.

Deferral or partial claim: Maintains current monthly payment and moves the payments you missed to the end of your loan or puts the amount owed into an additional loan on the property, which you would have to pay back when you sell the home or refinance.

Reinstatement (lump sum payment): Requires paying back all you owe at once. Accept this option only if you know you can afford it.
At least 30 days before your forbearance plan is set to end, your lender should contact you. If you don't hear from your lender by the 30-day mark, make sure you get in touch with it.
Your lender is required to let you know when your forbearance plan is scheduled to end, list and describe all of the programs you qualify for, and refer you to at least one option for housing counseling services. If you decide to sell after reviewing your choices, the lender should give you the mortgage payoff amount, which is how much you owe to satisfy the loan.
The entire process can be confusing, but you don't have to go it alone. A HUD-approved housing counselor can help you weigh the pros and cons of selling your home, says Maurice Muhammad, a branch manager with the NID Housing Counseling Agency in Plainfield, New Jersey. NID Housing is a HUD-approved network of housing counselors and consultants.
One of the Department of Housing and Urban Development's approved agencies can connect you to a housing counselor for free or at little cost. You can also find HUD-approved housing counselors by visiting the Consumer Financial Protection Bureau's website.
Selling a house while in forbearance is possible. The equity in your home will determine how the sales process unfolds. While you consider a sale, be aware of other options you may qualify for, and don't hesitate to contact a housing counselor if you need one.
Get more smart money moves – straight to your inbox
Sign up and we'll send you Nerdy articles about the money topics that matter most to you along with other ways to help you get more from your money.