How Construction Loans Help Finance Your Dream House
Construction loans pay for home building or renovation and are paid in full or converted to permanent mortgages when the work is completed.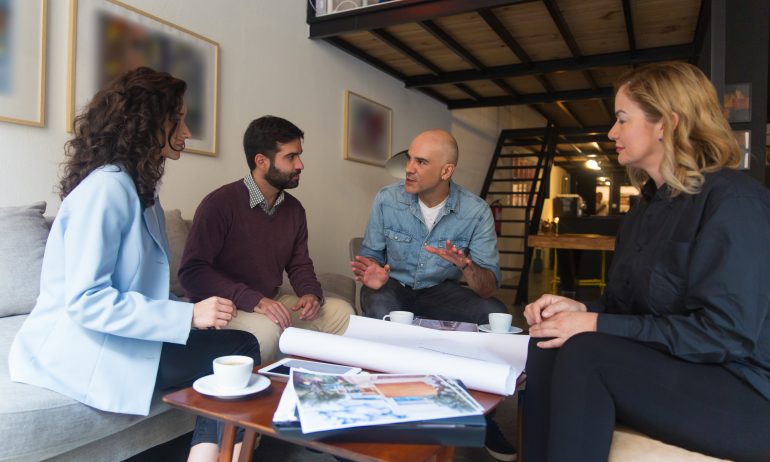 Some or all of the mortgage lenders featured on our site are advertising partners of NerdWallet, but this does not influence our evaluations, lender star ratings or the order in which lenders are listed on the page. Our opinions are our own. Here is a list of our partners.
Building a house is a chance to get everything you want in a home, and a construction loan lays the foundation for making it happen. Here's how the different types of construction loans work and how to choose a lender before breaking ground.
What is a construction loan?
Construction loans cover the cost of building or rehabilitating a house. The lender disburses the money in installments as the work advances. Once building is complete, home construction loans are either converted to permanent mortgages or paid in full. During the construction phase, the borrower pays only interest on the loan.
When is a construction loan used?
A construction loan can be used to finance a custom home — a house designed and built to your specifications — or to pay for a major renovation.
You don't need a construction loan to buy a production home in a new development. With a production home, the builder or developer finances the construction. You choose from a set number of offered house plans and features, and, when the construction is finished, purchase the house from the builder with cash or a traditional mortgage.
Construction-to-permanent loans
A construction-to-permanent loan converts to a permanent mortgage when building is complete. Also known as a single- or one-time close construction loan, it's a convenient option because you apply and pay closing costs only once. The interest rate is locked in at closing. Lenders may also offer a "float-down option," which would let you get a lower rate at closing if mortgage rates improved during construction.
Also known as a "two-close" construction loan, a construction-only loan must be paid off when the building is complete. The loans require the borrower to qualify, get approved and go through closing twice — once for the construction loan and once for the permanent mortgage. Construction-only loans offer more flexibility because you can compare lenders to find the best deal on a construction loan and on a mortgage separately. The downside: You pay for two loan closings.
Construction projects are complex, and each one is unique. When shopping for financing, ask loan officers about the pros and cons of one-close and two-close construction loans and which would be the best fit for your project.
With renovation construction loans, the cost of major renovations is wrapped into the mortgage instead of financed after closing. The loan is based on the home's value after the renovation is completed. These loans make sense if you are buying a fixer-upper but don't have cash for the remodeling and repair work. Here are some low-down-payment renovation mortgage programs to consider:
The HomeStyle, CHOICERenovation and FHA 203(k) loans can also be used to refinance a current mortgage and include the costs of a remodeling project.
An owner-builder loan is for someone who plans to build their own home and act as the general contractor. Borrowers need to have building experience to qualify, and not all construction lenders offer owner-builder loans.
Mortgage loans from our partners