How Construction Loans Help Finance Your Dream House
Construction loans pay for home building or renovation, but the approval process and terms differ from a traditional mortgage.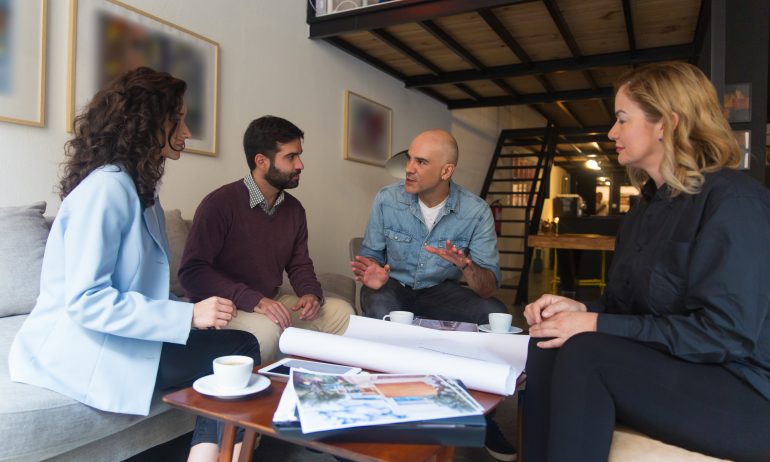 Many or all of the products featured here are from our partners who compensate us. This may influence which products we write about and where and how the product appears on a page. However, this does not influence our evaluations. Our opinions are our own. Here is a list of our partners and here's how we make money.
Buying your dream house may require a mortgage. But building your dream house? Well, that can require a mortgage with a twist. Namely, a construction loan.
What is a construction loan?
Construction loans are shorter term, higher interest rate mortgages that cover the cost of building or rehabilitating a house. The lender pays a construction loan to the contractor — not the borrower — in installments as building milestones are achieved. Once building is complete, home construction loans are either converted to permanent mortgages or paid in full.
Building is your chance to have everything you want in a home, but the construction loan process can be complicated. Learn how the different types work and how to choose a lender before breaking ground.
Construction-to-permanent loans
Construction-to-permanent loans convert to a permanent mortgage when building is complete. Also known as "single-close" construction loans, interest rates are locked in at closing. These loans are best if you have a straightforward construction plan and want predictable interest rates.
Construction-only loans, also known as "two-close" construction loans, must be paid off when the building is complete. The loans require the borrower to qualify, get approved and pay closing costs multiple times. Construction-only loans are an option if you have large cash reserves or want to shop for a permanent lender during the building phase.
Renovation construction loans
With renovation construction loans, the cost of major renovations are wrapped into the mortgage instead of financed after closing. The loan is based on the home's value after repairs and renovations. These loans make sense if you are buying a fixer-upper but don't have cash for renovations.
What does a construction loan cover?
Every project is different, but in general, a construction loan pays for:
Contingency reserves (in case the project costs more than estimated).

Interest reserves (if you don't want to make interest payments during building).
How do construction loans work?
When you borrow money to build a house, there's no collateral to back up the loan the way there is in a traditional mortgage — at least not yet. This makes lenders nervous, so you have to jump through some additional hoops before they'll fork over the cash. Expect a thorough inspection of the architectural plans and your builder, as well as your finances.
"

Expect a thorough inspection of the architectural plans and your builder, as well as your finances.

"
Disbursement of a construction loan also works differently from with a traditional loan. Instead of transferring a lump sum, lenders pay home construction loans to the builder in installments, called "draws." Each draw coincides with an important phase of the project, such as pouring the foundation, framing and finishing work.
An inspection is typically required before each draw is released to the builder, and the amount of that payment is based on the work completed, as noted in the inspection report.
If your dream house needs a lot of TLC, a renovation construction loan lets you wrap upgrade and repair costs into your permanent mortgage, says Sean Faries, CEO of Land Gorilla, a software company for construction lenders based in San Luis Obispo, California.
Like a typical construction loan, the amount you can borrow for a renovation depends on an appraiser's estimate of value once repairs and upgrades are complete. The lender still needs to approve your contractor and renovation plans, and it still pays the money in installments.
The benefit of financing big renovations with a construction loan, rather than a personal loan or a home equity line of credit, is that you'll generally pay a lower interest rate and have a longer repayment period.
Prepare for the builder review
A mortgage is usually a transaction between a lender and a borrower, but construction loans add a third party to the mix: the builder. Everything hinges on your contractor's ability to complete the construction plans on time and within budget, so hire carefully.
"Check the builder's references and look at other work they've completed. Make sure their plans and specifications are approved by the local building authority and they're ready to move forward on the project," Faries says.
A lender may request your builder's work history and proof of insurance, blueprints, specifications, a materials list, a detailed budget and a signed construction contract that includes start and finish dates.
What is the required down payment for a construction loan?
A 20% to 30% down payment is typically required for new construction, but some renovation loan programs may allow less. For example, the FHA 203(k) program allows down payments as low as 3.5%.
How to get a construction loan
As with all mortgages, the minimum credit score, maximum debt-to-income ratio and down payment required for a construction loan will vary from lender to lender. In most cases, these requirements are based on the amount of money you borrow.
Lenders will review your:
Debt-to-income ratio: Lenders generally expect your debts to total no more than 45% of your income, and lower is better.

Credit score: Most construction loan lenders require a credit score of 680 or higher.

Down payment: A 20% to 30% down payment is typically required for new construction, but some renovation loan programs may allow less.

Repayment plan: With a construction-only loan, the lender might want to know if you'll pay the balance in cash or refinance when building is complete.
How to choose a construction loan lender
Remember that not every mortgage lender offers a construction product, says Ray Rodriguez, TD Bank's regional mortgage sales manager for New York. When you find a few lenders that do, compare their rates and terms. He also recommends getting prequalified before you even think about blueprints.
"

Get prequalified before you even think about blueprints.

"
"The last thing you want to do is spend a lot of money on plans and specs, only to find out you can't get a loan because of your credit score," Rodriguez says.
Credit underwriting for a construction loan is generally the same as for a traditional mortgage, according to Rodriguez, though "it may take a little longer to close because you have multiple parties involved and you're underwriting subjectively based on future value."
Building a home takes a long time and the process has a lot of moving parts, so you must select your financing with care.
"Some lenders do an outstanding job of managing borrower and builder expectations," Faries says. He recommends looking for an experienced construction lender that can lead you through the process with minimal frustration.
Frequently asked questions
What down payment is required for a construction loan?
What are the qualifications for getting a construction loan?
Is it hard to get a construction loan?
Get more smart money moves – straight to your inbox
Sign up and we'll send you Nerdy articles about the money topics that matter most to you along with other ways to help you get more from your money.