What Is Dual Agency, and Why Is It Illegal in Some States?
Dual agency is when one real estate agent is on both the buying and selling sides of the same transaction.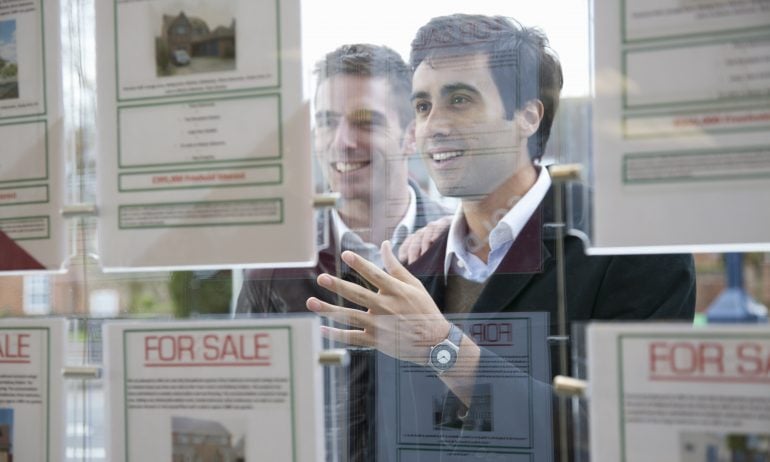 Some or all of the mortgage lenders featured on our site are advertising partners of NerdWallet, but this does not influence our evaluations, lender star ratings or the order in which lenders are listed on the page. Our opinions are our own. Here is a list of our partners.
In a typical sale of an existing home, there are two real estate agents — one to represent the buyer and another, the seller. Buyers and sellers have different, often competing goals, and each relies on an agent to represent their interests.
Getting ready to buy a home? We'll find you a highly rated lender in just a few minutes.
Enter your ZIP code to get started on a personalized lender match
Dual agency describes a situation in which the same real estate agent represents both the buyer and the seller. This creates ethical issues, and the agent's own interests could end up taking priority.
If you're planning on buying or selling a home, here's what you should know about dual agency, including where it's illegal and how to avoid it.
What dual agency is — and isn't
Dual agency occurs when the selling or listing agent for a property (who's ostensibly representing the seller) also acts on behalf of the buyer, either as the buyer's agent or because the buyer does not have an agent. This puts the same agent on both sides of the transaction.
The manner in which a real estate agent intends to work with you should be disclosed at the very start of your relationship, but local laws vary as to when that "start" is, and realistically, these laws aren't always followed to the letter.
Real estate agents are generally assumed to have a fiduciary duty to their clients. That means they're working in your best interests, not their own or anyone else's. As a buyer or seller, you should be able to expect that your agent will disclose any information they have that could be beneficial to you, but also keep confidential anything you share with them, particularly if it could put you at a disadvantage.
For example, if you're buying a house, you expect your agent to negotiate on your behalf to get your offer accepted on the terms you want. As a seller, you assume your agent will get you the best possible offer for your property on your terms.
But if both buyer and seller are working with the same agent, and the agent is expected not to disclose information — like the buyer's highest possible offer or the lowest bid the seller would accept — neither party may get their optimal outcome. An agent who's supposed to be a neutral party can't negotiate in one side's best interest and remain unbiased.
And it's important to remember that the agent has interests, too. Maximizing their commission and minimizing time the house is on the market so they can move on to the next transaction benefits their bottom line, not yours. And both are easier when there's only one agent involved.
It's not dual agency if the same real estate agent represents you in two separate transactions. For example, when you're selling a home, it's pretty common to have your listing agent help you buy your next house. That isn't dual agency, because the sale of your current home and the purchase of your next one are two separate transactions. Within each transaction, the agent should be representing your interests.
Dual agency is illegal in some states
Eight states prohibit dual agency. But understanding the responsibilities of an agent in a home sale can still get murky. A 2020 report by the Consumer Federation of America found that states use more than fifty different terms to describe the role an agent must play in a real estate transaction. Knowing what that role is assumes that you not only get the real estate agent disclosure form in a timely manner, but that you also read and understand it. Since the forms are often packed with jargon and legalese, that's no easy feat.
States where dual agency is currently illegal:
The National Association of Realtors, which is the largest trade group for real estate professionals, does not bar members from practicing dual agency. However, its code of ethics states that agents should always advise home buyers and sellers of any potential conflicts of interest, including dual agency.
Designated agency vs. dual agency
Maryland and Texas laws go a bit further than the other states in that they consider two agents working for the same real estate brokerage to constitute dual agency. In other places, like Colorado and Wyoming, this is referred to as designated agency, and is allowed.
When both agents work under the same broker, the transaction is being kept "in house" even though the commission is split between the two agents. In the spirit of open competition and fairness, brokerages are not supposed to keep buyers or listings to themselves.
But if, for example, you absolutely love a house that's being sold by an agent who works for the same brokerage as your buyer's agent, you can still go through with the deal, as long as proper disclosure is provided and your state allows designated agency.
In that scenario, be sure you know how and when the agents will work together. In some cases, a third agent within the brokerage (often the actual broker) will act as a neutral party for this type of transaction.
Should you allow dual agency?
When you're selling a house, you might be tempted to allow dual agency in order to speed up the transaction. After all, if you're working with a single person, there's no waiting time while your listing agent communicates with the buyer's agent. A listing agent may also tempt you by offering a reduced commission — say 5% of the sale price instead of 6% — since without a buyer's agent, they get to keep the entire fee.
Getting ready to buy a home? We'll find you a highly rated lender in just a few minutes.
Enter your ZIP code to get started on a personalized lender match
A little more efficiency or upfront savings, however, could blind you to a bigger loss. Working both sides of the transaction, an agent's primary interest may be in closing the sale as quickly as possible rather than showing the home to all qualified buyers and getting you the best price.
Buyers can wind up in a dual agency situation if they see a home they want and reach out directly to the listing agent, a practice that's not unheard of in a hot real estate market. That's also something a first-time home buyer who's unfamiliar with the steps to buying a house might do.
Or, a listing agent might offer to represent you when you go to their open house. But the listing agent's primary role is to get the best price for the seller, not the best deal for the buyer. If the agent isn't acting solely on your behalf, you can't be sure your interests will be the top priority in the transaction.
There is one scenario where dual agency makes sense: For sale by owner, or FSBO. A homeowner who has a specific buyer in mind (say a relative or neighbor) may only need one agent to act as a transactional broker for the property sale. Especially if you've already agreed upon a price and any concessions, the agent's role is fairly limited and you probably don't each need separate representation.
If you're ready to commit to a real estate agent, ask to see (and sign) an agent's disclosure. Even if you're in a state where agents aren't legally required to give you this document until pretty late in the game, there's no reason you can't review it sooner.
Read the disclosure, and ask questions about anything that's unclear — especially if it seems to indicate that dual agency might be allowed. That way, you can better understand the details of the working relationship and be assured that your agent is acting in your interest.
Get more smart money moves – straight to your inbox
Sign up and we'll send you Nerdy articles about the money topics that matter most to you along with other ways to help you get more from your money.