How to Break Up With Your Lawn and Boost Resale Value
Low-maintenance alternatives to turf grass provide environmental benefits and curb appeal.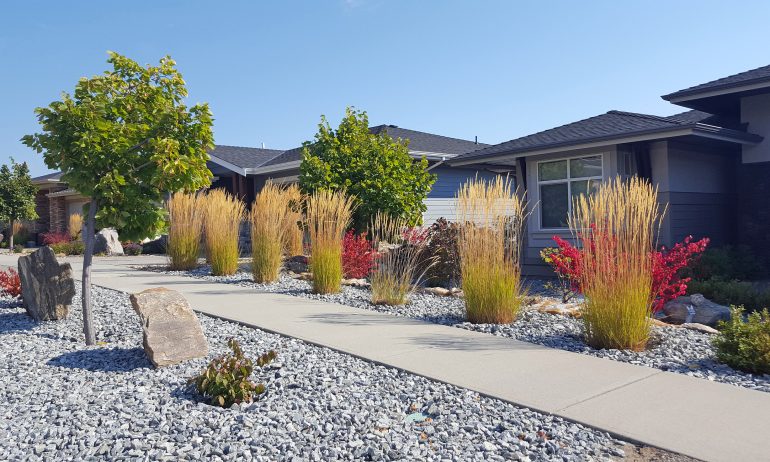 Some or all of the mortgage lenders featured on our site are advertising partners of NerdWallet, but this does not influence our evaluations, lender star ratings or the order in which lenders are listed on the page. Our opinions are our own. Here is a list of our partners.
From rain gardens to xeriscaping, the environmental benefits of resilient landscaping are well documented. Replacing grass with lawn alternatives can save water, attract pollinators and reduce the need for harsh fertilizers and pesticides.
Thankfully, you don't have to choose between landscaping that's good for the environment and resale value. Here's how to ditch your grass thoughtfully.
First impressions matter. More than 90% of Realtors recommend that sellers boost their home's curb appeal before listing, according to a 2023 joint report from the National Association of Realtors and the National Association of Landscape Professionals.
Whether you're moving now or in the future, landscaping projects remain a surefire way to produce a positive return on investment. Homeowners can recoup the full value of an overall landscape upgrade, according to the report.
For maximum curb appeal, natural landscaping should have tidy borders around walkways and avoid obstructing windows or doors.
"Something that complements the house that's low-maintenance — shrubbery or bright flowering bushes — tends to be the most favorable," says Diane Bostrom, a real estate agent with Joan Herlong & Associates Sotheby's International Realty in Clemson, South Carolina.
High-maintenance landscapes are like skinny jeans: Some younger consumers are losing interest in favor of a more practical, laid-back look.
"It's just going out of fashion," says Jeff Lorenz, founder of Refugia, an ecologically conscious landscaping firm in Narberth, Pennsylvania. "And it's also a generational thing. You don't see too many people in their 20s and 30s that are interested in pruning U-hedges and having these perfect privet borders between properties."
A traditional grass lawn is time- and resource-intensive, requiring frequent mowing and watering. Then there's the seasonal fertilizing and weed control. And young folks aren't the only ones eager for an alternative: Some older adults are also tired of the maintenance required to keep a traditional lawn — or the cost of paying someone else to do it.
"Low-maintenance is absolutely becoming the most popular," she says. "It allows people to be with their family, their friends, play golf … whatever the activity is."
Don't: Feel obligated to go completely grass-free
Retaining a small patch of grass can be practical when designing an alternative lawn, especially if you want an area for kids or pets to use.
"Turf grass is the means by which you access your landscape, visually and on foot," says Bob Mann, senior director of technical and regulatory affairs at the National Association of Landscape Professionals.
While many types of ground cover can replace grass, some might not withstand foot traffic as hardily as turf. Others take longer to get established.
"It's a balance of finding the right utility in a space," Mann says.
Do: Mix it up with native plants
Unlike needy turf grass, native plants tend to be more hands-off while providing many additional benefits to your landscape.
With deeper roots than commercial turf grasses, many native plants absorb and filter stormwater more effectively. If your backyard gets waterlogged after heavy rain, that can be a significant turnoff for potential buyers. Consider creating a rain garden with native plants in low-lying areas to help manage stormwater naturally.
Native plants also provide food and habitat for pollinators such as birds and butterflies. And plants indigenous to an area usually require less fertilizer while being more likely to thrive in local rainfall and weather conditions. (Think coastal prickly pear cactus in dry Southern California or water-loving marsh marigold for a rain garden in Maine.)
A landscape designer can recommend a mix of indigenous grasses, flowers, shrubs and trees to provide year-round color, texture and curb appeal.
Don't: Blindly jump on a trend
To design a reduced-grass landscape with staying power, consult an expert instead of trusting whatever's trending on your news feed.
Clover lawns had its moment in the spotlight on TikTok last fall, for example, but they have drawbacks.
"They sound cooler than they are," Lorenz says. "They still have issues. Any type of monoculture isn't great, whether it's turf grass or clover. A mix of the two is better."
The "No Mow May" trend, which encourages a pause in lawn mowing to provide food for pollinators, is also under scrutiny. A paper published by PeerJ, a peer-reviewed journal, in 2020 claimed bee populations rose when local homeowners didn't mow their lawns for a month, but that study has since been retracted because of issues with the data and research methods.
"We really need to look at some solid science on this issue and not just accept anything that is coming over the wire as possible," Mann says.
Despite their benefits, rain and pollinator gardens have been dismissed by critics as ugly and unkempt. Some homeowners associations have even attempted to ban them.
Before you rip out your sod, familiarize yourself with HOA rules or local ordinances that might prohibit you from doing so. If the rules don't allow it, you're not alone if you want to challenge them.
Finally: While you might not need your neighbors' explicit permission, be prepared to address curious questions and concerns. Neighbors might have misconceptions that natural landscapes attract pests such as mosquitoes or rats — but thoughtfully designed native landscapes can help keep these populations at bay.
If allergies are a concern, your local agriculture extension can recommend native plants without wind-borne pollen, which may trigger hay fever. And in wildfire-prone areas, you can reduce fire risk by keeping plantings a few feet from your home or selecting fireproof materials such as rocks and gravel.
Don't: Miss out on state or local incentives
If you live in a drought-prone area, check whether local authorities offer a rebate program that pays homeowners to ditch their grass. For example, the Southern Nevada Water Authority offers a rebate of $3 per square foot for homeowners who remove turf grass to install desert landscaping. Los Angeles upped its rebate from $3 to $5 per square foot late last year — and in California, cash from local turf replacement rebates is now exempt from income tax statewide.
In non-desert areas, see whether your state's department of natural resources has a lawn conversion program. State or local partners might have funding for eligible projects, such as meadow installation. Even if they don't offer cash, they might have a list of qualified landscaping contractors to make your vision come to life.
Get more smart money moves – straight to your inbox
Sign up and we'll send you Nerdy articles about the money topics that matter most to you along with other ways to help you get more from your money.