How to Sell Your House
From prepping your property for sale to moving into your next home, here are the basic steps of selling a house.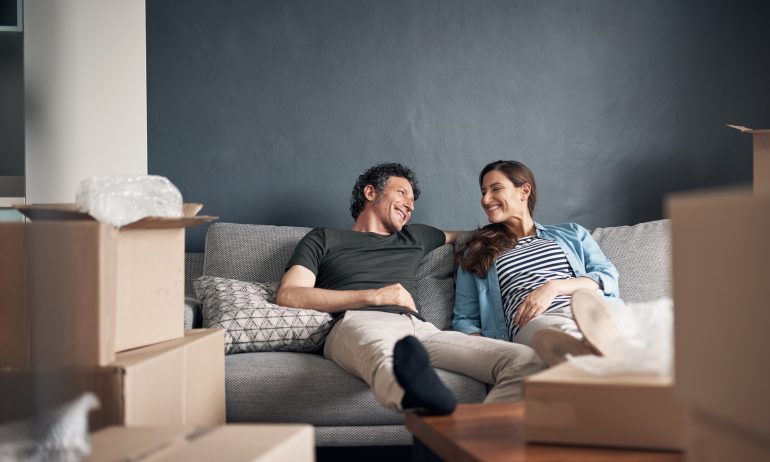 Many or all of the products featured here are from our partners who compensate us. This may influence which products we write about and where and how the product appears on a page. However, this does not influence our evaluations. Our opinions are our own. Here is a list of our partners and here's how we make money.
If buying a house wins the crown for "Most Difficult Adult Thing You've Ever Done," then selling a house must be runner-up.
Completing a home sale can require a lot of time, planning, paperwork and yes, money. Here's a step-by-step guide to getting it done. We'll start with a quick overview, then dig deeper.
Teeing up your home for sale might be the most important part of the process. From enhancing your to decluttering, make a commitment to set aside sentimentality and focus on maximizing your home's marketability. Family photos should be boxed up, walls may need painting, and that cushy-but-worn recliner might have to be retired.
Professional stagers help prepare a home for sale for a fee, and the results can be dramatic. Pros will often remove half the furniture in a home to make it appear larger. The International Association of Home Staging Professionals says such services can dramatically reduce a home's time on the market — and that staged homes can sell for as much as 20% more than nonstaged homes.
In the meantime, taking an objective view of your local real estate market will help you manage your expectations, as well as price and market your home properly. In a seller's market, you might expect multiple bids above your opening listing price. But in a buyer's market, you may have to discount your asking price.
Gathering information on recently sold homes — otherwise known as — can help you get a ballpark price. Look at homes that are as similar to yours as possible in terms of age, style, location and size. Homes that are currently for sale won't give you as reliable a picture as sold homes, since the asking price isn't necessarily the final price.
While the temptation to sell the house yourself may be strong, sometimes an objective voice can make a real difference. Whether you hire an agent or go the  route, you'll want honest feedback along the way regarding your proposed price, how well the house will show and other matters involving the sale.
Just showing the house yourself can be awkward, especially hearing candid — and sometimes painful — comments about your home.
A will provide you with a comparative market analysis (serious comps!). Their local market knowledge can also be a major advantage. An experienced real estate agent will guide you away from making rookie mistakes.
If you have the time, marketing savvy and people skills, a FSBO transaction may be for you. But if you decide to hire a real estate agent, interview at least three contenders to find the right fit.
When determining the list price of your home, give yourself a little cushion for negotiation, unless you live in a hot . But don't overprice your property. Generally, the longer your house stays on the market, the less you'll get.
There also will be some, including a broker's commission of 5% to 6%, to deduct from the proceeds of the sale.
Even if you go it alone without an agent, you'll have marketing expenses (signs, flyers, listing costs, photography, etc.) and any closing costs that you're willing to offer in order to motivate potential buyers.
You've probably noticed homes that have a little extra sizzle in their online listings, with photography that really pops and descriptions that are easy to read yet packed with info.
National Association of Realtors data from 2020 found that of home buyers searching online, 89% found photos very useful. Detailed written information came in a close second, with 86% of buyers finding it very useful. And these days, it's really all about online listings. The same NAR data found that 43% of buyers looked at online listings before even contacting a real estate agent.
The value of professional-quality photography cannot be overstated. After all, the featured photo on your online listing could very well be a buyer's first impression of your home.
All of the finer points of negotiating with prospective buyers can be time-consuming and patience-testing — and this is where good real estate agents really earn their commission. According to 2020 NAR data, the median price for homes sold via agents was $295,000, or over $77,000 more than the median price of owner-sold homes, which was $217,900. Though some of that difference may be attributed to FSBO homes being lower cost, if you're considering selling your own home just to save yourself the listing agent's commission, it may not be worth it.
? Some of the last-minute details you may need to deal with can include deciding whether you want to trigger a "rent-back" agreement from the new owners in order to allow you time to complete the purchase of a new home and prepare for the move.
Elements like the buyer's proposed timeline are reasons why you'll want to look at more than just price if you receive . Your agent can help you compare the different offers' financing, terms and contingencies so you can decide which is the best offer for you.
With or without an agent, you'll need to make your home available for an and an inspection. Issues that crop up during the inspection can lead to. These "if-then" propositions can be tedious for the seller: "If you fix this, then we'll buy your home."
Contingencies are market-driven factors. Generally, the higher the housing demand, the fewer conditions are placed on a sale. In an especially , a buyer might offer to waive contingencies like the.
You'll also want to be ready to foot the bill for some of the closing costs. Which costs are the seller's responsibility vary depending on state and local laws, as well as on your individual agreement with the buyers. Make sure you've gone through the purchase contract in detail so you know what to expect.
After the effort it takes to sell your house, the most frantic period may be when it finally comes time to relocate. Coordinating, packing and handling a change of address — they each require a lot of attention to detail.
But after it all, there is some good news: the payoff. Once you sell your home, the IRS generally allows you to take up to a $250,000 gain on the sale, tax-free. If you're married and file jointly, double that to $500,000. The bad news? Selling your house for a loss is not deductible.