Moving Day Checklist
To make your moving day go smoothly from start to finish, follow this checklist.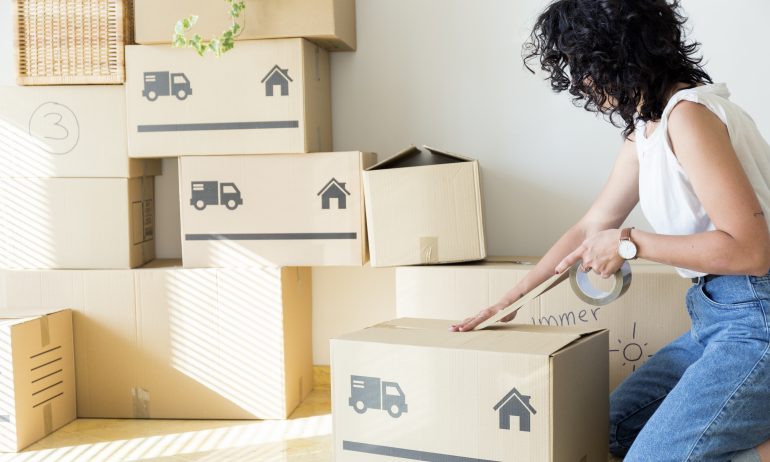 Some or all of the mortgage lenders featured on our site are advertising partners of NerdWallet, but this does not influence our evaluations, lender star ratings or the order in which lenders are listed on the page. Our opinions are our own. Here is a list of our partners.
After endless planning and packing, moving day has finally arrived — and there's still so much more to do. Whether you're working with professional movers or taking a do-it-yourself approach, this moving day checklist will help you sail through the final stretch of this journey.
Getting ready to buy a home? We'll find you a highly rated lender in just a few minutes.
Enter your ZIP code to get started on a personalized lender match
While this checklist is geared toward same-day moves, the same advice generally applies if your "moving day" lasts longer than 24 hours — for instance, if you're making a long-distance move.
Before the move: Morning tasks
Pack a moving day bag: This bag will travel with you throughout your move. It should include valuables, medicines, important documents, small electronics, pajamas, other essentials — and of course, some snacks for the road.
Collect remaining items: Unmake the bed and pack up bedding, toiletries, towels and whatever kitchenware you needed during your last hours in your old home.
Confirm details and make final preparations
Check utilities: Call to ensure utilities have been activated in your new home and will be turned off in your old one.
Keep your phone on: Make sure you don't miss any important calls or texts from movers, caregivers or landlords.
Take pictures: Photograph furniture as proof of condition in case it gets damaged during the move and as a reference for how to reassemble it.
Inspect boxes: Make sure all boxes are sealed and properly labeled.
Do a pre-loading walk-through: Scan the shelves, garage, attic, corners, drawers, cabinets and closets to ensure nothing is left behind.
Drop off kids and pets with caregivers: It's best if small children and pets are spared the chaos of moving. Take your kids to school or day care, or have them stay with a friend, family member or babysitter during the move. Bring pets to a kennel or pet sitter.
Protect surfaces and clear the way: For everyone's safety and to protect the property:
Cover carpets and floors with tarps or other protective materials.

Install corner guards; wrap banisters and door frames.

Clear away leaves, snow, ice or other hazardous debris between the parking space and your doorway.
Loading, transportation and leaving old home
If you're working with professional movers
Greet your movers and examine paperwork: Introduce yourself to the moving crew. Review the bill of lading and all other moving documents to make sure everything is correct before signing. If you have questions or concerns, this is the time to speak up.
Confirm destination and contact information: Make sure the truck is headed for the correct address and that the movers have your current cell phone number.
Do a walk-through: Point out furniture that needs to be disassembled, fragile items that need special care, boxes you'd like unloaded first, which appliances are coming with you and any items that shouldn't be loaded onto the truck.
Full-service moving company overviews from NerdWallet
If you're managing a DIY move
Choose practical clothes: Wear durable non-slip shoes and avoid jewelry or baggy garments that could catch on things and cause injury.
Rent truck or confirm container delivery: If you're renting a truck, pick up the vehicle. If you're using a moving container service, such as PODS, U-Box or U-Pack, and you've already received the container, confirm with the company when the loaded containers will be picked up and delivered to your destination.
Do a walk-through: If you have friends or family helping you move, walk them through your home to show them where everything is and provide special instructions for loading.
Gather equipment: Round up moving supplies you may need to use while loading, such as dollies, rope, packing tape, trash bags and extra moving boxes.
Load it up: Load appliances into the truck or moving container first, followed by furniture and boxes from each room. Kitchen and bedroom contents should be loaded last so they get unloaded first. When stacking boxes, arrange heavy ones on the bottom and lighter ones on top. Pull up any ramps and lock the truck or moving container.
Confirm directions: Make sure helpers have good directions and are able to find the new home.
Say goodbye to your old home
Getting ready to buy a home? We'll find you a highly rated lender in just a few minutes.
Enter your ZIP code to get started on a personalized lender match
Do one more walk-through: Go through your home one last time to make sure none of your belongings have been left behind and that the home hasn't been damaged during loading.
Clean up: If you sold your house, your contract might require you to clean it before the buyers move in; if you don't, you might be liable for cleaning costs later. And if you're renting, your deposit might depend on leaving behind a clean home. To save time and ensure the job is well done, consider hiring a professional cleaning service.
Lock up: Close and lock windows, turn off lights and appliances and lock doors. If you've been renting, don't forget to return your keys to the landlord.
Arriving at your new home and unloading
Do a quick inspection: Walk through your new home and make sure everything is working. Turn on lights, run the hot water, flush toilets and check all appliances. Identify any repairs that are needed.
Decide where to place items: Think about where you want to place your furniture and belongings in your new home. Be prepared to give directions for arranging items to movers or other helpers.
Clean up: Before unloading, wipe down surfaces and sweep or vacuum.
Protect your home: Designate adequate parking for the truck, and set up the tarps and other protective materials you used while emptying your old house.
If professional movers are unloading
Give a tour: Show them around and point out where you'd like to place the furniture.
Inspect your belongings: As your belongings come off the truck, examine each item to ensure it's still in good condition. If you find damage or if anything is missing, let your moving crew know and notify the moving company right away.
Tip your movers: When it's time to settle up, leave a tip to be split among the crew. Tipping practices vary widely, but 15% of the total bill is generally a good amount.
If you're unloading a DIY move
Give a tour: If you have friends or family helping you move, give them a tour of your new home and point out where you want to place furniture.
Take breaks: Pace yourself when unloading, especially if you're not accustomed to heavy lifting. Take breaks as needed.
Return rentals: After emptying the truck or moving container, check carefully to make sure you've left nothing behind. Return your rental truck or confirm pickup of your moving container.
Reward your helpers: Treat your helpers to some pizza or other sustenance as a thank-you.
Make it safe: Before picking up your kids and pets, make sure your new home is kid- and pet-friendly. Avoid hazards like stacking boxes too high or leaving sharp items, such as nails or box cutters, within their reach.
Unpack essentials: Instead of trying to unpack every box on the first night, focus on just getting your essentials unboxed to set up your bedroom, bathroom and kitchen rudiments. You'll also want to hang curtains and shades for security and privacy.
Settle in: You've accomplished a great deal, so be easy on yourself. Order something decadent to eat and put on whatever music makes you happy. Settling into your new home on that first night may actually be the most important step on any moving day checklist.
Get more smart money moves – straight to your inbox
Sign up and we'll send you Nerdy articles about the money topics that matter most to you along with other ways to help you get more from your money.