RedfinNow: What to Know
RedfinNow buys homes for cash, promising convenience to sellers. The service fee varies from 5% to 13%.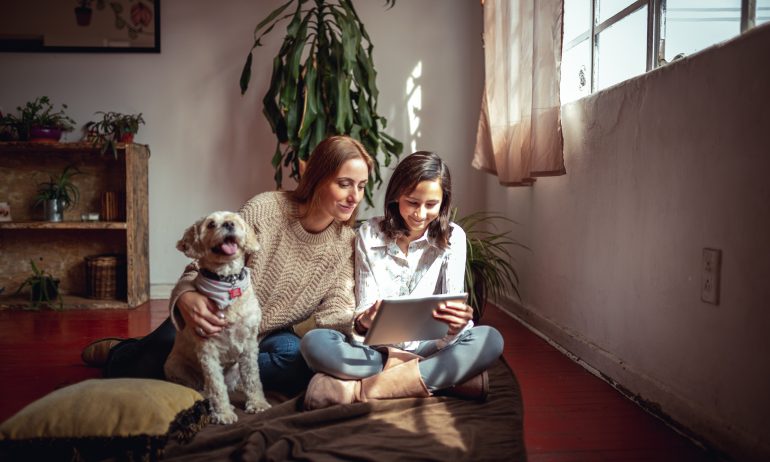 Some or all of the mortgage lenders featured on our site are advertising partners of NerdWallet, but this does not influence our evaluations, lender star ratings or the order in which lenders are listed on the page. Our opinions are our own. Here is a list of our partners.
Editor's note: Redfin announced Nov. 9 that it would close down the operation of RedfinNow as part of an overall 13% reduction in workforce.
RedfinNow is an iBuyer that buys homes, giving homeowners the convenience of selling without listing their properties for sale. It buys qualified homes in around 20 metro areas.
When RedfinNow buys a home, the seller gets cash and then RedfinNow takes care of repairs. Afterward, the home is sold through Redfin, the parent company.
Redfin is a discount real estate brokerage founded in 2006. The company started the RedfinNow subsidiary in 2017 in Southern California and has expanded to markets across the country.
In the second quarter of 2021, Redfin sold 292 homes owned by RedfinNow. The company did not specify how many homes RedfinNow had bought.
When deciding whether to sell directly to RedfinNow, homeowners must weigh the benefits and drawbacks of:
Selling to a different iBuyer. Each iBuyer has its own fees and policies.

Selling the conventional way by listing with Redfin or another real estate broker. This might be a more lucrative way to sell a house, but there is no guarantee.
Meanwhile, selling directly to RedfinNow carries several conveniences, most of which are common to competing iBuyers:
No showings or open houses
Homeowners who sell to RedfinNow don't have to tidy up their homes and leave to make way for showings and open houses. This has been an attractive feature for sellers who want to avoid having strangers in their homes during the COVID-19 pandemic.
Sellers may choose a closing date 10 to 90 days after accepting a Redfin cash offer. Flexibility in scheduling makes it easier to sync back-to-back closings on the same day: first for the sale of the current home, and then for the purchase of the next home.
Better competitive position
When sellers accept RedfinNow's cash offer, they can make an offer on a move-up home with confidence that they will have enough money for a down payment. And as part of the offer on their next home, they can flag their flexibility about the closing date, which gives them a competitive edge over bidders who can't adjust their timelines.
Since starting in California's Inland Empire region in early 2017, RedfinNow had expanded by November 2021 to around 20 metropolitan areas in at least 10 states and the District of Columbia, buying homes in the following places:
California: Inland Empire, Los Angeles, Orange County, Palm Springs, Sacramento, San Diego, San Francisco.

District of Columbia: Washington, D.C.

Maryland: Baltimore and D.C. metro areas (parts of Anne Arundel County, Baltimore city and county, Montgomery County, Prince George's County).

Texas: Austin, Dallas-Fort Worth, Houston, San Antonio.

Virginia: Northern Virginia D.C. metro area (parts of Alexandria, Arlington County, Fairfax County).
Selling to RedfinNow is a multistep process with two phases: before the inspection and after the inspection. The final offer price after inspection might be less than the preliminary offer price before inspection. You may proceed with the inspection after the initial offer and decline the final offer.
1. Request an offer and upload photos
Enter your address at RedfinNow's main page and answer questions about the home. You'll be asked to upload many photos — at least two pictures of every room from different angles, the entire exterior, and details of surfaces and finishes. The photos are for RedfinNow's internal use and won't be posted online. You will get an initial indication about the home's eligibility.
You'll get a response within a few days. If the home is eligible, you'll receive a preliminary offer price and estimated service fee. RedfinNow representatives will be available to answer questions. If you accept the first offer, the inspection phase begins.
2. Complete the home inspection
RedfinNow will hire and pay for a general inspection as well as any specialized inspections that may be necessary for things like the air conditioning system and the roof. The goal is to complete inspections within seven business days of your acceptance of the initial offer.
3. Consider the final offer
Based on the inspections, RedfinNow will estimate the cost of repairs it will have to undertake after buying your home to make it ready for sale. It will subtract those costs from the offer price. It may also adjust the preliminary price based on a more thorough market analysis.
RedfinNow will then make a final offer for you to accept or reject. You are responsible for paying closing costs.
If you accept the offer, you choose a closing date within 10 to 90 days, Mondays through Thursdays. You get paid at closing.
You have the flexibility of renting the house from RedfinNow after closing, as long as you move out within 90 days of accepting the offer. For example, you could close 45 days after accepting the offer, then rent your home from RedfinNow for 45 days. Doing this might help you make a competitive offer on your next home because you have cash in hand from the sale of your home.
» LEARN MORE: Visit RedfinNow for more details.
RedfinNow lists service fees that vary from 5% to 13%. Redfin says the fee varies depending on the condition of the home and market.
RedfinNow's service fee is partly a charge for convenience: The seller doesn't have to clean up the house, vacate it for showings, hold open houses or hire repair contractors. The service fee also compensates for the costs of owning the home while it's for sale — such as property taxes, insurance and utilities.
Buying a RedfinNow-owned home
After RedfinNow buys a home and fixes it up, the vacant home is listed for sale. Redfin's site does not specify that a particular home was bought by RedfinNow. Prospective buyers can unlock available homes with an app and tour them without an appointment.
How to get started with RedfinNow
To begin the process, enter your address at RedfinNow's main page, answer the questions and upload lots of photos. You'll get a response within a few days with a preliminary offer price and service fee. RedfinNow representatives can answer questions.
If you accept the preliminary offer, RedfinNow will schedule inspections. The company pays for them. After RedfinNow deducts the estimated cost of repairs from what it deems the home's market value, it presents you with a final cash offer.
Frequently asked questions
Can you negotiate with RedfinNow?
What types of homes does RedfinNow buy?
Get more smart money moves – straight to your inbox
Sign up and we'll send you Nerdy articles about the money topics that matter most to you along with other ways to help you get more from your money.