What Is an iBuyer?
Companies known as iBuyers use digital tools to simplify the home selling and buying process.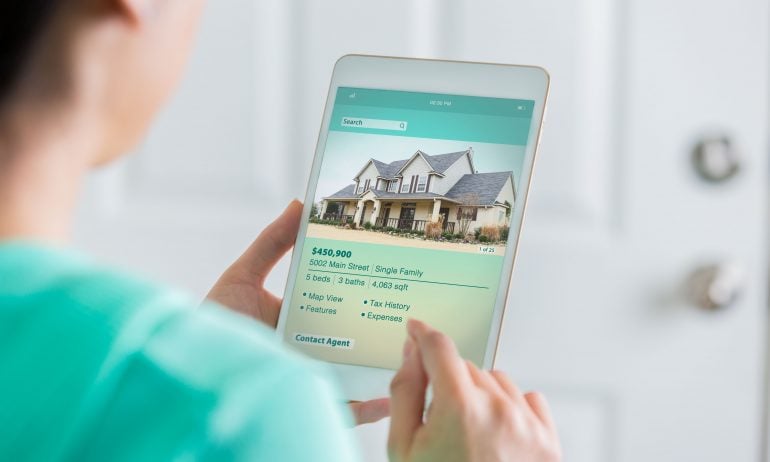 Some or all of the mortgage lenders featured on our site are advertising partners of NerdWallet, but this does not influence our evaluations, lender star ratings or the order in which lenders are listed on the page. Our opinions are our own. Here is a list of our partners.
An iBuyer, or "instant buyer," is a real estate company that uses algorithms and technology to buy and resell homes quickly. When selling a home to an iBuyer, you may get a cash offer in as little as 24 hours without the hassle of staging and repeatedly showing the home.
You can also buy a home from an iBuyer. The companies' websites or apps let home buyers view available properties, schedule tours and request information to get started. Closing may occur more quickly with an iBuyer because you don't have to accommodate a traditional seller's timeline.
The biggest iBuyers are Opendoor and Offerpad, based on their real estate transaction volume. Opendoor reported purchasing 15,181 homes and selling 5,988 homes in the third quarter of 2021. Offerpad reported purchasing 2,753 homes and selling 1,673 homes in the same period.
Zillow Offers, which launched in April 2018, had been one of the biggest iBuyers. But parent company Zillow Group announced Nov. 2 that it would shut down its iBuyer operation. That decision followed an Oct. 18 company announcement that Zillow Offers would not buy any additional homes through the end of 2021. In the third quarter of 2021, Zillow Offers purchased 9,680 homes and sold 3,032 homes, the company reported.
Of the two remaining leaders, Opendoor was earliest on the scene in 2014. Offerpad followed in 2015.
IBuyers are more active in some markets than others
IBuyers are only a small part of the real estate market in most areas of the country. Together, iBuyers bought about 28,000 homes in the third quarter of 2021, which accounted for about 1.6% of all U.S. homes purchased in that period, according to Mike DelPrete, a real estate technology strategist and scholar-in-residence at the University of Colorado Boulder. That was a record high for iBuyers — but it was also before Zillow Offers stopped buying homes.
If you're interested in working with an iBuyer, note that the companies don't operate in every market. Check if services are available in your area before getting too invested in the idea of dealing with one.
In the second quarter of 2021, iBuyers purchased the most homes in Atlanta, Phoenix and the Dallas-Fort Worth area, according to a September analysis by Zillow Research.
The specifics vary by company, but generally iBuyers tout their ability to get you through the home selling or buying process quickly and conveniently. Here's how it works with the biggest iBuyers.
Selling a home to an iBuyer
To see if an iBuyer will purchase your home, you typically submit basic information about the property — such as the address, age, square footage and features — using the company's website or app. The process takes only a few minutes.
The iBuyer estimates your home's value and, if it wants to proceed, sends you an offer. If you like the bid, the company will do an in-person evaluation and then provide a final offer. Gone are the hassles of staging and sprucing up the home and holding open houses.
The iBuyer typically takes care of necessary repairs, which are accounted for in the final price.
Buying a home from an iBuyer
Before shopping, first figure out how much house you can afford. Then shop mortgage rates among at least a few lenders and get preapproved for a home loan. A mortgage preapproval is a letter from a lender showing how much loan you can qualify for. Some iBuyers have their own lending divisions, but it's important to shop around to get the best deal.
You can browse homes for sale on iBuyer websites, schedule times to visit properties and notify the companies if you're interested in a particular listing.
Homes owned by iBuyers are typically ready for occupancy because the companies fix them up before listing them. But it's still a good idea to get an independent home inspection.
Generally you'll have the option to make an offer through your own real estate agent or by contacting the company directly, and you can negotiate with the iBuyer on price.
Meanwhile, Opendoor added a new service in March that helps buyers make cash-backed offers on any home — not just those the company owns — in select markets. After you get pre-qualified for a mortgage, you can work with Opendoor to submit an offer. Opendoor backs the offer with cash to help you compete with other cash offers. If your financing is delayed, Opendoor says it will buy the home and then sell it to you for the same price. The company won't charge a daily fee for the first 120 days.
The new service is outside the traditional iBuyer model and more along the lines of such real estate tech companies as Homeward, Orchard and Knock, which offer mortgages and enable buyers to make cash offers or purchase homes before selling.
Costs of working with an iBuyer
Typically you won't pay extra to buy a home from an iBuyer. When selling to an iBuyer, there are two costs to consider: iBuyer service fees and the opportunity cost — the difference between the iBuyer offer and what you could get by selling on the open market.
The service fee for Offerpad and Opendoor is 5% of the sale price. The fees don't include typical closing costs that the seller pays for any real estate transaction, such as escrow fees and title insurance. IBuyers estimate those closing costs at 1% to 2% of the sale price. The service fees also don't include the costs of any required repairs, which are deducted from your net proceeds.
If you're selling a home the traditional way with a listing agent, you'll typically pay a 5% to 6% real estate agent commission, which is usually split between the listing agent and buyer's agent.
You can still use the services of a listing agent when selling your home to an iBuyer. In that case, you'll need to pay your agent's commission as well as the iBuyer's service fee.
IBuyers have strengthened their offers in this year's wild housing market. In the first half of 2021, iBuyer offers averaged 104.1% of market value, according to a report by Zavvie, a real estate technology company. In 2020, iBuyer offers averaged just 97.6% of market value. The report compared offers from Offerpad, Opendoor, RedfinNow and Zillow Offers to automated valuation model prices provided by Attom, a property data and analytics company.
While they're paying higher prices, iBuyers are also selling houses for more money. The median price appreciation for iBuyer transactions — the difference between what they paid and how much they sold the properties for — was 8.1% in the first half of 2021, up from 4.7% in 2020, according to an analysis by DelPrete.
Note that 2021 is an unusually strong seller's market, so it may be possible to sell your home for more than what iBuyers offer, even if their offers are "above market."
Is an iBuyer worth the trade-offs?
The answer depends on your needs. In general, iBuyers are geared to people who want to sell their homes quickly, bypass uncertainty and avoid the hassles of showing the home and negotiating with buyers. If that sounds like you, then it may be worth exploring offers from iBuyers. The traditional route may be a better option though if you want to get the maximum price.
Frequently asked questions
How quickly can I sell a home through an iBuyer?
What does it cost to sell a home through an iBuyer?
Who is most likely to use an iBuyer?
Which are the most popular iBuyers?
Get more smart money moves – straight to your inbox
Sign up and we'll send you Nerdy articles about the money topics that matter most to you along with other ways to help you get more from your money.