VA Home Loan Limits Disappear, Fees Rise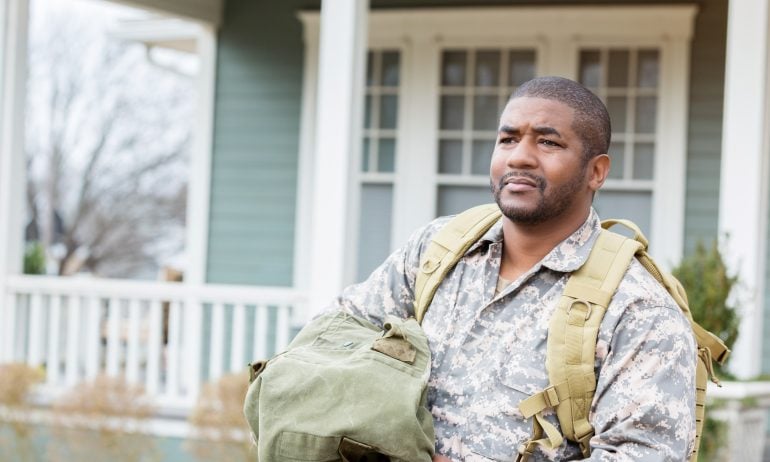 Some or all of the mortgage lenders featured on our site are advertising partners of NerdWallet, but this does not influence our evaluations, lender star ratings or the order in which lenders are listed on the page. Our opinions are our own. Here is a list of our partners.
If you've served in the military, this year ushers in some big home loan changes to put on your radar.
Veterans and active-duty service members will have more borrowing power but will pay higher fees for new VA home loans in 2020.
The changes are part of the Blue Water Navy Vietnam Veterans Act of 2019, which became effective Jan. 1, 2020. Besides extending disability benefits to more Vietnam War veterans exposed to Agent Orange, the new law eliminates VA loan limits for borrowers with full entitlement to VA loans. It also increases the VA funding fee for most borrowers. (The fee decreases slightly for National Guard and Reserve members.)
VA home loans are a benefit for current and veteran service members. They have competitive interest rates and usually no down payment requirement, among other advantages. VA loan limits are the maximum loan amount the Department of Veterans Affairs can guarantee without borrowers making a down payment. VA funding fees are one-time fees borrowers pay in lieu of mortgage insurance to help cover the government's costs for backing the loans. If a borrower defaults, the VA repays the lender a portion of the loan.
Getting ready to buy or refinance a home? We'll find you a highly rated lender in just a few minutes
Just answer a few questions to get started on a personalized lender match
No VA home loan limits in 2020
"Removing the loan limits is huge for veteran and military buyers across the country, and it comes on the heels of another big year in VA lending," says Chris Birk, director of education at Veterans United Home Loans. The VA guaranteed 624,544 loans in fiscal year 2019, a 2% increase over the prior fiscal year, according to data from the Department of Veterans Affairs.
"Veterans living or stationed in costlier real estate markets can stretch the zero-down buying power of their benefit in a way they never have before," Birk says.
The removal of loan limits doesn't mean unlimited borrowing power without a down payment. You'll still need to have sufficient income and meet a lender's credit requirements to qualify for the loan amount.
Loan limits will still apply in 2020 to veterans who have one or more active VA loans or have defaulted on a previous loan, Birk says.
Those VA loan limits are the same as the ones set by the Federal Housing Finance Agency on conforming loans. The limit in 2020 is $548,250 in a typical U.S. county and higher in expensive housing markets, such as San Francisco County.
If you're subject to VA loan limits, the lender will require a down payment if the purchase price is above the loan limit. The exact down payment you will pay is determined by a formula that takes into account your entitlement and home price.
VA funding fee to increase
The VA funding fee you pay depends on your down payment amount and whether you've ever had a VA-backed loan before. If you haven't, it's a "first use" loan, and if you have, it's a "subsequent use" loan. You can pay the fee upfront or roll the cost into the loan.
The fee for first-use, zero-down loans increased to 2.3% of the loan amount in 2020, up from 2.15% for active-duty military and veterans in 2019. The fee for subsequent use loans increased to 3.6% of the loan amount, up from 3.3%. These fees will stay in place for two years, return to 2019 levels from 2022 through Sept. 30, 2029, and then drop further after that.
The funding fee increase is lower and lasts for a shorter period than earlier proposals, Birk says. "It's critical that the VA loan remains affordable."
Other VA funding fee changes
The Blue Water Navy Vietnam Veterans Act of 2019 made a couple of other funding-fee changes. Starting in 2020, the fees are now the same for the main branches, National Guard and reservists. Currently, National Guard and Reserve members pay slightly higher fees.
In addition, active-duty service members who have received a Purple Heart are now exempt from the funding fee.
Not all lenders offer VA loans, and among those that do, some have more experience working with military service members and veterans than others.
"There is a huge variation, depending on which lender you go with," says Anthony Powell, chief operating officer for AAFMAA Mortgage Services LLC in Fayetteville, North Carolina. "Going to the first bank you think of may not be the best option."
Requirements for borrowers and mortgage rates vary among lenders. For example, the U.S. Department of Veterans Affairs does not require a minimum credit score for VA loans, but lenders can set their own thresholds.
Aim to get quotes from at least three lenders, and look for one that provides the information and help you need to understand and move as smoothly as possible through the mortgage process.
Getting ready to buy or refinance a home? We'll find you a highly rated lender in just a few minutes
Just answer a few questions to get started on a personalized lender match
Get more smart money moves – straight to your inbox
Sign up and we'll send you Nerdy articles about the money topics that matter most to you along with other ways to help you get more from your money.