VA Streamline Refinance (VA IRRRL): A Fast Way to a Better Mortgage
A VA streamline refinance, also known as an IRRRL, is a simplified loan with relaxed qualifications for service members and veterans.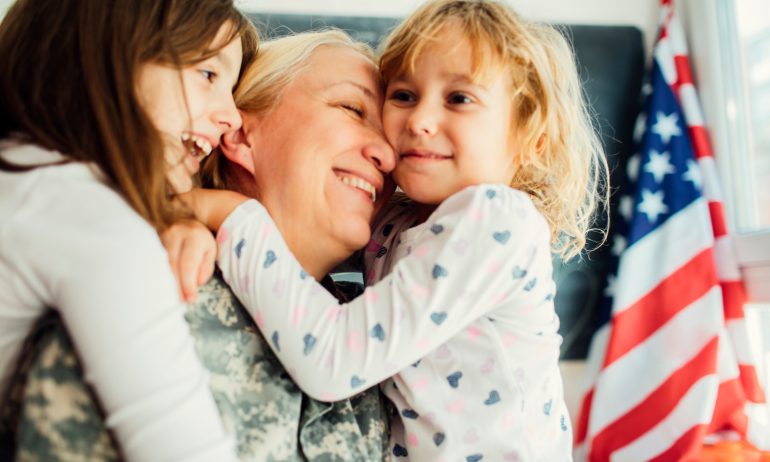 Some or all of the mortgage lenders featured on our site are advertising partners of NerdWallet, but this does not influence our evaluations, lender star ratings or the order in which lenders are listed on the page. Our opinions are our own. Here is a list of our partners.
A VA Interest Rate Reduction Refinance Loan — or VA IRRRL (pronounced "Earl") — is often called a "VA streamline refinance" because the lending approval process is greatly simplified. An IRRRL doesn't always require a VA appraisal or go through the typical VA lender underwriting process. That saves a lot of time, paperwork and fees.
Save thousands on your loan by comparing competitive refi quotes
Get personalized quotes from our marketplace of lenders and negotiate your best rate. Answer a few questions to get started.
How does a VA IRRRL work?
A VA IRRRL is used to refinance one VA mortgage into another. It is an improvement on your old VA loan. With it, you get a lower rate, a lower payment, or both. You can also move from an adjustable-rate loan to a fixed-rate loan.
Lenders love IRRRLs. Borrowers do, too, because they are much easier to navigate than regular VA loans.
You'll still need to meet VA loan eligibility requirements and deal with a Department of Veterans Affairs-approved lender. And the VA is adamant that a refinance must result in a real financial benefit. That means you'll need to lower your interest rate or reduce your monthly payment by refinancing.
Can you get a cash-out VA IRRRL?
You can't take cash out from a VA streamline refinance. For that, you'll generally need a VA cash-out refinance.
One exception is the Energy Improvement Mortgage (EIM), which can be used in conjunction with any VA refinance, including IRRRL. An EIM allows you to add the cost of some energy-efficient improvements to your refinance loan. It's sort of like a cash-out refinance that's used for only one thing. Not all upgrades qualify, you'll be subject to an energy audit after six months and there may be additional underwriting requirements.
IRRRL: Go from ARM to fixed
You can use a VA streamline refi to trade your adjustable-rate mortgage for a fixed-rate loan. That way you'll lock in your rate and not have to worry about higher mortgage rates down the road.
Moving from an ARM to a fixed-rate loan is the one instance when the VA will allow you to increase your mortgage interest rate on a refi.
If you want to move to a shorter term — say, from a 30-year to a 15-year mortgage — you can do that, too. You'll save a lot of interest over the life of the loan, but your payment will be higher. The best VA lenders will work with you to make sure that any increase in your monthly mortgage payment will still work within your estimated living expenses.
Save thousands on your loan by comparing competitive refi quotes
Get personalized quotes from our marketplace of lenders and negotiate your best rate. Answer a few questions to get started.
Aside from meeting the most basic VA loan eligibility requirements, the rules for VA streamline refinances are relatively lax. You don't even have to live in the home to qualify for a VA IRRRL. That means you can use it to refinance a house you're currently renting out. You'll need to certify that you previously lived there.
One thing you can't avoid: the VA funding fee. For most borrowers, that will mean a 0.5% charge, which is lower than the fee for VA purchase or cash-out refinance loans. The fee is waived for some VA borrowers, including those with service-connected disabilities and certain surviving spouses.
It's always a good idea to shop more than one lender, even for something as simple as a VA IRRRL. That's because interest rates and closing costs can vary from one lender to another, and some lenders "overlay" certain loan requirements that others don't.
With an IRRRL, your closing costs can be rolled into your loan balance or priced into your interest rate, just like any other VA home loan.
How soon can you do a VA IRRRL?
In 2018, the Protecting Veterans from Predatory Lending Act became law. It requires a seasoning period of either 210 days from the date of the first payment or after the sixth monthly payment (whichever's longer) before an existing VA loan can be eligible for an IRRRL. This law came about after complaints to the Consumer Financial Protection Bureau (CFPB) from veterans regarding mortgage refinance offers.
With more lax underwriting and document requirements, the CFPB found that many lenders were happy to do VA IRRRL loans — so much so that some lenders would encourage qualified VA borrowers to refinance frequently, as soon as one to two months after their last refi. This aggressive sales process is called "churning."
In 2017, the CFPB and the VA jointly issued a warning order to veterans and current service members with VA loans about these unsolicited offers, and in 2018, Congress took action to protect borrowers.
Still, prospective VA borrowers frequently receive direct mail solicitations that appear important, time-critical and official. The offers may look like a check or a bill to entice borrowers to open it. The CFPB notes several red flags you can look for if you receive such offers:
Low rates with unspecific terms: If an advertised rate does not explicitly state that it's for a 30-year, fixed-rate mortgage, you might respond only to find out the actual rate is for a 10-year loan or that it assumes you'll buy discount points.

Saving by skipping payments: The VA bars lenders from claiming borrowers can use an IRRRL to free up cash because it will give them the option to skip one or two payments.

Escrow refunds: The CFPB has received complaints from service members who were told they would receive a substantial refund from an escrow account but got much less after closing.
Even with a law against predatory VA lending, it's important to understand any loan offer you receive and never rush to make a decision — no matter how great the deal seems. If it looks too good to be true, it probably is.
Save thousands on your loan by comparing competitive refi quotes
Get personalized quotes from our marketplace of lenders and negotiate your best rate. Answer a few questions to get started.
Get more smart money moves – straight to your inbox
Sign up and we'll send you Nerdy articles about the money topics that matter most to you along with other ways to help you get more from your money.