Best Accounting Software for Small Manufacturing Businesses
QuickBooks Online — paired with specialized third-party integrations — is our top pick for small manufacturers.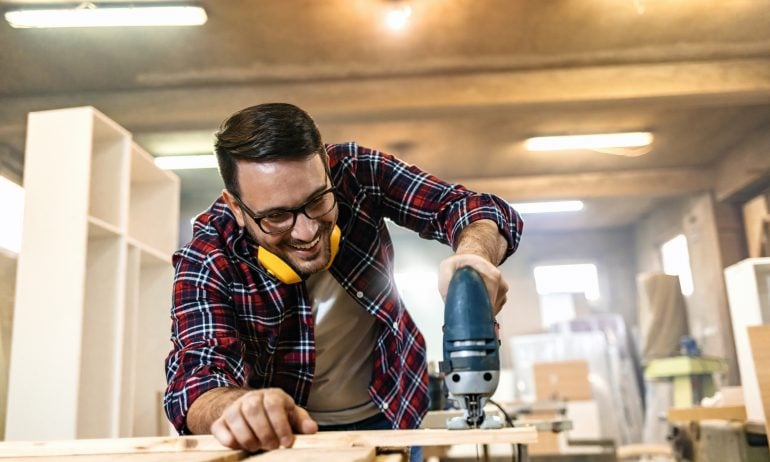 Many or all of the products featured here are from our partners who compensate us. This influences which products we write about and where and how the product appears on a page. However, this does not influence our evaluations. Our opinions are our own. Here is a list of our partners and here's how we make money.
Accounting for manufacturing businesses is a little different than accounting for other industries — and small manufacturers need to make sure that their accounting software can accommodate these differences. Here's what makes manufacturing accounting unique, along with some of our top software recommendations, so you can choose the best software platform for your business.
All of our picks for the best accounting software for small manufacturers are either cloud-based accounting solutions or are easily hosted in the cloud. These software companies are also all well-known, which means they are well-supported by accountants and bookkeepers.
Our top pick: QuickBooks Online
You might have been told QuickBooks Online is not a good fit for inventory-based businesses like your small-manufacturing company.
On its own, this is true. QuickBooks Online has a very limited inventory feature, though Intuit is continuously updating and upgrading it.
However, there are a number of very powerful third-party integrations specifically designed for small-manufacturing businesses that integrate beautifully with QuickBooks Online. Fishbowl Manufacturing provides a full ERP system for your manufacturing business that integrates with QuickBooks Online using a plugin built right into the software. Fishbowl integrates with a number of other accounting platforms, as well, so if you switch accountants you will also be able to switch accounting platforms with ease (if necessary). Although it is server-based, there is a hosting option you can use to access Fishbowl via a URL.
MISys Manufacturing is another great option for your "back-of-house" manufacturing accounting needs. MISys is modular, meaning you can start small and build as your business grows and you need more functionality. This will help you keep your costs down while you are building your business. Unlike Fishbowl, MISys integrates only with QuickBooks and Sage products, so keep this in mind if you plan to work closely with an accountant or bookkeeper.
QuickBooks Online is supported by thousands of accountants and bookkeepers around the world, making it easy to find a provider who specializes in accounting for small manufacturers. This, combined with the ease of integration with software specifically designed for manufacturing businesses, makes it our top pick.
Runner-up: QuickBooks Enterprise for Manufacturing & Wholesale
Although this is a desktop-based solution, QuickBooks Enterprise for Manufacturing & Wholesale can easily be hosted in the cloud. We recommend hosting this software with a reputable company like RightNetworks to provide you with access from anywhere, routine backups and regular updates.
This version of QuickBooks has many of the features manufacturers need right inside the software, like assemblies management and available-to-promise functionality to help manage demand. Like with QuickBooks Online, finding support is easy, but you'll want to choose an accountant or bookkeeper who has experience using the manufacturing and inventory features.
Even though QuickBooks Enterprise for Manufacturing & Wholesale is sold as an all-in-one solution, the manufacturing features aren't as advanced as those you will find in Fishbowl or MISys. Take some time to consider not only your current needs but also what features you might need for your business in the future. If you will ever need advanced manufacturing features, your better bet will be to go with QuickBooks Online and a third-party application from the start.
Honorable mention: NetSuite Manufacturing
NetSuite Manufacturing is a completely cloud-based, all-in-one solution built specifically for manufacturers. Used by large, global manufacturing companies, NetSuite has everything any manufacturing business of any size needs to run operate effectively and profitably.
With this level of robustness comes some challenges, though. NetSuite could be a little too robust for small and emerging manufacturing businesses, creating complexities where simplicity would benefit the business owner more. NetSuite is also not as widely supported as QuickBooks products, meaning you could have difficulty finding an accountant or bookkeeper to support it.
Still, if you are planning to grow your manufacturing business into a large enterprise, NetSuite is worth considering. Even if you choose to use different accounting software for your small-manufacturing business now, keep NetSuite in the back of your mind as a solution to consider as your business grows.
Manufacturing accounting needs
Accounting for manufacturing businesses deals heavily with inventory valuation and cost of goods sold. While these accounting concepts are also used in retail accounting, there are a couple of differences manufacturers need to be aware of:
Manufacturing accounting requires three inventory accounts
Typically, manufacturers have three separate inventory accounts. The balances in these accounts are constantly changing throughout the accounting period, so you must make sure you have a good tracking system in place in order to keep your accounting uncomplicated.
Raw materials are the basic components or ingredients you use to manufacture your product. If you make wooden toys, your raw materials might include wood, paint and nails or screws. If you make bath products, your raw materials might include shea butter, essential oils and beeswax. In other words, anything that goes into the production of your final product is considered a raw material.
Work-in-process (WIP) is the inventory that is no longer in its raw form, but is not yet a completed product at the end of the accounting cycle. If your product does not have a long production cycle — meaning you can easily complete a product in a day or two — you probably won't have WIP inventory. The WIP inventory calculation includes not just the cost of the raw materials used so far in the production of the product but also labor and overhead costs.
Finished goods are the products you have completed and are ready to sell to your customers or distributors. Like WIP inventory, the finished goods inventory calculation includes raw materials, labor and overhead costs.
Manufacturing accounting requires labor and overhead costing
In retail and most service businesses, labor and overhead costs are considered operating expenses. In manufacturing, though, these costs are separated into direct costs and burden costs.
Direct costs are the costs that can be tied directly to the production of your product. Direct costs include the wages you pay the workers who are directly involved with creating your product, as well as the costs associated with running any machinery used in production.
Burden costs cannot be directly tied to the production of your product. These costs are also referred to as indirect costs. Some examples of burden or indirect costs are administrative wages and building costs (rent, utilities, etc).
If your manufacturing business is still very small and you are doing most of the production yourself, you probably don't need to be overly concerned with these accounting differences just yet. Check with your accountant to make the final determination on how to best conduct your accounting at this point in your business.
That said, you want to make sure you choose accounting software for your small-manufacturing business that can accommodate these accounting differences as your business grows.
The importance of a cloud-based accounting software
Many small-manufacturing business owners think they can only get the functionality they need in their accounting software by using a desktop-based product.
This is no longer the case.
In fact, unless it's absolutely impossible to get the functionality you need without using a desktop-based accounting product, you should always "shoot for the clouds," either directly or by choosing software that can be hosted and accessed remotely. Using a cloud-based accounting solution will allow you to:
Collaborate in real time with your accountant. If you use cloud-based accounting software, you and your accountant can both access and discuss your financials at the same time, regardless of where you are each located. This will allow your accountant to provide you with the information you need to make sound business decisions much faster. It will also allow you to take a break from your business without worrying about being in the dark about what is happening with your accounting.
Update your software automatically. No small-business owner has the time to take their system offline and install an update. If you use cloud-based software, updates happen automatically, without your intervention. On the rare occasion when an update does have to take the system offline, most software companies do so during non-peak hours, so their users never experience a delay.

Your data is automatically secured. Data breaches are a growing concern for small businesses, and many avoid using cloud-based software due to security concerns. But the major cloud-based accounting software providers invest much more in systems security than even the largest manufacturing business could afford to invest on their own. Cloud-based software providers also have multiple redundancies in place to minimize the risk of data loss. While this doesn't mean there will never be a data breach or loss of information, the risk of this is substantially reduced if you use cloud-based accounting software.
Bookkeeping and accounting software

Sage 50cloud $48.17 per month (when paid annually) and up.

Wave Financial Free (add-ons available).

Xero $13 per month and up.

Zoho Books $0 per month and up.
A version of this article was first published on Fundera, a subsidiary of NerdWallet.