Confession of Judgment: What Is It and How Does It Work?
You could be at risk of losing your assets or more if you sign a confession of judgment.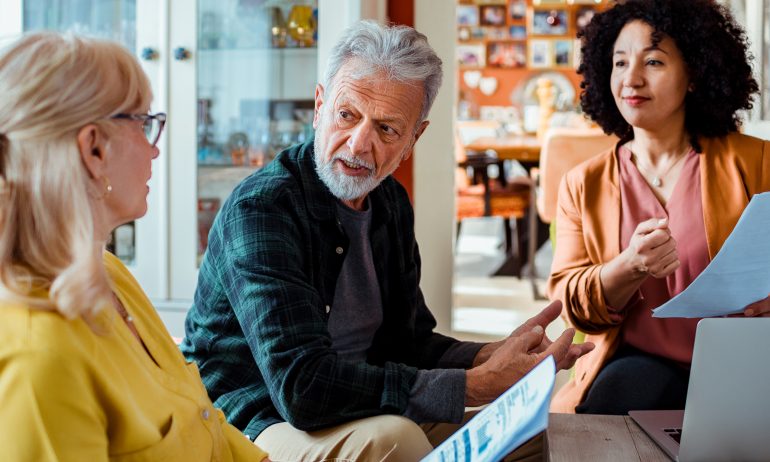 Many or all of the products featured here are from our partners who compensate us. This influences which products we write about and where and how the product appears on a page. However, this does not influence our evaluations. Our opinions are our own. Here is a list of our partners and here's how we make money.
As a part of a business loan agreement, you may be asked to sign a confession of judgment — a document that, in the event of a loan default, lets a lender bypass the normal legal process before obtaining a court judgment that allows it to seize your assets. Small-business owners should exercise caution before signing a confession of judgment. If a lender decides to enforce a confession of judgment, an owner may end up losing their business.
Although confessions of judgment have been around for decades, many small-business owners don't realize how powerful they can be. Confessions of judgment can seriously limit your rights, so it's important to understand exactly how they work and what you can do if one is used against you.
with Fundera by NerdWallet
What is a confession of judgment?
A confession of judgment is a legal document that may be signed as part of a business loan agreement at closing. It allows a lender to bypass a lawsuit and obtain a court-ordered judgment to begin collecting on debt after a loan default. That means a borrower may not be notified that a judgment has been granted and will have no chance to defend themselves or try to rectify the situation because they have essentially already pleaded guilty.
How does a confession of judgment work?
A confession of judgment, which may also be referred to as a cognovit note, has no legal effect on you until it is filed in court by your lender and an attorney. That means there's a chance it will never come into play as long as you make on-time payments and finish paying off your debt.
If you have signed a confession of judgment and then defaulted on your loan — which generally means you have stopped making payments — your lender can enter the signed judgment against you in court without giving you any notice. You won't be able to prepare a legal defense or, in most cases, work with your lender to come up with a modified payment plan.
Essentially, a confession of judgment signed by a borrower acts as an automatic guilty plea to a lender's legal complaint. Once entered in court and signed by a judge, the judgment allows the lender to collect on any pledged collateral or other assets, and the lender can possibly place a lien on your business's receivables.
Why do lenders ask for a confession of judgment?
Confessions of judgment on consumer loans are outlawed by the Federal Trade Commission but are still legal on business loans in certain states: Illinois, Maryland, Michigan, Minnesota, New Jersey, Ohio, Pennsylvania, Virginia and Texas. Even in states where they are legal, the majority of lenders do not use confessions of judgment. They are most commonly requested by less-regulated lenders or merchant cash advance and equipment financing companies. Some commercial landlords and online loan companies may use them as well.
A confession of judgment can be attractive to creditors because it makes it easier for them to collect on debts. They don't have to spend time and resources on filing a lawsuit through the normal legal process. In theory, it can be a way for a lender to test a prospective borrower's intention to repay the debt since it only becomes legally valid once it's filed with a court. But given the historical abuse of the document by predatory companies, confessions of judgment are not used by most reputable lenders. If a lender is asking you to sign a confession of judgment, you should reconsider taking out a loan with that company.
What to do if you've signed a confession of judgment
You should avoid signing a confession of judgment, if at all possible. If you think signing a confession of judgment is unavoidable or if you have already signed one, there are a few steps you can take.
Have a lawyer look at your business loan agreement. An attorney can help you understand what you're getting into and your avenues out, if necessary. 

Be certain you can afford the loan. It's never a good idea to take out a loan you can't afford, but be especially cautious if you are handing over your rights to defend yourself in court. Talk to a financial professional or loan officer, and use a business loan calculator to run some numbers. 

Make sure you understand the definition of "default" according to your specific lending institution. The conversion of a confession of judgment into an actual court-ordered judgment is first triggered by a loan default. The definition of default can be specific to a lending institution. To avoid being in default, make sure you understand exactly what it means according to your loan documents. 

Ask the lender to remove the clause. If you feel you are out of loan options or won't qualify with other lenders, consider speaking with your loan officer about removing the confession of judgment. If the lender has your best interest in mind, it's something it may consider, especially if there are other ways to secure your loan. 
Frequently asked questions
What happens after a confession of judgment?
What states allow a confession of judgment?
How is a confession of judgment different from a judgment?