What Is CRM?
CRM can help a business build strong customer relationships and support its efforts to convert leads from prospects to purchasers.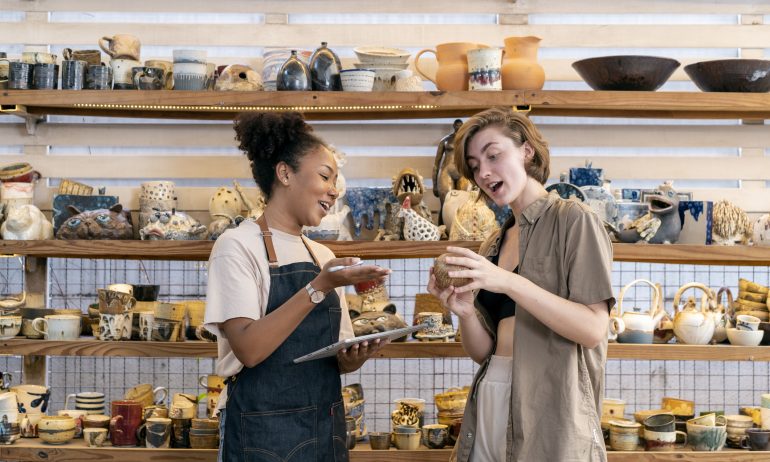 Many or all of the products featured here are from our partners who compensate us. This influences which products we write about and where and how the product appears on a page. However, this does not influence our evaluations. Our opinions are our own. Here is a list of our partners and here's how we make money.
CRM stands for customer relationship management and includes the practices, strategies and technology a business uses in its interactions with customers. One way businesses can manage this data more efficiently is with CRM software. In addition to storing customer details, it offers tools and features to help automate tasks, build customer loyalty and establish contact with new prospects.
How does a CRM system work?
CRM systems store customer and prospect details and interactions in a central database. This can be accessed by multiple users, including sales and customer support teams, who need to record interactions with both existing and potential customers. CRM platforms can be cloud-based or installed on a local server, but cloud-based systems offer the flexibility of access to users working across multiple devices anytime, anywhere.
In a typical CRM system, every customer and prospect is considered a "contact" and assigned a unique contact record. Contact details such as name, address, phone number and email are stored in this record, along with information about purchases, service requests, phone calls, emails sent and other types of interactions.
The information contained in contact records can be used to personalize marketing messages to existing customers. It can also be used to nurture the relationship with prospects to encourage them to purchase a product or service.
Why small businesses use CRM
Businesses of all types and sizes use CRM tools. Here are some common areas where it could benefit a small business.
CRM platforms provide a centralized place where contact data can be safely stored, efficiently organized and easily accessed by employees who interact with customers and prospects. And prospect information gathered from landing pages, websites, lead forms and other digital sources can be used to expand your existing contact database.
Because CRM tools track contact relationships over time and store detailed information, they can help you better understand your customers' needs and purchase behavior. This is a benefit when designing marketing materials, maximizing sales efforts and dealing with customer satisfaction issues.
Contact databases are generally used with email marketing software to promote products and services to your existing and potential customers. And the detailed information in your CRM database can help design email campaigns and social media marketing programs that will appeal to your audience.
Marketing automation features such as email templates and contact segmentation are included in some CRM software systems, which can add to the efficiency of your marketing efforts.
Automated sales features that can help in your team's interaction with prospects are often found in CRM software. This includes built-in phone, email and chat capabilities and the ability to schedule tasks and day-to-day sales activities.
Sales-specific dashboards, pipeline management tools, sales forecasting and lead scoring are additional features CRM software offers to help a sales team meet its goals. In addition, sales team headcount planning, onboarding and security tools — features available with some platforms — could further streamline sales operations.
Customer support efficiency
With the ability to control permissions based on roles, a CRM platform can allow your support team to access information relevant to a contact's needs and quickly resolve issues, leading to increased customer satisfaction. And it can enable a business to offer support through several avenues, including phone, email, chat and social channels.
Pricing for CRM software is generally tiered with features, and the associated cost, increasing as you move up plan levels. Basic plans can start at around $20 per month per user. Higher-tiered plans can range from $50 to $100 per month per user. Enterprise-level plans will be the most expensive, often starting at over $100 per month per user and can reach more than $1,000 per month per user, based on the advanced features and personalized service offered. Billing for a plan may be monthly or annual, depending on the provider.
Identify the important features of your business before committing to a plan to avoid paying for tools you won't use. Because most providers allow you to upgrade plans, you might consider starting with a basic plan until you need something more advanced.
How to get started with a CRM system
One of the best ways to get started with CRM software is to take advantage of the free trials many providers offer. Some also offer free plans with limited feature sets or user caps. This allows you to get hands-on experience with the platform without committing to a monthly or annual expense.
Another option is to sign up for a product demonstration, which a sales representative will typically provide. In addition to seeing how the product works, you'll also have the opportunity to ask questions about the product and its features.
Once you decide on a CRM system, you'll go through a setup process. Whether you get personalized assistance or use tutorials and guides depends on the provider and plan. Generally, once you're in the system, some of your first tasks will be to customize your account, invite users, manage permissions, upload contact lists and connect to email and other apps. From there, you can explore available features such as template libraries, pre-built reports and analytic tools. Then, as you become more familiar with the system, you can customize email templates, run a test email, create a web form, set up scoring rules for leads and define sales goals for your team.