What Is Digital Marketing for Small Business?
Digital marketing is not limited to online marketing methods but includes TV and radio ads, text messaging and digital displays of all types and sizes.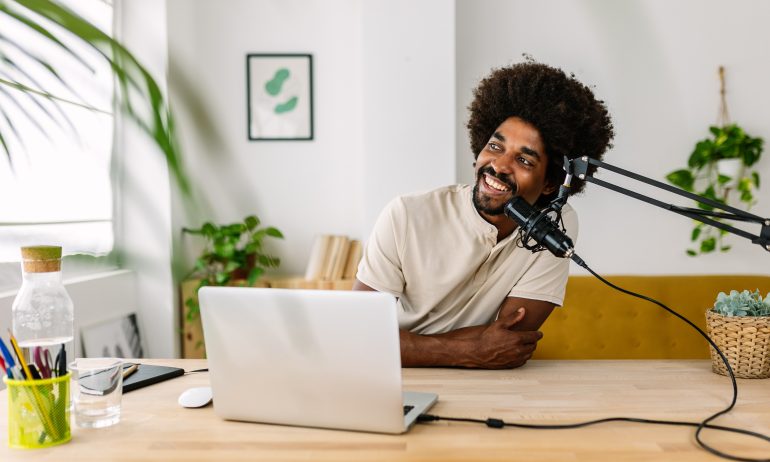 Many or all of the products featured here are from our partners who compensate us. This influences which products we write about and where and how the product appears on a page. However, this does not influence our evaluations. Our opinions are our own. Here is a list of our partners and here's how we make money.
Digital marketing involves using the internet and other electronic technology to promote a brand and its products to potential customers. It includes online marketing methods such as website content, digital ads and social media posts, and other types of technology for text messaging, digital billboards, TV commercials and radio ads.
Although digital and online marketing are similar, they aren't exactly the same. Digital marketing includes online and other marketing methods that don't rely on the internet but leverage technology. Determining the suitable marketing methods for your business will depend on your target audience, budget and goals.
Types of digital marketing
Here are some popular types of digital marketing you may want to consider for your business. Using marketing software can help you automate your marketing strategy and measure the success of your efforts.
Content marketing generally involves sharing online content — such as blog articles, newsletters and white papers — through a business website or another platform. In addition, videos and podcasts may be offered through hosting platforms such as YouTube or Buzzsprout. To be successful, regardless of how you share your content, it should be relevant and valuable to your target audience.
Digital ads use the internet to deliver text, image, audio and video content that promotes a product or service. Digital ads can appear on websites, apps, games, search engines, streaming content, social media and other online platforms. The goals of this type of online advertising include increasing brand awareness, launching new products and driving sales.
Social media platforms such as YouTube, Instagram, TikTok and many others can help businesses connect with their audience. The top goal of social media marketing is often to advance brand awareness, but other goals might include increasing traffic to a business website or increasing product sales. Therefore, the types of materials you post may vary based on which platforms you use.
Affiliate marketing uses a third party to promote a business and its products. In exchange for the promotion, a business will compensate the affiliate partner, typically when a specific action is taken, such as a purchase that originated from a link on a third-party website. Companies with e-commerce business models can use affiliate marketing to reach more online shoppers and increase sales.
Influencers are people with large social media followings whom businesses pay to promote their products or services. Influencers typically receive compensation for their endorsements through cash or free products or services. When considering this type of digital marketing, find influencers whose brands and followers align with your business and target audience.
Email marketing is a form of direct digital marketing that promotes a business's products through email to increase brand awareness and generate sales. Emails can be product-specific or be used to share blog posts, newsletters, videos, podcasts, upcoming events and updates. In addition, email marketing software can help you maintain your contact list and create campaigns for current customers and potential buyers.
Text messaging or mobile marketing
Text message marketing, also known as SMS marketing, uses texts to promote a business and its products as well as build brand awareness. Like email, it is a direct digital marketing method that requires a contact list. Text message marketing can inform customers of sales and promotions, send appointment reminders and share news, links and other content of interest to the customer.
TV commercials typically engage the audience on both an audio and visual level. They can expose your brand to a larger audience than other digital marketing methods, but they can also be more expensive due to the production costs involved. Advertising spots are typically 30 seconds but can be shorter or longer depending on the broadcast channel. Your target audience and budget will help determine whether a national or local campaign is best.
Radio and podcast advertising
Radio and podcast advertising uses commercial radio stations or podcasts to promote products and services. These digital ads may include promotional material read live by a radio personality or podcast host, sponsorships of programs such as news and traffic, and prerecorded commercials. Radio and podcast ads lack the visual appeal of TV ads but have lower production costs.
Digital billboards use images, video and animation to promote a brand or product and are generally placed in areas of high visibility near major roadways. The images displayed are changed by a computer every few seconds, allowing multiple businesses to advertise on the same billboard. The cost of this advertising method will depend on the location — with prime locations costing more — and may also be influenced by the length of time and frequency with which the ad is displayed.
Digital displays and signs
In addition to billboards, there are smaller indoor digital displays and signs that use text, video, graphics, sound and animation to deliver promotional messages to an audience. Coming in various sizes and shapes, digital displays are commonly positioned in areas where many people gather, such as retail locations, convention centers, airports and sports arenas.
How to choose the right digital marketing methods
Focusing on the following areas can help you select the digital marketing methods that will work best for your marketing strategy.
Know your target audience, how they shop and where they like to get their information. Then select the digital marketing methods they're most likely to interact with. A marketing campaign can only offer the expected return on investment if delivered to the right audience.
Your marketing goals will influence your marketing method, whether that involves brand awareness, direct sales, lead generation, website traffic, customer retention or something else. For example, social media is often used to raise brand awareness, while email marketing and text messaging will likely be better suited to increase direct sales.
Cost will be a primary concern for many small businesses with limited marketing budgets. Many digital marketing strategies, such as email, social media and content marketing, are relatively low-cost. There are also plenty of free advertising methods to choose from. However, you'll also want to consider the return on investment. A costlier marketing strategy, such as digital ads, may have greater success and make it worthwhile.
If a marketing method has proven successful, you may want to consider expanding on that option. For example, suppose you have generated many sales through email marketing. In that case, you may want to focus on increasing your contact list and improving your open rate rather than starting a new radio ad campaign.