Dropshipping: What It Is, How It Works in 2023
Dropshipping businesses rely on third parties to ship goods for them instead of keeping inventory in stock.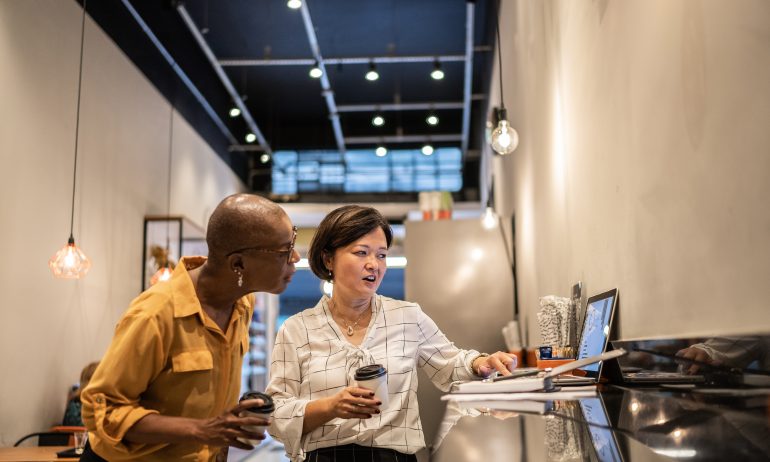 Many or all of the products featured here are from our partners who compensate us. This influences which products we write about and where and how the product appears on a page. However, this does not influence our evaluations. Our opinions are our own. Here is a list of our partners and here's how we make money.
Dropshipping is an e-commerce business in which the online seller acts as an intermediary between a product supplier and an end customer. Dropshipping companies don't keep inventory in stock themselves. Instead, when a customer buys something, the dropshipper passes the order along to a third-party supplier, who ships it directly to the buyer.
Dropshipping has gained a reputation as an easy way to make money without much upfront investment. But profit margins can be tight, competition can be stiff, and shipping and returns can be difficult to manage. Here's what to know about dropshipping and how it works before you dive in.

$29
Basic Plan. Shopify & Advanced Plans Available. 
Dropshipping is an order fulfillment method for online businesses. It's a kind of e-commerce.
Dropshippers typically don't design, manufacture or store their own inventory. Instead, they work with suppliers that already have products in stock.
Dropshippers list some of those products on their own e-commerce websites. When customers place orders, dropshipping businesses take their payment and manage communications with them — but suppliers ship the goods consumers are buying.
Dropshipping businesses have minimal overhead and pared-down operational costs compared with traditional retail businesses. The majority of their work deals with managing a website, working with marketplaces and suppliers and processing orders.
How does dropshipping work?
Here are the steps that dropshipping follows:
A customer orders a product from a business, typically online.

The business sends the order to the dropshipping supplier.

The business charges the customer.

The dropshipping supplier prepares the order.

The dropshipping supplier, in turn, charges the business.

The dropshipping supplier ships the order to the customer.

Some e-commerce website builders can help facilitate dropshipping. Shopify, for instance, offers a variety of third-party apps that can connect you with dropshipping suppliers. You can list these suppliers' products in your online store. Then, when customers place orders, the apps pass them on to suppliers.
Every marketplace has its own policy regarding what you can and can't do when dropshipping. Amazon, for example, offers dropshipping services but requires that sellers be responsible for processing customer returns. When deciding on a marketplace to dropship, be sure to read the fine print and know what you can and cannot do.
Lower initial investment. Instead of buying inventory to sell directly, you can reduce your upfront cost by relying on third-party fulfillment companies.

No physical space required. Owners can operate dropshipping businesses from anywhere without a physical storefront.

No inventory management. Without their own stock, dropshipping businesses don't have to spend time managing inventory.

No backstock. Because you don't have to purchase inventory upfront, you won't be stuck with products you can't sell as trends come and go.

Variety of products to sell. As long as it can be shipped, you can probably sell it with a dropshipping business.
Potentially low profit. Because dropshipping businesses rely on third-party suppliers to fulfill orders, changes in a supplier's prices can eat into your profits with little warning. Some e-commerce platforms let you automatically adjust your list prices when your supplier updates theirs — but raising prices may hurt your bottom line if other sellers can keep their prices lower.

Lots of competition. With little investment to get started, it's easy for dropshippers to flood the market. You may have to spend a lot on advertising and compete on price just to make sales.

Inventory issues. If you're not managing your own inventory, you are part of a larger chain of providers. If your suppliers experience delays or low stock, you will as well. And if there's a change elsewhere in the supply chain and that affects product quality, you may not know until a customer complains.

Complex shipping. If you work with more than one product supplier, calculating a customer's shipping cost can be complicated when their order is fulfilled by more than one wholesaler.

Reliance on shipping partners. Not all shipping partners will provide the quality and service that you want to offer your customers, which can lead to bad delivery experiences.
Is dropshipping high-risk?
Dropshipping may be considered a high-risk industry by payment processors due to its high volume of fraudulent charges and frequent chargebacks. These issues can cost a lot of money, leading many third-party payment processors to refuse to work with dropshipping businesses.
You may need to find a high-risk account provider for your dropshipping business to accept payments. Expect to pay more in fees and face a lengthier application process when working with one of these companies — additional potential downsides of dropshipping.
Look for payment processors that can help your dropshipping company avoid chargebacks and fraudulent transactions. For instance, some services may limit the number of charges or total amount processed from the same IP address in a certain time period or not charge a customer's credit card until an item ships.
How do you find dropshipping suppliers?
You can find dropshipping suppliers through your e-commerce platform, or you can seek relationships with manufacturers and wholesalers yourself. Here's how to get started:
Explore your e-commerce platform. Shopify, Wix and other online store builders offer apps that can connect you directly to dropshipping suppliers. However, remember that lots of other people who use those platforms might be using the same apps and finding some of the same products.

Look at directories. You can search domestic and international directories, such as Alibaba or Inventory Source, to find dropshipping suppliers that can give you a variety of options for different niches. Because many directories screen their suppliers, they're likely to offer legitimate companies. However, many charge for access.

Call the manufacturer. If you find a product you really want to invest in, consider reaching out to the manufacturer directly. This can help ensure that your dropshipping supplier is carrying the real thing, not a knockoff.

Ask questions. Not all suppliers will provide the quality you're looking for in a partner. Before jumping into an agreement, ask about charges and fees, what the order process looks like, if they have quality control processes, how they handle returns and what their billing process looks like.

Check out reviews. Look at the reviews from other dropshippers to learn about their experiences with a potential supplier.
Is dropshipping right for your business?
Dropshipping can be a potential fit for businesses that do the following:
Offer customized products. Businesses that offer customized items like T-shirts or tumblers with printed logos can let a supplier do the printing and ship the products. This e-commerce business model is known as print-on-demand.

Sell expensive or large products. Rather than ordering expensive products in advance or storing large items, businesses can dropship these types of products to save on overhead and space.

Focus on niche markets. For small businesses that sell products that only appeal to a specific audience, dropshipping makes it easier to quickly respond to the newest trends, without risking money or storage space if certain items don't sell.
But even if your company falls into one of those buckets, you'll want to weigh these questions before you go into dropshipping.
How much do you want to control product quality?
Dropshippers may not always see products before selling them. Ordering test pieces can help you make sure you describe goods accurately in your listings — and that your supplier provides a good shipping experience. If the product is damaged or lacking the right packing materials to protect the order, you'll likely want to consider other options.
Where will you sell your products?
Is your audience on eBay, or are they more of an Instagram crowd? Whatever you decide, make sure your e-commerce platform includes a direct integration with your desired social media sites or online marketplaces. There are lots of third-party apps that can facilitate these listings, but direct integrations reduce friction and opportunities for error.
How will you differentiate your store?
In some cases, you may find that you're sourcing products from the same suppliers as the stores you compete with. That means you'll have to find ways to make your listings stand out.
Here are a few strategies to try:
Use SEO and marketing tools. Some e-commerce website builders include search engine optimization features, like helping you choose the right keywords for your page titles and tags, and tools for creating marketing campaigns, including Facebook and Google ads.

Take product photos. High-quality product photography can set your listings apart from other, similar products. Make sure your photos show the product from all angles. Videos, if your e-commerce platform supports them, can help show what the product looks like in use.

Compete on price. If an online shopper sorts a list using "Price: Low to High," lowering your prices can ensure you're near the top. The tradeoff, of course, is that it eats into your profit margins.
How will you ensure a good delivery experience?
When and how orders are delivered to customers is a major factor for how they will feel about your business. Misdelivered packages, the inability to track deliveries and poorly packaged or broken products can be a fast way to get bad reviews for your dropshipping business.
But there are a few things you can do to boost your dropshipping business's delivery experience:
Try to offer more than one shipping option. According to a 2022 study by UPS Capital, 87% of consumers said being able to control certain aspects of their shipping experience, such as choosing which day their package will arrive or being able to track a package, would motivate them to purchase from a merchant. UPS Capital is a financial services division of UPS.

Know how to ship your products. Not all shipping companies will ship every product, and some carriers are better at certain items than others. Verify that your partners are using services that can handle the size or weight of your products.

Don't forget insurance. One of the best ways to ease a customer's mind is to offer shipping insurance, which usually covers situations that occur during shipping such as damage to a package or shipping delays. Businesses can offer to let customers pay for insurance if they choose it, saving the merchant money while soothing customer concerns.