How to Build an E-commerce Website in 2022: The Ultimate Guide
Our guide to building an e-commerce website walks you through each step so you can launch your online business.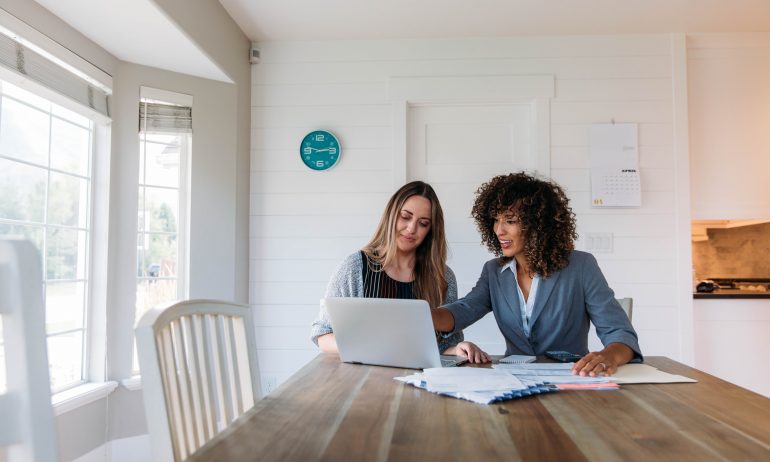 Many or all of the products featured here are from our partners who compensate us. This may influence which products we write about and where and how the product appears on a page. However, this does not influence our evaluations. Our opinions are our own. Here is a list of our partners and here's how we make money.
Modern e-commerce platforms are economical and extremely user-friendly, allowing you to create a custom website for your business with just a few clicks. Most e-commerce platforms also offer key elements like secure payments, shipping and marketing on a plug-and-play basis, so you likely won't need any coding experience to set up a professional-looking website.
Our guide to building an e-commerce website will walk you through everything you need to know so you can start selling online.
How to build an e-commerce website in 5 steps
1. Choose a name and get your domain
Your domain — also called a URL — is your web address. This is your website's "home" on the internet, and what shoppers enter into the browser bar to visit your website.
Choosing a good domain name is important to both your branding and overall success. If possible, select a business and domain name that's closely connected to what you sell. By using descriptive keywords or key phrases into your business and domain name, your customers know what you sell up-front, plus it helps you rank well in search engines, which is crucial to your business's SEO strategy.
Once you have a few ideas for a name, you can purchase your domain using a domain registrar service like GoDaddy, Bluehost or Google Domains. Simply head to one of these websites and enter your business name. It will tell you if that domain is available.
If your name is already taken, these sites will display options, like .net or .co, or an alternate name. It's a good idea to stick with a .com if possible because that's the most common and trusted usage. However, if you're set on a particular name and the .com is taken, the .net and .co options are widely recognized, too.
Your domain name will typically cost between $12 to $25 per year, depending on the service and any add-ons you choose, such as domain privacy. You may also find that whichever e-commerce platform you choose to build your website also includes a free domain with your purchase, which brings us to our next point.
2. Pick your e-commerce platform
This is where your site "lives" online, and you have many options to choose from. There are free platforms with limited features and nearly free stores built on WordPress. You can add e-commerce features to popular website builders, or go with a dedicated e-commerce platform that can support unlimited growth.
Here are some top e-commerce platform options to consider:
Dedicated e-commerce platforms
These are the easiest way to quickly launch a full-featured e-commerce website. These solutions are very robust and expandable and deliver powerful built-in functionality like secure payments, shipping labels, email marketing and multichannel sales support. These solutions aren't free, but deliver a ton of tools starting at around $30 per month.
Three top dedicated e-commerce platforms to consider include:
BigCommerce: BigCommerce is geared to multichannel sellers and perhaps the most expandable small business e-commerce platform. Plans start at $29.95 per month.

Shopify: Shopify is the most popular dedicated e-commerce platform and ideal for startups and drop-shippers. Shopify plans start at $29 per month.

Shift4Shop: Shift4Shop is another top contender in the dedicated e-commerce platform field and offers a budget startup plan for just $19 per month.
All of these dedicated e-commerce platforms offer a free trial period, so you can test-drive each of them completely risk-free before deciding which one you'll use.
Website builders with e-commerce features
Popular website builders Wix, Weebly and Squarespace all offer e-commerce functionality. If you already run a website on one of these platforms, you can add online sales features by simply moving to an e-commerce plan.
Wix: Wix offers hundreds of beautiful, easy-to-use website templates with e-commerce features starting at $23 per month.

Weebly: Similar to Wix, you can quickly and easily create a beautiful site on Weebly with e-commerce features for $25 per month.

Squarespace: E-commerce features start at $30 per month and you can choose from hundreds of design templates.
Simplicity makes website builder platforms popular with the DIY and side-gig crowd. However, if you're building a website with the intent to grow, a dedicated e-commerce platform delivers more integrated sales and marketing features for similar costs.
E-commerce plugins for WordPress
The WordPress platform drives over half of the world's e-commerce websites due to its vast customization options and low cost. In fact, you can add online store functionality to any WordPress website for free using the following e-commerce plugins:
WooCommerce: The free WooCommerce plugin adds complete e-commerce functionality to WordPress websites.

WP EasyCart: Like WooCommerce, WP EasyCart adds a full suite of online store features to WordPress.

BigCommerce: Dedicated e-commerce platform BigCommerce also plugs into WordPress, so you can combine their multichannel sales features with a brand-building blog.
Free e-commerce website platforms
Free e-commerce platforms let businesses with just a few products sell online with no upfront or ongoing costs. These platforms either limit the number of products you can list for free, or have fewer features than the e-commerce solutions covered above.
Three platforms to consider are:
Square Free Online Store: Square users can easily expand online with Square's free online store, which is built into every Square account.

Freewebstore: Freewebstore offers a free e-commerce platform for up to 20 products; paid plans cover more products.

Ecwid: Ecwid offers a free e-commerce website for up to 10 products; paid plans cover added items.
3. Plan and build your e-commerce website
You'll need to gather the following elements and information to create your business website:
All e-commerce platforms let you create a simple type logo, or you can use a third party platform like Canva to create your own logo using free logo templates.
Product photos, descriptions and data
Consider this checklist of information to include on your website, plus a few tips to help you market products effectively:
Great product photos: You can capture great product photos with a little creativity and a cell phone camera. Be sure to take photos from several angles and show your products in use, if possible.

Product videos: Authentic, real-world videos are proven sales tools, and you can also capture these with your cell phone.

Detailed product descriptions: Create great product descriptions that cover every detail. Include the size, weight and material for each product you sell and add answers to frequently asked questions. Use keywords in product titles and descriptions where it makes sense to achieve search engine ranking.

Product options: Options like size and color are called variables, and e-commerce platforms let you create multiple variables for items that come in different sizes, colors, etc.

Product SKUs: Make sure you have your internal stock keeping units, or SKUs, plus any manufacturer's codes on-hand. Sometimes buyers will search using a manufacturer's code, so these are good to include in product data.

Product pricing: Many e-commerce platforms give you single-item and group pricing options, plus sale and discount pricing. Some even let you track your product costs for reporting.

Item size and weight: E-commerce platforms use item size and weight to determine real-time shipping costs and to print labels. This is optional, but can be a handy timesaver that automates your shipping process.

Inventory: Insert a stock amount for each item and your e-commerce platform will track your inventory as products sell down.
This is your chance to connect with potential buyers, so make the "About Us" section of your website sing. Share your personal journey and embellish it with photos and videos and make it entertaining and engaging to keep buyers coming back for more.
Great customer service keeps shoppers coming back, so use the customer service page of your e-commerce website to clearly set expectations. Key elements here include:
Shipping rates and times: State your typical shipping turn-around, the rates you charge and average delivery times.

Returns and exchanges: Cover your returns policy and clearly state who pays for return shipping.

Privacy policy: By law, you must include a privacy policy on your website and most e-commerce platforms provide a blanket statement that you can insert.
Your e-commerce website menus help shoppers easily navigate your website content. Most platforms let you create a main menu bar, along with footer menus and sometimes top and sidebar menus. Experiment to see which combination works best for your product collection and content.
4. Set up payment, tax, shipping and marketing tools
This step will vary depending on your e-commerce platform. All-in-one solutions like BigCommerce and Shopify come complete with built-in payment processing, tax calculations, shipping label printing and marketing tools. Most others require integrating a few outside services to handle these tasks.
Payment processing and tax table setup
All of the e-commerce website platforms covered above offer plug-and-play integration with top payment services like Square, PayPal and Stripe. To enable payment processing using these solutions, you simply click a few buttons, set up your account and you're connected.
Most platforms also let you connect your own payment gateway and merchant account. However, built-in and plug-and-play payment services are the simplest, and often the most economical, options for startups.
After setting up your payment processor, you'll configure sales tax rates to be collected from shoppers. All e-commerce website platforms support sales tax collection and let you apply taxes to select or all items and orders. The sales tax rates you charge depend on your state and, in most cases, your overall sales volume.
Your can, and should, integrate shipping software with your e-commerce platform to streamline the order fulfillment process. Integrated shipping seamlessly connects orders to shipping software so you can select carriers and shipping methods, print labels and automatically notify customers when their orders ship.
BigCommerce, Shopify and WooCommerce all offer built-in shipping, so the integration is already done for you and setup takes just minutes. Most other platforms require that you connect a third-party solution like ShipStation or ShippingEasy to print labels and trigger customer notifications. These integrations work well with most platforms, but can add monthly costs.
Once your shipping solution is set up, you can create shipping rates to charge your customers shipping fees. Most e-commerce websites let you add real-time rates, which is the actual cost of shipping each order. You can also set up flat rates based on order totals or offer free shipping for all or select orders.
Email marketing and social media setup
Like payments and shipping, some website platforms offer robust built-in marketing tools. All-in-one solutions BigCommerce and Shopify offer complete marketing toolkits. You can easily build and use email lists to connect with customers, plus sell products and send promotions across your social media accounts in a few clicks.
Other e-commerce platforms require a bit more work to set up marketing features. For example, you can connect WooCommerce to top email marketing services like MailChimp using free plugins. However, you need paid plugins to connect your products directly to social media accounts for social commerce.
5. Test and launch your e-commerce website
The last step in building your e-commerce website begins with processing a few test orders. Each e-commerce platform handles testing differently; however, all let you run a few pre-launch test orders through the system. These orders connect with your payment processor, but don't charge your card. Once you've sent a few test orders through successfully — or have worked out any bugs you noticed while navigating around your e-commerce website — you're ready to open for business.
Keep in mind, launching your e-commerce website doesn't equal instant sales. It takes time for search engines to find and index your new online store. You can speed this along by verifying your new store in Google's Search Console and uploading an xml sitemap, which e-commerce platforms provide for this purpose.
In the meantime, you can also use social media and Google Adwords advertising to get the word out once your online store is live.
This article originally appeared on JustBusiness, a subsidiary of NerdWallet.