How to Get Business Insurance: The Ultimate 4-Step Guide
This guide covers types of risk, how to shop and compare quotes and more.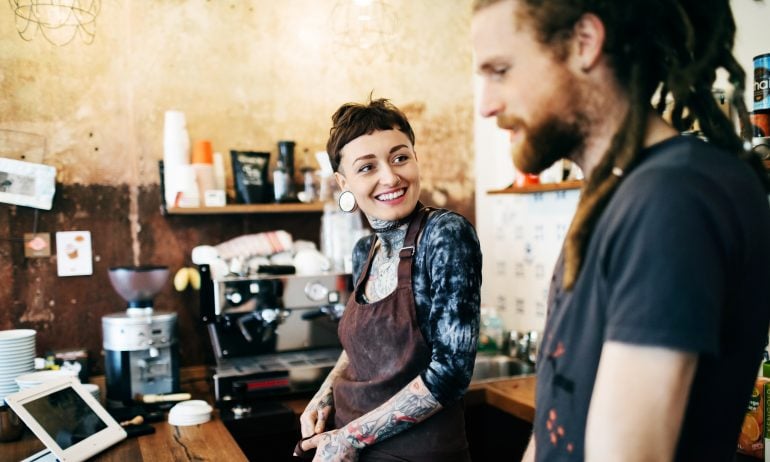 Many or all of the products featured here are from our partners who compensate us. This may influence which products we write about and where and how the product appears on a page. However, this does not influence our evaluations. Our opinions are our own. Here is a list of our partners and here's how we make money.
Whether you're the owner of a brick-and-mortar shop or an online-based contractor, finding and buying the right is essential to protecting your operations from the unexpected. However, with all of the different types of insurance out there, as well as providers to choose from, you might be wondering exactly how to get business insurance.
In this guide, we'll break down four simple steps you can follow to insure your small business — from reviewing your risks to choosing the best policies for your needs.
Although buying small-business insurance might seem intimidating at first — especially if you're a new business owner — the process can be much more approachable if you break it down into individual steps:
First and foremost, you'll need to decide which type, or types, of business insurance you need. From the overarching liability insurance to the more specialized cyber liability insurance, there are a variety of coverage options to choose from — and the policies you need will largely be unique to your business.
Therefore, to help you decide which types of insurance you need, you can start by evaluating your risks as a business. As you might imagine, some businesses will be inherently riskier than others — a manufacturing or construction business, for example, will pose a much greater risk than a .
Although some risks will be unique to your business, location and industry, in general, you can think about:
Once you have a better sense of the risks that your business faces, you'll be ready to look into the different types of commercial insurance and decide which ones your business needs.
When it comes down to it, there are numerous insurance types to choose from, but you might start with some of the most common options:
Of course, although there are a number of different types of commercial insurance, not every business will require the same coverage. The policies you need will be unique to your business. Moreover, when you're first figuring out how to get business insurance, you can always start simple, with a general liability policy or a BOP, and opt for additional coverage later on.
Once you have a better sense of what kind of insurance your business needs, your next step will be to start shopping. You'll want to look into different insurance companies and coverage choices, and get quotes so that you'll be able to compare multiple options and find the best deal for your business.
So, how do you go about this part of the process? When it comes down to it, you have three avenues you can take:
To start, you might opt to use an . If you're learning how to get business insurance for the first time, leaning on the expertise of a broker can be particularly useful.
Working with a commercial insurance broker is similar to working with a business loan broker or a health insurance broker. You'll discuss your business's needs with the broker and they'll come back to you with quotes and coverage options from different carriers. You'll then compare the options and be able to choose the right one for your business.
Of course, although expertise and network are two of the most notable benefits of working with a broker, it's important to remember that brokers work on commission — so you'll want to make sure that any broker you work with as your interests in mind first.
To this point, if you decide to utilize a broker service, you'll want to keep the following tips in mind:
Alternatively, you may determine that working with a broker isn't right for your business. In this case, you might decide to utilize an online business insurance marketplace, like Insureon or Coverwallet.
These insurance marketplaces work with top providers and can offer multiple quotes from their partners so that you can compare your options without having to contact each insurance company individually. All you have to do is input some basic information about your business and the insurance you're looking for — and the marketplace will generate multiple free quotes from their partners.
Then, you'll be able to compare the quotes and even talk to insurance experts to decide what's best for your business. Compared to working with a broker, using an insurance marketplace allows you to take a hands-on approach to your insurance search — it also expedites the process, as well as gives you access to industry experts to help you make the right decision.
If you have simple insurance needs or already have a provider in mind, there's nothing wrong with contacting providers directly to learn about what they offer, receive a quote and decide whether or not their coverage is right for your business. Of course, contacting different insurance companies, discussing your business needs with their representatives and receiving multiple quotes can be time-consuming and overwhelming — so this is something to remember.
However, as we mentioned, if you already know you want to work with Hiscox insurance, for example, it will certainly be simpler to contact them directly. Additionally, if you're a smaller business and know that you only need one specific policy, it may be more efficient to work with the insurance providers themselves.
Regardless of which of these three methods you use to get insurance quotes, your next step will be to compare the quotes and determine which policies and which provider is best for your business.
Of course, this will be one of the most important pieces of learning how to get business insurance, so you'll want to review each of your quotes thoroughly, ask questions and perhaps even consult your business advisors for their input.
This being said, insurance policies aren't always simple, so as you're comparing different quotes, here are a few items you'll want to keep in mind:
All in all, it's worth remembering that the best insurance policy for your business will not only be one from a reputable carrier with the coverage you need, but also one you can afford.
To this point, if you're operating on a tight budget and need to save money on business insurance, opting for a business owner's policy can be useful. By bundling multiple policies together in this way, you'll usually be able to access lower premiums.
At this point, you've learned how to get business insurance and the last step is to actually purchase your policy or policies.
Once you've done so, you'll want to ensure that you know when payments need to be made, how to file a claim with your provider and how to reach out to customer service if you need assistance.
Luckily, many insurance providers have online customer portals that you can use to make payments, file a claim, contact support, add additional insureds or request a certificate of insurance.
This being said, however after you buy your policy and set up payments, you won't just want to leave things until you need to file a claim. Instead, you'll want to ensure that you review your policy periodically — and decide whether you need to adapt or change your coverage.
Typically, a good time to reevaluate your coverage is on an annual basis, when your policy will be up for renewal. At this point, you'll be able to take another look at your business and potential risks to decide whether to renew, change or cancel your policy and switch to another provider altogether.
Additionally, you'll also want to reevaluate your coverage if you have a big change in your business. For example, if you hire your first employee, you'll likely need to add workers' compensation insurance to your policy. On the other hand, you might purchase a new piece of real estate and decide you need to add or expand your commercial property insurance.
In any case, your insurance policy exists to protect your business, so as your business grows and changes, your coverage will as well. If at any point you think you need to change or adjust your policy, but aren't sure what exactly you need, reach out to your broker or a representative from your insurance company to discuss different coverage options.
This article originally appeared on Fundera, a subsidiary of NerdWallet.