How to Start a Candle Business: A Step-by-Step Guide
We break down the process of how to start a candle business, which may be the perfect fit for your creative side.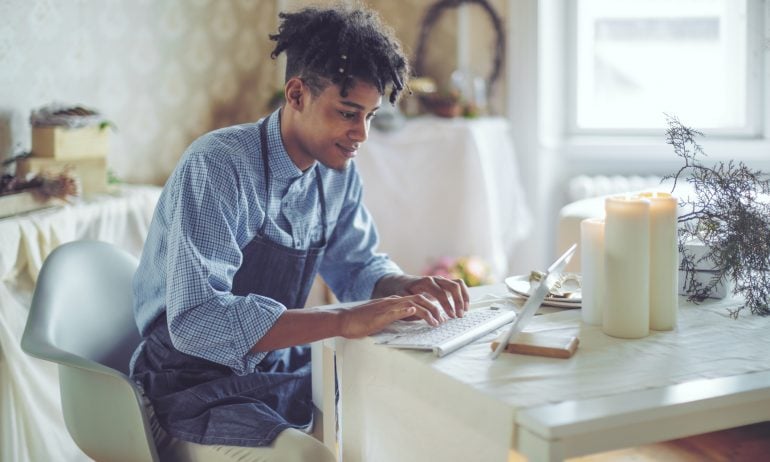 Many or all of the products featured here are from our partners who compensate us. This influences which products we write about and where and how the product appears on a page. However, this does not influence our evaluations. Our opinions are our own. Here is a list of our partners and here's how we make money.
We all like our homes to smell nice and to feel cozy. What better way to make this happen than by lighting some candles. Not only are they an affordable indulgence, but they also make great gifts and literally brighten any room.
If you're considering starting a business and are passionate about wicks, soy blends, and mastering the perfect scent, then starting a candle business may be the perfect fit for you. Keep reading to learn how to start a candle business.
How to start a candle business in 7 steps
Starting a candle business is a lot of work, but can also be very rewarding. Before you let your excitement take the lead, pause and consider following some of these steps first. To give your candle business the best shot at success, you'll need to get all of your financial, legal, and marketing ducks in a row.
Step 1: Perfect your craft
When a candle is good, it can help you destress, add a decorative flair, or set the mood. But when a candle is bad, it can be a disaster. A candle can smell too sweet. Too floral. Too smoky. Or, the scent can be so weak it winds up smelling like nothing at all. Essentially, it's easy to step too far in one direction and make a candle that no one wants to burn. Before you go through the process of starting a candle business, you'll want to brush up on the basics of how to make a good candle and develop a few signature scents. You'll need to master how to ensure a good burn time, how to make a scent that permeates a room, and how to create a scent that people will love.
You'll also want to define what will make your candle line stand out. Will each candle be inspired by a different exotic location? Will you use really unique glassware to house your candles? Will you have witty names that make your candles perfect for gifting? A good scent and an affordable price point will get you far in the candle game, but you'll also need to make sure there is a way for your brand to stand out in a very saturated market.
Step 2: Create a business plan
Making candles is a creative process. Not to mention fun. Which is why it may be hard to tear yourself away from your experimenting to write a business plan. But writing a business plan is a creative endeavor too. And a little bit analytical. So put both sides of your brain to work, because the process of creating a business plan will prove invaluable to you throughout the life of your business.
A good business plan will contain several sections that can help keep your business on the right path as well as show your value to any potential investors or lenders. Ideally, you'll do this step before starting a business, but it's never too late to whip one up. Having a business plan will make the process of growing your business so much easier and can help you introduce the important details of your candle business to others. If you're nervous about creating a business plan from scratch, consider using a business plan template or business plan software that can help you through the process.
If you haven't already chosen your business name, doing so while you're in the process of pulling together your business plan is a good idea. Try to come up with a catchy business name that will stay in customers' minds while also describing what kind of business you run. Of course, you'll want to double check that your chosen name is actually available before moving forward with it. Confirm your desired name's availability with your secretary of state's website to see if your chosen business name is currently in use. Doing a simple Google and trademark search can also be helpful. If your desired name is free and clear, make sure you reserve your domain name and social media handles before someone else grabs them.
Another benefit of writing a business plan is that it will encourage you to choose a legal structure for your business. Choosing the right business entity is very important and a decision that should not be taken lightly. A few common forms of business entities are sole proprietorship, general partnership, limited liability company (LLC), and corporation.
If you're struggling to decide what type of business structure you should choose, consulting a business attorney or tax expert can help. The extra expense may save you a lot of stress down the line, as the type of business structure you choose will affect your taxes, risk level, and other important factors. After you've chosen your business entity, you will register your candle business with the necessary federal and state agencies.
Define your products and services
Are you planning on selling candles? How about essential oils or reed diffusers? Will you take custom candle orders? You'll need to define exactly what types of products or services your business will offer. Ask yourself the following questions in order to better understand what your products and services will be.
What type of scent-based products will you sell?

What will you charge for them?

Where will you purchase your candle supplies?

How much will these supplies cost?

How much will production cost?
Now that you have a business plan, you can use it moving forward to help guide your candle business.
Step 3: Get the proper licenses, permits, and insurance
This may not be the most fun step in the road to starting a candle business, but it is an important one. When you start a business, you'll have to ensure you're obtaining the proper licenses, permits, and insurance required by your local and federal government. These requirements will vary based on your location, business type, and chosen business structure. Chances are, you'll require multiple business licenses at the state, federal, and local level. If you need help getting started, the SBA is a great resource, as is your local chamber of commerce.
Does your business require employees to help it run? Then you'll need to obtain your employer identification number (EIN), which is required for tax purposes. Even if you don't plan on hiring soon, there are some pretty valuable benefits of getting an EIN you should think about.
Something else worth looking into is business insurance, especially if you've hired employees. In that case, you may need to carry workers compensation, unemployment, or disability insurance. General liability and commercial property insurance may also be necessary. You should check with a business lawyer to make sure you have the right coverage for your business—especially when you consider the fact that as an owner of a candle business, you'll be working with flammable materials. Do your due diligence and research your local fire codes and speak with your insurance representative about your fire coverage needs.
Step 4: Decide where to sell your goods
Where are you planning to sell your candles? How about online, in a boutique, or at your local farmers market? You can always open your own storefront, but maybe you want to start small at first and sell your candles to local boutique owners. Consider all the options available to you and don't be afraid to start small while you build brand loyalty and get customer feedback.
If you want to sell online, but aren't ready to launch your own ecommerce website, you can always sell your candles on a digital marketplace like Amazon or Etsy. There are countless helpful ecommerce platforms you can choose from, so take your time investigating which is the best fit for your business.
Step 5: Find small business funding
It's a cliché, but sometimes it takes money to make money, and starting a candle business is no exception. In order to pay for supplies, marketing, production, insurance, legal council, and more, you'll may need some sort of business funding. Start by considering the following funding options.
Once you obtain your funding or begin to rack up expenses or earn income, you should take steps to keep your business and personal finances separate from each other. Then, consider finding an accounting software program to manage your business's financials.
Step 6: Find and manage candle supplies
At first, you may be able to just pop over to your local craft supply store to get some wax and scents for your candles. But once your business begins to grow, you'll save a lot of money by buying supplies in bulk from a wholesale supplier. You'll want to start sourcing affordable supplies straight away so you can test for quality and find the right supplier for you. Some candle making supplies you might need are:
Wax such as paraffin, gel, soy, beeswax, or another type

Fragrances such as essential oils

Shipping and packaging supplies
Before you place any large orders, you should plan out how much inventory you will need and how you will manage it. Not only will doing so make finding suppliers easier, but you can begin to form a reliable inventory system. You may want to consider using an inventory management app to organize the comings and goings of your candle making supplies.
Step 7: Start marketing your candles
Once you've chosen your business name and started to develop your brand, you can market your business. Word of mouth is ideal, but you can't rely on it. This is why having a well thought out marketing plan will come in handy. You'll want to start by thinking of what your candle's selling points are. Do they last longer than others? Smell stronger? Are they made from more sustainable ingredients? Identify what your main selling point is and how you can best present that message to potential customers.
Social media is a free, fun, and easy place to start. You might want to identify which channels would be best for your business and begin to build a presence on them. Email marketing is also an affordable option worth considering. The best part about social media and email marketing is that your customers choose to sign up for your advertisements. You have a captive audience, so take advantage of that fact.
If you really want to take your candle business to the next level, the steps above can help you pair your passion for candles with a solid plan for execution. The end reward could be a candle business that offers profit and creative joy for years to come.