How to Open an Etsy Shop in 8 Steps: Etsy Fees and More
Create an Etsy account, list your first products, connect your payment methods and open your shop for customers.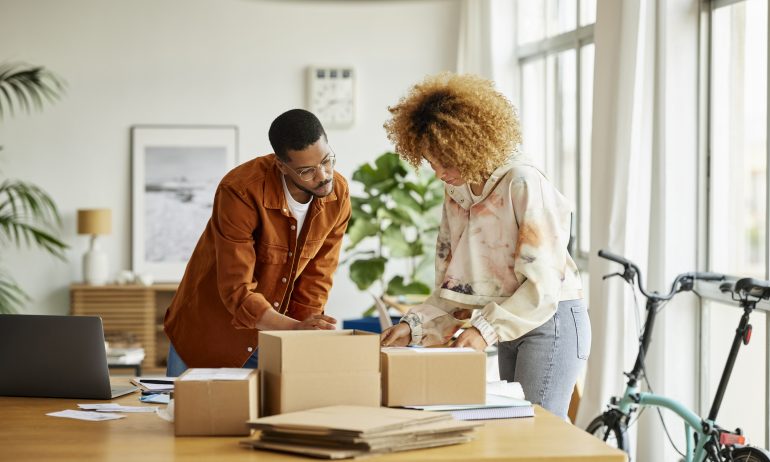 Many or all of the products featured here are from our partners who compensate us. This influences which products we write about and where and how the product appears on a page. However, this does not influence our evaluations. Our opinions are our own. Here is a list of our partners and here's how we make money.
Etsy is an online marketplace for handmade goods and artwork. Opening an Etsy shop is free and relatively easy, and it can provide a home for your products — however niche — without having to build your own e-commerce website.
Here's how to start an Etsy shop in eight steps, plus information on Etsy seller fees and tips for success on the platform.
1. Create an Etsy account
You can set up an account with Etsy by visiting Etsy.com/Sell, then selecting "Get Started." You can create an account with your email address or an existing Google, Facebook or Apple account.
If you've shopped on Etsy before and have an existing account, you can log in with your credentials and then select "Open Your Etsy Shop" to start creating your own store.
2. Set your shop preferences
Next, you'll be prompted to share some information about your business, like how long you've been selling goods. You have the option to skip these questions if you'd prefer not to answer.
Then, you'll be directed to the "shop preferences" screen where you'll designate the basic settings for your store — your default language, the country where you're based and what currency you plan to use.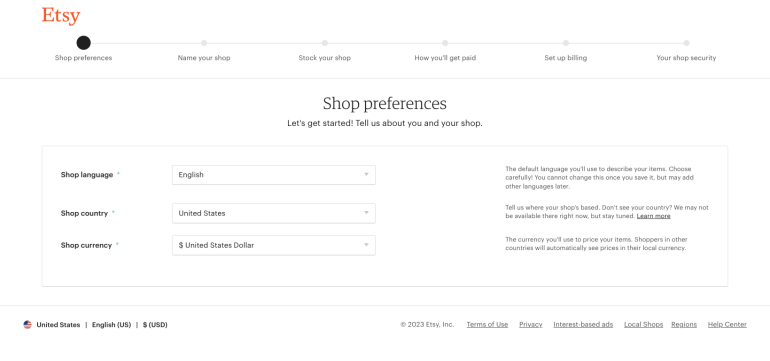 If you list products using a different currency than the one in your Etsy Payments account, you'll have to pay a 2.5% currency conversion fee on each sale.
Here's where you can start to get creative: coming up with your Etsy shop name. Your store name can be anything you'd like, as long as it falls within Etsy's guidelines:
Four to 20 characters long.

No spaces or special characters.

Not a name that's already in use by another Etsy seller.

No trademark infringements.
You can change your shop name up to five times. After that, you can still request a name change, but it'll have to be reviewed and approved by Etsy Support.
If you try to enter a name that's already in use, Etsy will suggest some similar names that are available: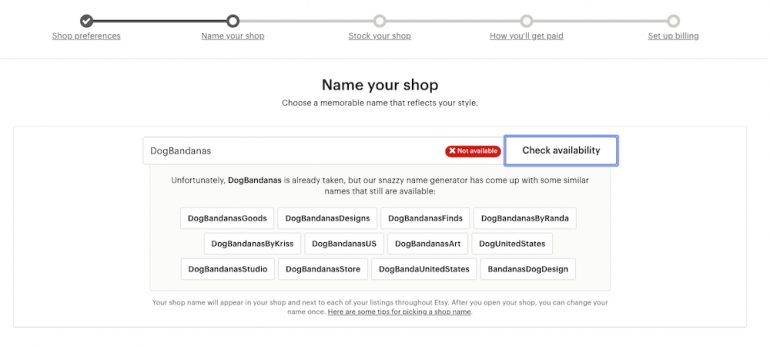 To get the ball rolling, consider the following name suggestions:
Try suggestive, descriptive names: You can use words or phrases that evoke the feeling of your brand or describe what you're selling. 

Try abstract names: Abstract names can set your store apart and make it easier for customers to find your store when searching online. 

Use your name: Your own name can be a quick and simple option — and allows you to easily change or adapt the products you sell. Consider adding a modifier like "Studio," "Inc," or "Workshop." 
If you think you might eventually expand your Etsy shop into a larger e-commerce business, do some additional research to ensure that you can acquire things like a business domain name or DBA (doing business as) that match your shop's name.
4. Add items to your shop
Listing physical and digital items (think printable stationery, patterns, stickers, gift tags) in your Etsy shop involves separate processes. We'll show you the basics of how to list a tangible item; you can consult Etsy's guide if you're listing a digital item.
You can include up to 10 product photos per item. Etsy recommends shooting in natural light, showing items in use and including other objects to show scale.

You can also include one video lasting five to 15 seconds.
Complete your listing details
Give your item a title that describes the product in as much detail as possible, but keep in mind there's a 140-character limit. You'll also have the opportunity to provide an in-depth description, a bulleted overview of the product, and additional details like the product's category and type.
As you start to fill in product details, Etsy will prompt you for additional information specific to that type of product — like whether a piece of art comes framed, whether it's designed for a certain holiday or occasion, or whether it belongs in a particular room in the home.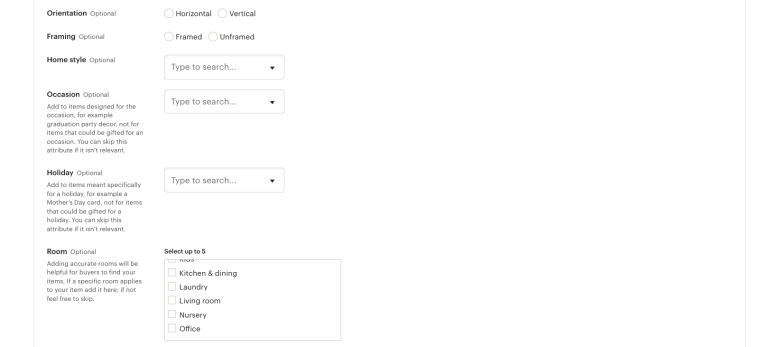 Pay attention to the section called "renewal options." If you select "Automatic," your listing will automatically renew after it expires every four months. Each time the listing renews, you'll be charged a 20-cent fee.
If someone else helps you produce your goods, you may need to add information about them too. Etsy defines these "production partners" as any person who's not part of your shop's staff or any outside company that helps produce your goods. This might mean they have some skills or equipment you don't have or that you're contracting out some work in order to keep up with orders.
Finally, take advantage of all 13 tags available per item. Shoppers find your item by searching for keywords in the search bar, so work backward and think about what a customer might type into search to discover your item and use those words as your tags.

Complete your inventory and pricing
In this section, you'll enter your product's price, sales tax (if applicable), quantity (if you have more than one in stock) and SKU number (if you have one).
You can also add variations — like sizes, materials and colors — and link photos to those variations.
Don't short-sell yourself; price your products so that you can cover your material, labor and production costs, plus Etsy's fees. But keep in mind that one of Etsy's major draws is the prospect of buying unique items at prices that won't break the bank. Try to strike a balance between the two.
Here, you'll include all the details needed for shipping, like the shipping services you use, costs, country of origin, processing time, and item weight and size.
You can opt for Etsy to calculate your shipping prices for you. In this case, you'll be required to fill in item weight and size when packed. Then, based on that information, you'll be able to preview the buyer's shipping price.

If you ship to the European Union, you may need to enter a tariff number for your items. A tariff number is a code that specifies the product type.
Create your return and exchange policy
Etsy offers sellers a templated returns and exchanges policy. This policy allows buyers to return or exchange items within 30 days of receiving them, but requires buyers to cover return shipping costs. If you prefer, you can create your own custom return policy, including policies for specific items or types of items.
You can preview your listing to see how it'll look to customers before it goes live.
5. Choose your payment preferences
Once you've added an item to your store, you'll need to set up your Etsy payment preferences.
Etsy generally requires sellers to use Etsy Payments, which allows you to accept credit cards, debit cards, Apple and Google Pay, Etsy gift cards and store credit, Klarna and more.
Etsy Payments charges a payment processing fee of 3% plus 25 cents per transaction in the U.S.
You'll need a credit or debit card on file so that Etsy can charge you for selling fees. This cannot be a non-reloadable prepaid debit card.
If you're a U.S. seller, you have the option to enroll in auto-billing, in which case Etsy will automatically charge your credit card on file for the selling fees you incur. Etsy will either charge you at the time that your last month's statement is due or when you cross your fee threshold — either $25 in fees if you're a new seller, or the highest of your last three monthly statements.
Even if you're starting an Etsy shop as a side hustle, strive to keep your business and personal finances separate. The easiest way to adopt this best practice is to open a business bank account dedicated to your Etsy store's revenue and expenses.
Like most e-commerce website builders, Etsy charges its merchants fees associated with listing and selling products. Although joining and starting an Etsy shop is free — unless you opt for a paid subscription plan — you'll need to pay listing and transaction fees for each item you sell.
If you're using Etsy Payments, these fees will be deducted automatically from your sales funds. If you still owe additional fees at the end of the month, Etsy will automatically charge the credit card you have on file, or you'll have to make payments yourself.
Here are the fees Etsy charges.
Etsy charges 20 cents per listing at the time each item is listed.
You have to pay this Etsy fee for each product, regardless of whether or not the product sells. Listings expire after four months; if you want to keep them active for an additional four months, you'll have to pay the fee again.
Etsy charges 6.5% of the total order amount, including shipping and gift wrapping costs.
Etsy payment processing fees
Additional Etsy seller fees
Etsy may also charge other fees, including:
Shipping label fees: If you ship with FedEx, USPS, Canada Post or several other carriers, you can buy and print your shipping labels directly through Etsy. Shipping label fees vary for each purchase.

Square fees: If you sell items from your Etsy store in person using Square POS and don't sync them with your Etsy shop inventory, Etsy will charge a 20-cent fee. 

Etsy ads: Fees vary, but you can set your daily maximum spend.

Offsite ads: You'll be charged 15% or 12% of any order made as a result of an offsite ad, depending on how much revenue your shop generated the previous year, up to $100.
Once you click "Open Your Shop," your store will be live. Etsy shoppers will be able to see and purchase your listings.
The URL for your shop will be in one of two formats:
https://www.etsy.com/shop/yourshopname.

https://yourshopname.etsy.com.
Now that you've actually opened your Etsy shop, it's time to start selling online. Just like a brick-and-mortar store, your digital store should be easy to find, well curated, intuitively organized and regularly updated.
Here are a few sections you can fill out to ensure that your Etsy shop opens (and runs) successfully:
Add a personal bio and photo
Your public profile is how visitors to the site can learn more about you, both as a business owner and as a person outside of your work.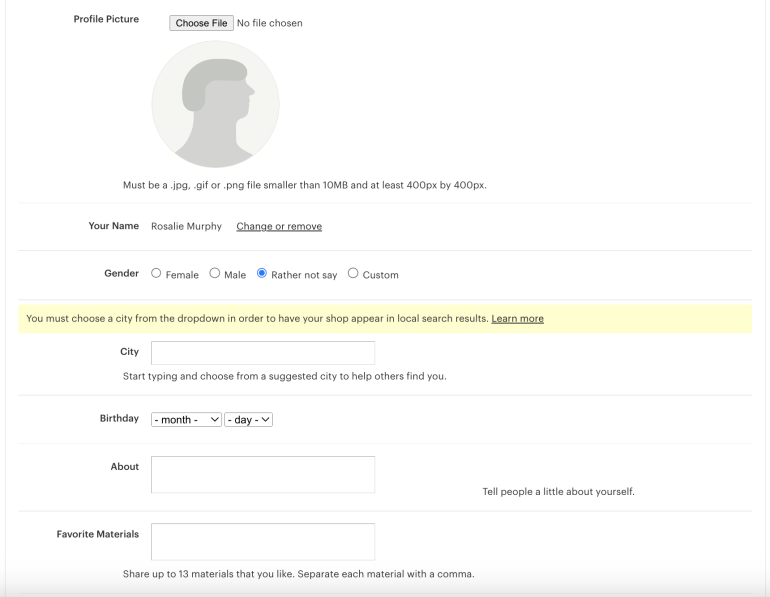 You can add four different images to customize your Etsy shop:
A shop banner, which appears at the top of your shop on desktop and mobile.

An order receipt banner, which shows up at the top of customers' receipts.

A shop icon, which is a small image that conveys your shop's brand.

A shop owner photo, which is a photo of you that appears in your Etsy Conversations threads.
Feel free to move your items around on the page. You can also "feature" up to four items, which will show up high on your shop's homepage.
Group your items into up to 20 categories so that buyers can more easily sift through your products. Sections will appear on the left side of your homepage and include the number of products within each category.
Add your shop's "about" section
Just like your personal "about" section, your store deserves its own bio, too. You have 5,000 characters to tell customers your business's origin story. Keep in mind that Etsy (and customers) value transparency and openness, so don't worry too much about writing traditional marketing copy — just be genuine.
You can also provide photos or a video of your studio space or creative process and add links to your store's social media profiles.
And you have to list anyone you employ to help you make and sell products.
This text appears on your shop's homepage, under your listings. It should broadly summarize what your shop is about and include any time-sensitive information, like whether you're on leave or vacation and when you'll return.
A version of this article initially appeared on Fundera, a subsidiary of NerdWallet.
Frequently asked questions
How much does it cost to set up an Etsy shop?
How do Etsy sellers get paid?
Who pays for shipping on Etsy?
How long does it take to get paid from Etsy?