PaymentCloud Review 2022: Features, Pricing, Top Alternatives
PaymentCloud is a good option for high-risk small businesses, but the company doesn't disclose its pricing.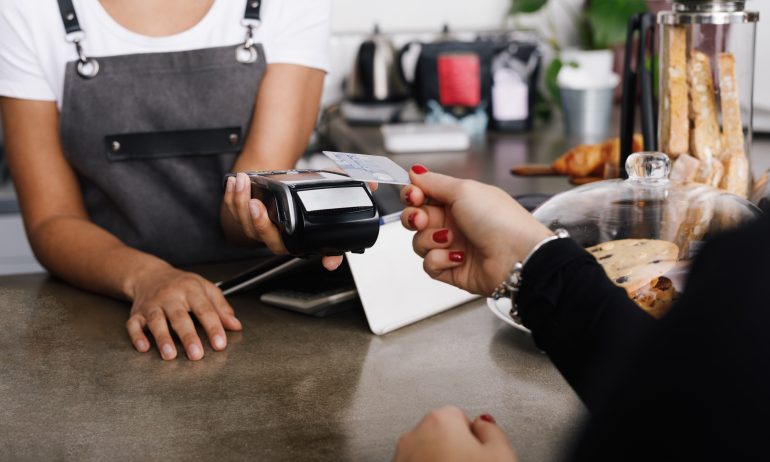 Many or all of the products featured here are from our partners who compensate us. This may influence which products we write about and where and how the product appears on a page. However, this does not influence our evaluations. Our opinions are our own. Here is a list of our partners and here's how we make money.
There are many reasons businesses can be considered high-risk investments for payment processors, making it difficult to find a payment services provider that is willing to work with them. But PaymentCloud has made a business of supporting high-risk businesses with a variety of payment services.
With payment processing solutions for industries that are often blacklisted, PaymentCloud offers point-of-sale, or POS, solutions, payment gateway services, and the ability to accept alternative payment methods including cryptocurrencies. Despite having an approval process that can take some time and a few customer complaints about extra fees on their monthly statements, PaymentCloud has high marks online for its customer service.
Coupled with its goal of serving customers who are often turned away by its competitors, PaymentCloud is a considerable choice for high-risk businesses.
PaymentCloud is a payment service provider that offers services for low-, medium- and high-risk businesses, tailoring features and offerings to individual businesses based on their history and the inherent issues within certain industries.
High-risk industries are more likely to experience chargebacks and fraud. Examples include adult entertainment, bail bonds, CBD, credit repair, dropshipping, telemedicine, firearms and more.
| | |
| --- | --- |
| | Undisclosed/quote only. You have to call to get pricing information. |
| | Undisclosed/quote only. You have to call to get pricing information. |
| | Undisclosed/quote only. You have to call to get pricing information. |
| | Varies between months and years, according to a company spokesperson. |
| | 7 a.m. to 6 p.m. Pacific time, Monday through Friday; 7 a.m. to 3 p.m. PT Saturdays; 9 a.m. to 5 p.m. PT on Sundays. |
PaymentCloud doesn't offer any specific pricing on its website, so you'll have to contact the company directly for a quote if you're interested in using it for merchant services. The rates likely will vary from business to business depending on risk level and what exactly you're looking for.
Like some of its competitors, PaymentCloud works with independent sales organizations, or ISOs, which act as third-party sales teams. Because such organizations tend to work on commission, merchants want to be cautious of price quotes and compare offers with competitors. If possible, businesses can try to sign up with PaymentCloud directly rather than through an ISO to try to avoid potential additional fees.
PaymentCloud offers multiple POS options for businesses, including in-person, online and mobile methods, to equip you for every type of payment you need to accept. Whether you need a full POS with a cash drawer or just a wireless terminal that attaches to your smartphone, you can get it through PaymentCloud.
In-person transactions are doable with PaymentCloud to swipe, insert and tap credit cards, as well as accept QR codes. They offer countertop terminals for brick-and-mortar operations and wireless options to let you go to where your customers are. And they have a large selection of credit card readers that includes technology from Verifone, Ingenico, Poynt, Clover and more, so you can choose which credit card reader is best for your business. An added bonus is that PaymentCloud can reprogram your existing POS credit card reader to work with its system — so there's no need to let go of your favorite terminal if you're ready to switch processors.
Virtual terminals are also available so you can process a credit card without the customer being beside you. This option works well for cards that are saved on file, as with subscription services, and over-the-phone orders. For recurring charges, businesses can set up automatic payments with recurring billing and send invoices to customers.
Online payments are easy with PaymentCloud's tools that let you accept payment via your online store so you can get paid around the clock. And there are integrations with e-commerce platforms including WooCommerce, Shopify, BigCommerce, WordPress, Shift4Shop and more. PaymentCloud says on its website that there is no restriction when it comes to shopping cart platforms, so you can integrate into your existing cart or start fresh with a new one and still use them for online payments.
PaymentCloud also offers its payment gateway for a full set of merchant services. The payment gateways are PCI compliant to ensure secure transactions, and they can integrate with other payment processors. Choose from Authorize.Net, Global Payments and more to find the best combination for your business.
Alternative payment methods
Not all customers are keen on paying by credit card, and PaymentCloud makes it easy to accept alternative payment methods so you don't lose business. Their payment processing allows businesses to accept payments by ACH, e-check and cryptocurrencies.
Merchant cash advance and lending
PaymentCloud also provides cash advance and lending options for businesses of all sizes. It offers more traditional loans and financing options in addition to merchant cash advance options, which are available for younger businesses or those with a credit history that would make it difficult to qualify for other loans.
Businesses have a variety of hardware to use with PaymentCloud, so there's no doubt that most will be able to find what they need, including less common models and popular brands. It's also a bonus that PaymentCloud can work with your current terminal if you'd rather stick with it, though a little reprogramming might be needed.
Shopping cart integrations
PaymentCloud says it can integrate with tons of shopping carts for online stores, making it a nice solution for those who are already plugged into a preferred shopping cart provider. If you don't have one yet and choose to go this route, you'll have your pick of shopping cart platforms without worrying about integration issues.
Options for high-risk businesses
PaymentCloud offers services to low-, medium- and high-risk industries, which makes it is a good option for high-risk businesses that might not be able to find a merchant services provider elsewhere that is willing to work with them. If you've been turned down by other merchant services providers, PaymentCloud might be one of your better options.
You can't find the pricing or a general pricing scale on PaymentCloud's website. Instead, you have to reach out to the company and provide information about your business to get details on pricing. While it's not the only quote-based company, this can be a red flag for some businesses, especially high-risk businesses that might face higher rates.
PaymentCloud requires customers to be approved for an account, which can take a while for some businesses. While the company tries to get you approved within a few days, some customers have said it can take weeks to hear back.
Some customers have reported additional monthly fees showing up on their bills. While a few dollars here and there aren't likely to break the bank, customers should review their agreements in advance and not commit to the service until they are satisfied that they know exactly what they'll be paying for.
Trustpilot: 4.1 stars out of 5.

Capterra: 4.6 stars out of 5.
Compared with its competitors, PaymentCloud doesn't have a lot of customer reviews online, but that isn't necessarily a bad thing. Most online reviews mention helpful customer service, especially with onboarding for new customers. Most reviewers appear to be happy with the service, but very few commented about anything outside of customer service.
Among the few negative reviews were comments about long wait times to be approved for an account, unclear fees or charges and issues with having to provide reserve funds for higher-risk businesses. While any of those situations could create problems for a business waiting to process payments, the negative reviews were less common than positive ones.
PaymentCloud alternatives
Durango Merchant Services
Durango Merchant Services is another financial services provider that specializes in working with high-risk businesses and merchant accounts. Something that sets Durango Merchant Services apart is that it works with merchants who accept payment in multiple currencies and supports businesses that work with customers in other countries. Durango offers credit card payment processing for in-person and online sales, chargeback protection and more. But, like PaymentCloud, it doesn't provide its fees or pricing upfront.
Another high-risk merchant services provider, Payline Data offers in-person and online transaction solutions, shopping cart integrations and custom reporting. You won't need to sign a contract for this service, so you can use it month to month without worrying about a termination fee.
A version of this article was first published on Fundera, a subsidiary of NerdWallet