⏰ Estimated read time: 6 minutes
What is Payoneer?
Payoneer is a payment platform that allows merchants to send and receive payments without requiring a merchant account. Payoneer does not let merchants directly bill customers. Instead, businesses request payment through the platform and wait for customers to remit funds.
Take a quick quiz to be matched with the right payments partner.
How Payoneer works
Payoneer is a payment platform that businesses use to request payment from customers. Here's how the process works.
Businesses send requests for payment directly to customers. The customers pay online via a bank account or credit card.

The funds land in the business's Payoneer account, and the business then moves the funds to its bank account or spends the money via a Payoneer debit card.

Payments are available instantly in the business's Payoneer account; however, it can take two to five days after a withdrawal request for funds to appear in the business's bank account. Immediate ATM withdrawal is available if the business has a Payoneer Mastercard.

Businesses can use the "Make a Payment" function to send payments to other Payoneer account holders free of charge. If the other party does not have a Payoneer account, it can create one to receive payment or Payoneer can initiate a bank transfer. But be prepared to pay a fee.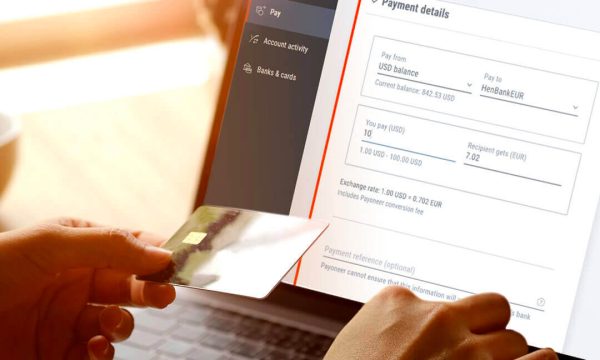 Features at a glance
Payoneer is a popular option for freelancers, international businesses and users of e-commerce marketplaces such as Airbnb and Upwork.
3% for credit card transactions (all currencies).

1% for ACH bank debit transactions.

0% to receive payments from other Payoneer users.

$1.50 to transfer funds from Payoneer to your bank account; 2% to transfer from a non-local currency.

2% for batch payments to up to 200 bank accounts.

0% to 2% to send payments from your Payoneer account.

3.5% to convert currencies if you use the Payoneer MasterCard; 0.5% between Payoneer accounts.

None — but there is a fee of $29.95 for every 12 months of inactivity.

Yes; iOs and Android available.

Two to five days depending on location.

Payoneer integrates directly with numerous large e-commerce marketplaces.

Integrated free invoice builder or attach a PDF.
Capabilities
You can create a free account directly on the Payoneer website. An account gets you access to these other features.
Global payments
Payoneer handles local and international payments and currency exchanges, allowing businesses to send and receive payments in several different currencies via bank transfer. When you want to receive a payment, you send a customer a request.
Payoneer supports USD, EUR, GBP, CAD, AUD, JPY and CNH. In addition, conversion to CZK, PLN, RUB and VND is available for tax payment purposes (subject to availability).

Payoneer doesn't charge a fee for most bank transfers if both parties have Payoneer accounts.
Invoices
Payoneer integrates with the Free Invoice Builder software to generate professional-looking invoices to send to customers. Businesses can customize online invoices to specific clients, and they can save contact, company and payment details for recurring invoices.
Prepaid debit card
All Payoneer account holders have the option of receiving a Mastercard debit card to make payments from their Payoneer accounts. The card also works at ATMs, though it comes with withdrawal fees for USD, EUR and GBP currencies and a $29.95 annual fee.
Mobile app
Payoneer offers a mobile app for iOS and Android where users can see their account balance, view transactions, make payments and withdraw funds.
Tax administration
When you create a Payoneer account, you can complete associated tax forms. Individual and business tax forms supported by Payoneer include W-9s, W-8BENs and W-8ECIs. Payoneer provides users with tax reports through Payoneer's automated record-keeping system.
Security
Payoneer is PCI compliant to protect credit card data and compliant with anti-money laundering regulations. It also offers fraud detection to all customers and is AML/CTF compliant to work against issues for international payments.
Payoneer customer service and support
Payoneer offers customer support by phone, live chat and email messaging. It also has an online knowledgebase.
Payoneer pros
Cheaper than competitors in some cases
If you don't need to accept credit card payments, Payoneer offers an affordable alternative to buying and setting up a POS system or getting a payments processor.
International payment options
You'll pay to transfer to your bank account or move funds between accounts within different currencies, but if everyone is a Payoneer account holder, the fees for accepting international payments might be cheaper than more traditional options.
Payoneer cons
Lack of payments features
Payoneer does not come with a payment gateway, virtual terminal or the ability to work with your POS system, so you are limited in how you can accept payments. If you need to accept credit card payments online or take orders over the phone, you can probably get more bang for your buck with a payment service provider.
Account freezes and terminations
Payoneer will hold your funds or terminate your account if it suspects fraud, which is not uncommon for companies that deal with payments. It uses an automated fraud detection system, which customer reviews say can be inaccurate at times and delay payments.
User reviews of Payoneer
Here is how Payoneer customers have rated the service on major customer review websites:
G2 Crowd:

3.5 stars out of 5.

TrustPilot:

4.3 stars out of 5.

Capterra:

4.4 stars out of 5.

Sitejabber:

4.4 stars out of 5.
Payoneer alternatives
If Payoneer doesn't fit your business needs, here are two alternatives to consider.
PayPal Zettle
2.29% plus 9 cents for in-person and QR code transactions.

3.49% plus 9 cents for manual-entry card transactions.

2.99% plus 49 cents for invoicing (payment made with card).

3.49% plus 49 cents for invoicing (payment made with PayPal).
Why we like it:

PayPal Zettle has more payment processing options than Payoneer. It also offers a POS system that takes payments, manages inventory, tracks sales and receives reports. PayPal accepts online payments as well, and the brand is known for its ease of use.
Shopify
2.4%, 2.6% or 2.9% plus 30 cents for online payments for Advanced, Shopify or Basic plan, respectively.

2.4%, 2.5% or 2.7% for in-person payments for Advanced, Shopify or Basic plan, respectively.
Why we like it:

If you only want to accept payments online, Shopify and its payment processing service Shopify Payments or Shop Pay could be a better fit than Payoneer. It also offers an online POS system for managing inventory, customers and more.
Shopify Retail POS
Start a free trial and enjoy 3 months of Shopify for $1/month
A version of this article was first published on Fundera, a subsidiary of NerdWallet.
On a similar note...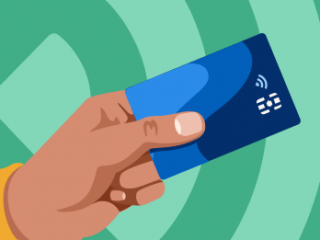 Accept payments, avoid surprises
Answer a few questions to match your business with our selected payment partners.