Photography Business Insurance: What It Is, How to Get It
Photography businesses may benefit from insurance that covers camera equipment and professional liability.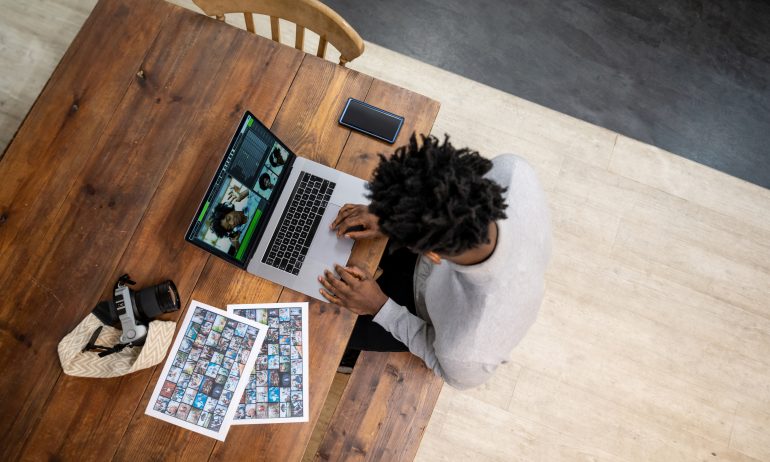 Many or all of the products featured here are from our partners who compensate us. This influences which products we write about and where and how the product appears on a page. However, this does not influence our evaluations. Our opinions are our own. Here is a list of our partners and here's how we make money.
Business insurance can protect photographers and videographers from a slew of financial risks, such as replacing expensive stolen equipment or paying for an injured employee's medical bills.
Here's what you should know about photography business insurance and how to purchase the right policies for you.
What is photography business insurance?
Photography business insurance can refer to several types of policies that shield photographers and videographers from financial liability.
Whether you run a photography business or simply shoot family photos on the side, it can make sense to invest in business insurance. The right insurance policy can protect your photography business from the devastating impact of a claim or theft by covering expenses that would otherwise be your company's responsibility to pay.
What risks does my photography business face?
Photographers and videographers commonly face the following risks and more:
Broken, lost or stolen equipment, including camera lenses, lights and computers.

Not making it to a client's event on time — or at all.

Accusations that your services were not up to a client's expectations.

Getting into a car accident while driving to a photo shoot.

A damaged flash card or hard drive that causes you to lose all of your files.
Types of photography business insurance
Here are some common types of business insurance that may be helpful for photographers and videographers. Note that some insurance types may not be necessary for smaller businesses with fewer assets.
Third-party injury claims or property damage caused by you or your employees.

For example, if a DJ breaks his turntable after tripping over your light stand at a wedding, your general liability insurance could cover the cost of a replacement.

Repairs or replacements for damage or loss to your office, studio, equipment and other possessions.

Also called commercial property insurance, this type of policy could help you pay your bills if your camera equipment was damaged and it took some time to get it working again.

Failure or inability to deliver adequate professional services according to the terms of your contract. If your flash card somehow fails before you have an opportunity to back up your files, for instance, your professional liability insurance will reimburse your client for the loss of images.

Utilities, wages, rent and other expenses when you cannot run your business due to a reason covered by insurance. If your studio has to shut down for a month due to a fire, this type of coverage, also called business income insurance, can help you keep the lights on.

Medical bills for employees and/or contractors who suffer injury or illness while working for you.

If one of your photographers breaks her ankle while on a shoot, workers' comp can help cover the cost of her bills.

Medical expenses, vehicle repairs or replacements, and property damage from accidents involving a car you use for work. If you and your second shooter get in a car accident on the way to a photo shoot, you'll lean on your commercial auto insurance policy to cover your vehicle repairs, as well as the cost of the other party's repairs, damaged possessions and bodily injuries.
Many insurers offer general liability and commercial property insurance in a bundle known as a business owner's policy, or BOP. Insurance providers such as Next can also customize insurance packages for you and may offer discounted rates for purchasing multiple policies.
How do I buy photography business insurance?
Here are some simple steps to be aware of when getting a business insurance policy:
1. Learn what insurance you need — and how much
If you're a sole proprietor who photographs events as a side hustle, you won't need as much insurance coverage as a full-fledged studio with 20 employees and freelance photographers.
For part-time freelancers, some insurers offer policies that protect you on a per-event basis rather than requiring a monthly or annual commitment.
2. Get several quotes and compare insurance plans
3. Purchase your insurance package and keep your policies up to date
Read the fine print on your policy so you know how and when you're covered. For example, you may want protection if your equipment is stolen, but not all insurers offer that within their business property insurance policies.
You can set calendar alerts to remind yourself when it's time to renew your insurance policy to make sure you don't accidentally allow your coverage to lapse.
How much does photography business insurance cost?
The price of photography business insurance can vary significantly depending on the policies you choose, the amount of coverage you buy, the size of your business, the number of people you employ and your location.
But in general, photography and videography are relatively low-risk professions. Your insurance premiums shouldn't cost as much as someone who works in a more dangerous industry such as construction.
Photographers and videographers who bundled general liability and business property insurance coverage under a BOP through the insurance marketplace Insureon paid a median cost of $521 per year, or about $43 per month, according to its website.
As with any major decision, shop around for a few quotes from different insurers to make sure you're buying the best plan for your unique needs.
Read some of our reviews of popular business insurance companies: