Plumbing Insurance: What It Is, Which Businesses Need It
Plumbers should have liability insurance — and they may need it to start a project or qualify for a professional license.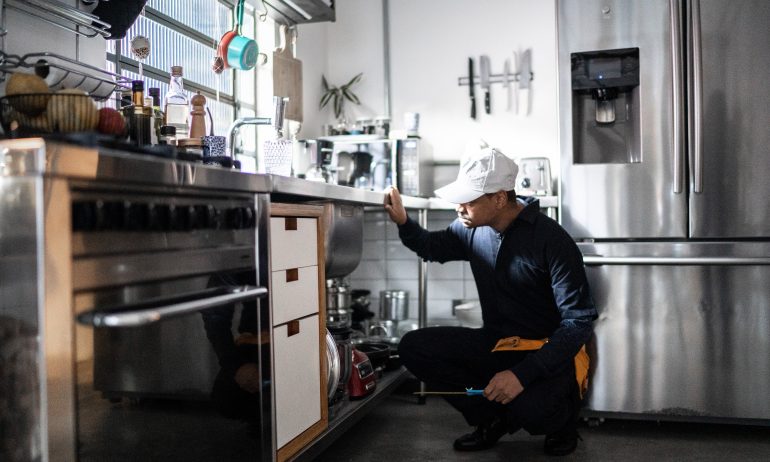 Many or all of the products featured here are from our partners who compensate us. This influences which products we write about and where and how the product appears on a page. However, this does not influence our evaluations. Our opinions are our own. Here is a list of our partners and here's how we make money.
Small-business insurance can help protect plumbers from claims of bodily injury and property damage, as well as other damage or accidents that occur while on the job. Employers, cities or states may require that plumbers carry business insurance in order to begin work on a project or qualify for a plumbing license.
Here's what you need to know about plumbing insurance, how to find the right coverage and some of the best options to consider as you compare providers.
What is plumbing insurance?
Plumbing insurance can refer to several types of policies that protect your business from potential lawsuits, damage and financial liabilities. The right insurance coverage can help mitigate common risks that plumbers and plumbing contractors face, such as:
Client injury or property damage as a result of a plumbing repair or project.

Accusations that you made mistakes or were negligent in completing a job.

Theft or damage to plumbing tools.

Getting into a car accident while driving to a job.

Injury to one of your employees while working on a project.
Who needs plumbing insurance?
Plumbing professionals who should have insurance coverage include:
Plumbing contractors and business owners.

Drainage system installers.

Sewer hookup contractors.

Sump pump installation and servicing contractors.

Water pump installation and servicing contractors.

Water system balancing and testing contractors.

Home builders, developers and renovators.
Your city or state may require that you carry an insurance policy in order to start work on a residential or commercial project. Some states, like Florida and Ohio, may also require that you purchase business insurance to get your plumbing license.
What types of insurance do plumbers need?
At a minimum, plumbers should have general liability insurance to protect against third-party claims of bodily injury or property damage. Additional coverage — such as professional liability insurance, business property insurance and commercial auto insurance — may be beneficial as well, depending on the individual business and its level of risk.
Here are some of the different types of plumbing insurance you might consider, and what these policies typically cover.
Claims of third-party bodily injury, property damage and personal and advertising injury.

If a client trips over a pipe you put on the floor while repairing a sink and breaks their wrist, this policy would cover their medical expenses, as well as any legal or settlement fees if they file a lawsuit against you.

This policy would also cover the cost to replace a client's bathroom mirror if it shatters while you're trying to repair the sink.

Claims of professional negligence, error, breach of contract or failure to deliver a service on time.

If you're installing plumbing for a house remodel and make a mistake in the installation that causes the system to fail, the owner could sue you for the error. This policy would cover your legal and settlement costs associated with the lawsuit.

Business property or buildings that are damaged by certain accidents, weather events or other hazards.

If a fire breaks out in your office and destroys all of your plumbing equipment, your business property insurance would cover the costs to replace it.

Medical expenses of employees who are injured or get sick while at work.

Most U.S. states require employers to have workers' comp for their employees. If one of your plumbers falls off a ladder while fixing a pipe and dislocates a shoulder, your workers' compensation policy would cover any related medical expenses.

Vehicles that you use for business purposes, such as driving to plumbing projects.

Covers accident-related expenses resulting from injuries, death or property damage.

If you're driving your work van to pick up supplies and accidentally hit a car in the store's parking lot, this policy would pay to repair the damage to the car.

Claims of physical injury or property damage as a result of a defective or flawed product, such as pipes, tubes or tanks.

If you install a new pipe in a kitchen sink, and a defect in the pipe causes the pipe to break and the sink to flood the kitchen — your customer could sue you for the damage to their kitchen.

Your product liability insurance would cover the cost to repair the kitchen, as well as legal and settlement costs.

Tools and equipment insurance

Cost to repair or replace equipment that is damaged or stolen. You can sometimes add this coverage to another type of policy, like your general liability insurance.
You might also choose to bundle multiple types of plumbing insurance into a business owner's policy, or BOP. Generally, BOPs include general liability insurance, commercial property insurance and sometimes business interruption insurance — but they can also be customized to meet your business's needs.
How much does plumbing insurance cost?
The cost of your plumbing insurance will depend on a variety of factors such as:
Nature of your plumbing work/types of projects your work on.
In general, the more coverage you need, the higher the cost of your business insurance will be. For example, a self-employed plumbing contractor who only needs general liability and professional liability insurance will pay less for a policy than a multi-employee business that needs these types of insurance, as well as workers' compensation and commercial auto insurance.
The best way to get an idea of how much a policy will cost is to get a customized quote for your business.
Best options for plumbing insurance
You can get plumbing insurance from big-name, traditional insurance providers like State Farm, as well as business-only insurers like Hiscox. You can also use online insurance marketplaces to receive quotes from several companies at once and compare your options. NerdWallet recommends getting multiple quotes before making a decision about which insurer is right for your business.
Here are some of the best plumbing insurance providers.
If you want to get a quick, customized insurance policy — and complete the entire shopping process online — Next Insurance may be well suited for you.
Next offers a business insurance package designed for plumbers, with coverage that typically includes general liability, contractors' errors and omissions, commercial auto, workers' compensation, tools and equipment and commercial property.
Based on the policy limits you need, you can choose from three package levels: Basic, Pro or Pro Plus. You can get a quote by providing basic information about your business.
Next allows you to buy your policy online and immediately generate a certificate of insurance after you've purchased coverage. You can also log in to your account at any time to add additional insureds for no extra cost, share your certificate of insurance or file a claim.
If you're unsure about your coverage needs and want to work with an insurance agent before purchasing your plumbing insurance, The Hartford may be a good choice for you.
While The Hartford lets you get a quote online, you'll need to speak with an agent before buying your policy. If you want to work with an agent directly, you can use The Hartford's Agency Locator to find an agent in your area and contact them for more information on your insurance options.
The Hartford can customize insurance coverage for plumbing businesses. It offers a business owner's policy for plumbers that includes commercial property, general liability and business income insurance — and can be bundled with additional types of coverage, such as data breach or professional liability insurance. You can also get commercial auto, workers' compensation and equipment coverage as part of your plumbing insurance policy from The Hartford.