PNC Merchant Services Review, Plus Top Alternatives
PNC Merchant Services can help you manage your credit card processing, but through third-party providers.
Many or all of the products featured here are from our partners who compensate us. This influences which products we write about and where and how the product appears on a page. However, this does not influence our evaluations. Our opinions are our own. Here is a list of our partners and here's how we make money.
PNC is one of many national banks that offer merchant services to businesses. Like other solutions on the market, PNC Merchant Services provides businesses with the ability to accept customer credit cards either in person or online. You can choose from multiple offerings and use the specific terminals and technology that will provide the payment processing functionality you require.
Although PNC Merchant Services might be appealing to business owners who already bank with PNC, its lack of transparency could cause you to look at other companies offering payment processing services.
Find the right payment provider to meet your unique business needs.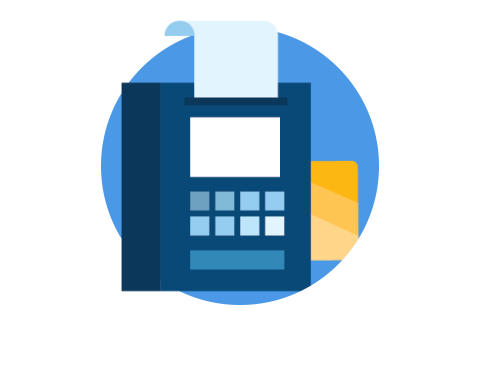 2.6% plus 10 cents for in-person swipe or chip transactions.

3.45% plus 15 cents for online, phone or manually entered payments.

2.90% plus 20 cents for e-commerce transactions.

Determined by a third-party provider.

Next business day, typically.

Swipe, tap, contactless, online, phone and manually entered.

Initial term of 3 years or more.

24/7 live support is offered through the Customer Service Center and POS Help desk.
PNC Merchant Services: The basics
PNC Merchant Services will give your business the ability to accept credit cards and other payment methods, but as a reseller. Fiserv is the company that actually handles the credit card processing and works with the issuing bank (the institution that issues a customer their credit card) and the receiving bank (the bank that receives the funds and deposits them in your business bank account). As the receiving bank, PNC creates and maintains a merchant account on behalf of your business that allows you to receive credit card funds.
Essentially, instead of dealing with one provider that manages the whole of your credit card processing, you're working with PNC Merchant Services, which, in turn, is working with Fiserv. Although the behind-the-scenes process is more complicated, PNC Merchant Services can still provide you with a variety of solutions that allow your business to accept credit cards and other payments in store, online or on your mobile device.
PNC Merchant Services features
The solutions offered by PNC Merchant Services can be broken down into three categories, and the features you receive ultimately depend on the specifics of the solution you choose.
For businesses that need to accept payments in-store, PNC offers point-of-sale systems through Clover, a Fiserv subsidiary. You can choose from Clover's four hardware terminals to accept and process credit cards.
Clover Go: Connect a phone to this small card reader and take payments anywhere.

Clover Flex: This handheld terminal can process magstripe and chip cards, as well as contactless payments. The Clover Flex also can print receipts, scan barcodes and capture signatures on its display screen.

Clover Mini: The Clover Mini can be used at the counter and is portable. Add-on features such as a customer-facing display can be added through third-party apps.

Clover Station: The most powerful of the Clover hardware options, the Station is most like your typical register. The Station has all the functionality of the Flex and Mini, as well as a large countertop display and advanced speed and security.
PNC Merchant Services also offers an on-the-go mobile processing option through Clover. You can use either of the Clover POS software plans with the Clover Go hardware and mobile app.
Clover Go: Accept chip card and contactless payments using an Apple or Android device. It can also be used to manage tips, send digital receipts and record cash or check transactions.

Clover Flex: Designed for on-the-go processing, Clover Flex is handheld and portable.
PNC Merchant Services provides a payment processing solution for e-commerce, mail-order and phone-order businesses. PNC offers online payment processing through the Payeezy payment gateway, also a Fiserv product. PNC offers pricing of 2.90% plus 20 cents per transaction for e-commerce payments.
E-commerce options include:
Launching a website for a new online business.

Adding an online option to an existing website.

Switching payment processing for an existing e-commerce business.

Ability to accept B2B online payments.
These e-commerce options can be helpful when you want to sell on social media, join marketplaces, offer online ordering and accept card payments over the phone.
PNC Merchant Services gives you the option for additional data security tools. This includes TransArmor Protection, which provides encryption and tokenization when a card is swiped. Or, for a monthly fee, you can choose Clover Security Plus, which offers a higher level of security and includes encryption and tokenization capabilities from TransArmor, plus virus protection, liability waivers and a dedicated security specialist. Additionally, PCI compliance validation from Sysnet, a PNC partner, can be purchased.
PNC Merchant Services pricing
Because PNC is a reseller of Fiserv products, you'll pay costs for PNC Merchant Services and for the Fiserv solution you choose. It's difficult to determine the exact pricing of services because PNC is not transparent about pricing information on its website.
When considering the cost of PNC Merchant Services, begin by looking at the costs of the various software and hardware options that PNC offers through Fiserv. Even though you're using PNC Merchant Services, you'll be responsible for any fees related to the cost of your products from Clover or Fiserv. For example, Clover retail POS software costs $14.95, $44.95 or $54.90 per month, depending on which plan you choose, plus a per-transaction fee. And Clover retail POS systems and terminal options are listed at $799, $1,799 and $2,298.
Another consideration is the per-transaction credit card processing fees. PNC Merchant Services offers applicants who apply online a flat rate of 2.6% plus 10 cents for in-person swipe or chip transactions and 3.45% plus 15 cents for online, phone or manually entered payments. The e-commerce rate is 2.90% plus 20 cents per transaction. This pricing may vary if you use another sales channel.
Finally, you'll want to consider monthly or one-time service fees. PNC Merchant Services does not list any of these fees but does specify that to use its merchant services, you have to apply for a merchant account and agree to a minimum three-year term. There's no early termination fee for closing your account before the end of that term, but there is a separate agreement when you lease Clover or other equipment that can't be canceled.
Ultimately, you'll need to talk with a sales representative to determine the actual costs and fees associated with the PNC Merchant Services you need for your business software, hardware and other services.
Find the right payment provider to meet your unique business needs.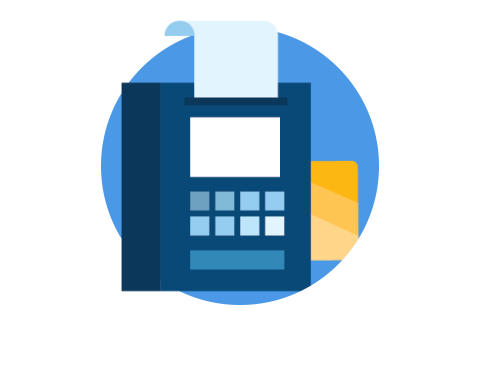 Pros of PNC Merchant Services
There are some possible benefits to choosing PNC Merchant Services.
If you already bank with PNC, you may find it useful to have your business tools in one place and work with one main provider. In addition to merchant services, PNC offers business bank accounts, business credit cards and business loans, as well as retirement plan options and health savings accounts for your employees. Plus, if you already bank with PNC, you'll receive money management tracking and next-day funding for certain credit card payments when using PNC Merchant Services.
Extended customer support availability
With PNC, you'll have access to customer support around the clock, every day of the year. Individual lines designated for client services and supplies, authorization assistance, terminal or technical support and security issues are available to existing merchant services customers. All of these lines are available 24/7, except for the security group which is staffed Monday through Friday from 8:30 a.m. to 5:30 p.m. Eastern time.
Cons of PNC Merchant Services
Working with a large provider like Fiserv allows PNC to offer a variety of payment processing products. However, business owners could choose to work directly with Clover or Fiserv — or another provider altogether. Unless you have an existing relationship with PNC, or value the other business options offered, working directly with the entity providing credit card processing would be simpler and more cost-effective for many businesses.
PNC provides very little information on its actual service and pricing, other than describing the options and capabilities of the Fiserv products. Without talking to the sales team, it is extremely difficult to determine the extent of its service, how much it costs and what you can expect when working with PNC.
In the few places where PNC does specify pricing, it mentions that it's subject to change at any time and will not be consistent across PNC sales channels. Therefore, with the variety of payment processing options on the market, it may be best to look at providers with more transparent practices and information available to business owners.
Alternatives to PNC Merchant Services
2.3% plus 10 cents for in-person transactions for most plans.

2.6% plus 10 cents for in-person transactions on Retail Starter, Personal Services Starter and Professional Services Standard plans, as well as Home & Field Services Standard and Advanced plans.

3.5% plus 10 cents for online or keyed-in transactions.
Why we like it: Going straight to the source with a Clover point-of-sale system is an option to consider. Clover is a very popular POS system and has great appeal as an all-in-one solution for brick-and-mortar stores. Additionally, the Clover mobile POS offering can be particularly useful if you want flexibility in accepting payments using a smartphone or tablet you already have. Clover also allows you to expand your capabilities using any of the numerous third-party apps in the Clover app market.
Although you'll have to pay for both hardware and software, Clover's prices and transaction fees are on par with competitors. Therefore, if you want the functionality of PNC Merchant Services without going through a third party, Clover is a great option to consider.
2.6% plus 10 cents for in-person transactions.

2.9% plus 30 cents for online transactions.

3.5% plus 15 cents for manually keyed transactions.

3.3% plus 30 cents for invoices.
Why we like it: Square offers payment processing that has POS software and hardware solutions for brick-and-mortar stores as well as e-commerce websites. This includes a free software option and specific offerings for restaurants and retail businesses. Square offers a number of hardware options such as card readers, terminals, registers, stands, hardware kits and other accessories. With Square's POS system you can accept the full range of payment methods, track inventory, manage employees and, of course, process customer orders.
For e-commerce businesses, the Square Payment platform can be used to accept payments online. You can customize Square's free API for your online store or mobile app. Square fees and final cost will ultimately depend on what type of solution you need.
A version of this article was first published on Fundera, a subsidiary of NerdWallet.