QuickBooks for Nonprofits: Costs, Pros and Cons, Alternatives
For small to midsize nonprofit organizations, QuickBooks for Nonprofits is a good option.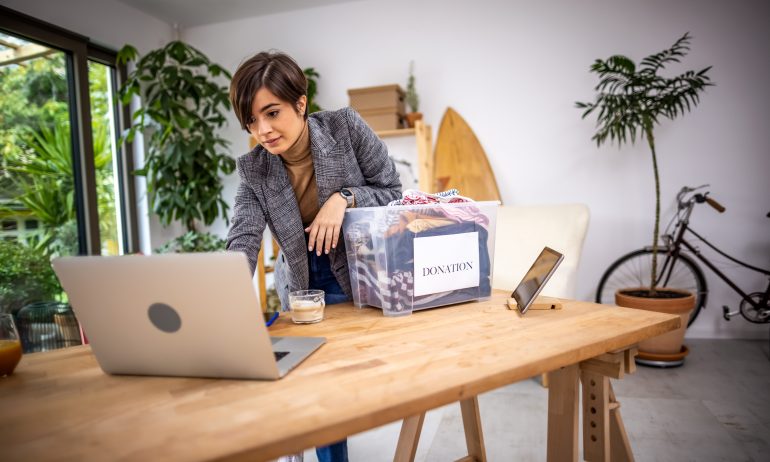 Many or all of the products featured here are from our partners who compensate us. This influences which products we write about and where and how the product appears on a page. However, this does not influence our evaluations. Our opinions are our own. Here is a list of our partners and here's how we make money.
QuickBooks for Nonprofits, a line of accounting software for small to midsize nonprofit organizations, features nonprofit editions of QuickBooks products with donation tracking, bookkeeping, invoicing and other accounting functions. In addition, QuickBooks offers discounted products for nonprofits through TechSoup for both nonprofit and other editions of the software, a great deal for organizations with a tight budget. In this review, the term "QuickBooks for Nonprofits" will refer to nonprofit editions of QuickBooks Premier.
Compared to other accounting software for nonprofits, QuickBooks is simple, though it may initially take some time to learn. Nonprofits can choose to either use QuickBooks Premier Desktop (which comes in nonprofit editions) or QuickBooks Online, depending on their needs. QuickBooks Online makes it easy to give the volunteers who help with accounting functions access only to the QuickBooks features they need. And if you do need professional help with your accounting, it is easy to find an accountant who is familiar with QuickBooks products.
Note: QuickBooks has adopted a subscription model for Premier products starting with QuickBooks Premier 2022. Pricing for QuickBooks Premier 2022 is not currently available through TechSoup. Pricing does not include any add-on features, such as payroll or applications.

QuickBooks Online Plus (5 users, 1-year subscription): $75 through TechSoup.

QuickBooks Online Advanced (25 users, 1-year subscription): $160 through TechSoup.

QuickBooks Premier 2021 (desktop, 1 user): $78 through TechSoup.

QuickBooks Premier 2021 (desktop, 3 users): $168 through TechSoup.

QuickBooks Enterprise Nonprofit (desktop, scales to up to 30 users): starting at $130/month through QuickBooks.

Ease of sharing with accountants

Excellent. QuickBooks Online users can invite their accountants to access their QuickBooks information directly. QuickBooks Premier and Enterprise users can send an accountant's copy or use a shared server to share data with their accountants.

Excellent. Upgrades are available for each QuickBooks product, either directly or in the form of add-on applications.

Good. QuickBooks products require some training, but support is easy to find.
How does QuickBooks for Nonprofits work?
As with other QuickBooks products, QuickBooks for Nonprofits requires users to enter transactions using familiar-looking forms (invoices, bills, checks, etc.). The accounting happens in the background. It makes it easier for employees and volunteers who are not accountants to assist your nonprofit with some bookkeeping.
Overall, QuickBooks for Nonprofits really shines when it comes to fund accounting and reporting. Even though the nonprofit editions work in much the same way as other QuickBooks products, the back-end setup for nonprofits ensures your books are kept — and reporting is done — in compliance with best practices for nonprofit organizations. You can customize, save and automate the delivery of the reports your board of directors and donors need. And perhaps most importantly, it can help you organize the information you need each year to file your Form 990, the "return of organizations exempt from income tax" document that provides public financial information about the organization.
QuickBooks discounts for nonprofits
QuickBooks partnered with nonprofit tech marketplace TechSoup to offer discounted software and subscriptions to nonprofit organizations.
Of the options, the QuickBooks Online Plus options don't come with a nonprofit edition but can be used for nonprofit work:
QuickBooks Online Plus (5 users, 1-year subscription): $75 through TechSoup.

QuickBooks Online Advanced (25 users, 1-year subscription): $160 through TechSoup.
The desktop versions do have nonprofit editions:
QuickBooks Premier 2021 (desktop, includes nonprofit edition, 1 user): $78 through TechSoup.

QuickBooks Premier 2021 (desktop, includes nonprofit edition, 3 users): $168 through TechSoup.

QuickBooks Enterprise Nonprofit (desktop, scales to up to 30 users): starting at $130 a month through QuickBooks.
It's important to note that, starting with QuickBooks Premier Desktop 2022, Intuit has adopted a subscription-based model. A discounted subscription for QuickBooks Premier is not yet available through TechSoup. Suppose your nonprofit needs features beyond basic accounting — including payroll, customer support and data backups — and you want to use a desktop version of QuickBooks. In that case, your pricing will be as follows:
QuickBooks Premier Plus (annual subscription; nonprofit version available)
QuickBooks Enterprise Nonprofit
QuickBooks Enterprise Nonprofit is a robust platform suitable for larger nonprofit organizations. Small to midsize nonprofits will be best served by QuickBooks Premier, QuickBooks Premier Plus or one of the QuickBooks Online options.
Benefits of QuickBooks for Nonprofits
Most professional accountants and bookkeepers — and many business owners — are familiar with QuickBooks products. So whether you need an accountant's help or want to enlist the support of your volunteer team for bookkeeping, you likely will be able to find people who can support you.
It's easy to start with a smaller QuickBooks product (like QuickBooks Premier) and convert to a more robust product (like QuickBooks Enterprise Nonprofit) as your nonprofit grows. This helps you better budget your nonprofit's technology dollars. You can also customize your nonprofit's accounting and fundraising functions using the various add-on applications available.
Drawbacks of QuickBooks for Nonprofits
The biggest drawback of using QuickBooks for Nonprofits is the price. If your nonprofit's accounting needs are basic, the discounts available through TechSoup can offset much of the cost. If, however, you need more than what's available through TechSoup, you could easily spend much more for QuickBooks than for other nonprofit accounting software.
Alternatives to QuickBooks for Nonprofits
For small organizations: Aplos Accounting
Unlike QuickBooks, Aplos was explicitly designed for nonprofits. As a result, it is especially suited for churches and small nonprofit organizations.
Fund accounting functionality.

The ability to accept donations online.
The price for Aplos is perfect for nonprofits, too. Pricing ranges from $59 to $79 a month for most users. Customization starts at $179 a month if you need advanced accounting solutions.
For large organizations: Blackbaud Financial Edge NXT
Blackbaud is the gold standard for nonprofit accounting and management. Its module-based system lets you choose the right solutions for your nonprofit organization.
Financial Edge NXT by Blackbaud is a cloud-based fund accounting solution. Like all of Blackbaud's products, it was designed specifically for nonprofits.
Financial Edge NXT provides all the features you would expect from enterprise-level software, plus some:
Fully compliant fund accounting.

Financial planning and analysis, including budgeting and reporting compliant with the Financial Accounting Standards Board.

Grant accounting and administration.

When paired with Raiser's Edge NXT, Blackbaud's donor management solution, you have fully functioning enterprise resource planning for your nonprofit.
As you might expect of a software company with customizable products, Blackbaud does not publish its pricing. Instead, it provides a custom demo and quote based on your nonprofit's needs.