How to Get an SBA Loan for Your Franchise
SBA 7(a) loans and SBA CDC/504 loans can be good options for franchise financing — for those who can qualify.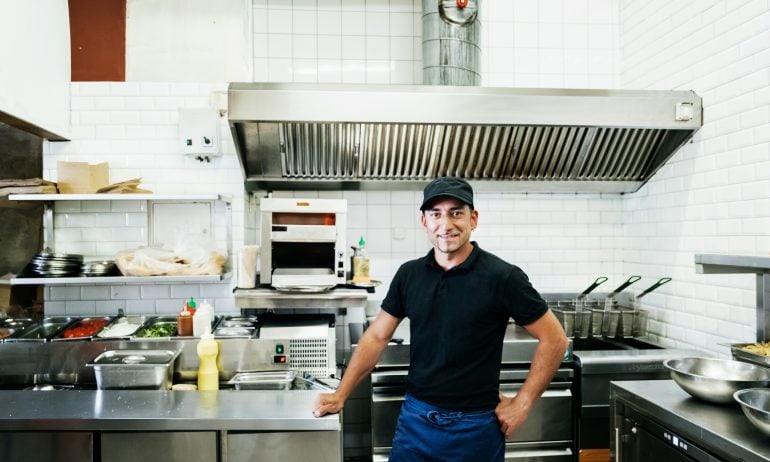 Many or all of the products featured here are from our partners who compensate us. This influences which products we write about and where and how the product appears on a page. However, this does not influence our evaluations. Our opinions are our own. Here is a list of our partners and here's how we make money.
Franchisees looking to get an SBA loan can fund their business with an SBA 7(a) or SBA CDC/504 loan. These SBA loans are partially guaranteed by the U.S. Small Business Administration and issued by participating lenders, typically banks and credit unions.
To qualify for an SBA loan, however, you'll need to meet strict lending criteria.
Here's an overview of your SBA franchise loan options, plus how to get the right funding for your business.
with Fundera by NerdWallet
SBA franchise loan options
Business owners can generally choose between two SBA loan options to finance their franchise — SBA 7(a) loans and SBA CDC/504 loans.
SBA 7(a) loans are issued by lending partners, like banks or credit unions, and partially guaranteed by the SBA. They are the most common type of SBA loan and can be used for a wide range of purposes, such as working capital, equipment or supplies purchases, and business expansions or renovations.
SBA CDC/504 loans are administered by certified development companies, or CDCs, and partially backed by the SBA. Unlike 7(a) loans, however, funding for CDC/504 loans comes from three different places:
A certified development company (40%).

A third-party lender, usually a bank or credit union (50%).

The business owner taking out the loan (at least 10%).
SBA CDC/504 loans can only be used for specific purposes, including equipment, land and real estate purchases. You can also use one of these loans to improve land, streets, utilities, parking lots and existing facilities.
CDC/504 loans cannot be used for working capital, inventory purchases or consolidating, refinancing or repaying debt.
SBA franchise loans, compared
Up to $5 million for standard loans, but some projects can qualify for up to $5.5 million.

25 years for real estate.

10 years for working capital or inventory loans.

20 or 25 years for real estate.

10 years for machinery and equipment.

Prime rate + 3% to prime rate + 6.5% (depending on loan amount). Currently, rates range from 11.5% to 15%.

Rates are tied to the five- and 10-year U.S. Treasury notes and are typically around 3% of the amount financed.

Costs associated with starting and running a franchise, such as:

Equipment and inventory purchases.

Advertising, payroll and employee training.

Purchasing or renovating a franchise location.

Purchases or improvements for your franchise related to:

New or existing equipment.
How to get an SBA loan for your franchise
To get an SBA loan for your franchise, you'll need to confirm your business is eligible for financing, find a lender and submit an application.
1. Check your business's qualifications
To qualify for an SBA loan, lenders typically require at least two years in business, strong annual revenue and a good credit score (which starts around 690). You'll also need to meet general SBA loan requirements. For example, you must run a for-profit business based in the U.S., meet the SBA definition of a small business and operate in an SBA-approved industry.
Depending on the type of SBA loan you choose, you may also need to meet program-specific requirements. SBA CDC/504 loan borrowers (other than small manufacturers), for instance, must create or retain at least one job for every $75,000 of funding that the SBA provides.
The right SBA lender for your franchise will depend on a number of factors, starting with whether you want a 7(a) or CDC/504 loan. In general, you'll want to look for an SBA lender with an established history of issuing loans, a streamlined application process and dedicated loan specialists.
You might start your search by contacting a bank or credit union where you have an existing relationship and talking to a business representative about its SBA loan options. You can also use the SBA Lender Match tool, where you answer a few questions about your business. In two business days, you receive an email with possible lender matches.
Before you choose a lender, you'll want to ask questions about loan terms, interest rates and qualification requirements. You can also ask about the application process and funding timeline to help you determine whether the lender is a good fit for your needs.
3. Gather your documents and submit your application
Your SBA loan application requirements can vary based on your lender and loan type. Typically, however, you'll be asked to provide:
SBA loan application form, also known as SBA Form 1919.

A personal financial statement, also known as SBA Form 413.

A statement of personal history, also known as SBA Form 912.

Business financial statements, such as income statements, balance sheets and cash flow projections.

Detailed schedule of collateral.

Existing debt schedule, if applicable.

Business certificates or licenses.

Loan application history.

Resumes for each business owner.

Business overview and history.
As a franchise business, you'll also likely need to provide your franchise agreement as part of the application. Once you've submitted your application, funding can take anywhere from 30 days to a couple of months.
Alternatives to SBA franchise loans
If you can't qualify for an SBA franchise loan, or simply want to explore other options, here are a few choices to consider.
You might be able to work directly with your franchisor to get financing for your business. Depending on the brand, your franchisor may offer standard business loans, discounts on franchise fees or other incentives.
The UPS Store, for example, works with a specific lender, Guidant Financial, to help its franchisees access 401(k) business funding, SBA loans, portfolio loans and unsecured loans. The brand also waives its franchise fee for qualified veterans and offers a discounted fee for first-time minority-owned businesses.
Short-term business loans
Online lenders can offer short-term business loans if you need a smaller loan amount or faster funding. These loans usually have repayment terms of one year or less, although some lenders may offer terms of up to 18 or 24 months.
Short-term loans can be a good option for a wide range of purposes, including working capital, cash flow gaps or taking advantage of a new business opportunity for your franchise.
And unlike SBA loans, short-term lenders generally have flexible qualification requirements and streamlined applications with minimal documentation. Some short-term loans can fund in as little as 24 hours.
These loans can be expensive, however, with interest rates ranging anywhere from 10% to 99%.
If you need equipment for your franchise, but can't qualify or need faster financing than an SBA loan, an equipment loan can be a good option.
Equipment financing allows you to get a loan equal to up to 100% of the value of the equipment you're looking to purchase (depending on the lender and your business's qualifications). Repayment terms on equipment financing are typically based on the anticipated life of the equipment you're purchasing.
Because the equipment you purchase serves as collateral on the loan, equipment financing can be easier to qualify for than other types of business loans. You may not need to rely as heavily on standard criteria, such as your personal credit, time in business or other collateral when applying.
You can get equipment financing from both banks and online lenders. Banks will offer the most competitive rates and terms but will also have strict requirements and be slow to fund. Online lenders may charge higher interest rates than banks but generally offer simpler applications and faster access to financing.
Find the right business loan
The best business loan is generally the one with the lowest rates and most ideal terms. But other factors — like time to fund and your business's qualifications — can help determine which option you should choose. NerdWallet recommends comparing small-business loans to find the right fit for your business.
A version of this article originally appeared on Fundera, a subsidiary of NerdWallet.
Frequently asked questions
What is an SBA franchise loan?
Can you get a business loan for a franchise?
How much income do you need for an SBA loan?