Stripe, PayPal and Square are payment service providers, or PSPs, that help small businesses accept payments in person and online. Stripe may be best for small businesses that prioritize customization, and PayPal may be better for small businesses with an international customer base. But if price is key, Square may be your winner.
Find the right payment provider to meet your unique business needs.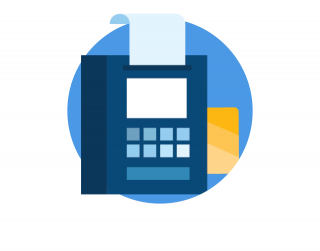 Accept payments, avoid surprises
Answer a few questions to match your business with our selected payment partners.
Here's how the three companies compare.
Payment service providers give small businesses a way to accept payments through a payment gateway and a merchant account. Here are some things to keep in mind as you shop for a PSP:
What kind of pricing structure you want: interchange-plus, flat-rate or tiered. Your industry, sales volume and priorities will influence your answer.

Whether you need an integrated point-of-sale system. If you're selling online, this may be less important.

What industry you're in. That may influence your pricing and options.
Stripe
Pros
Transparent pricing.

Stripe charges 2.9% plus 30 cents for each online transaction. Prices for other features are also findable on the website, though pricing is quote-based for its custom Connect plan.

International.

Stripe accepts a wide range of currencies (135+).

Customizable.

Stripe has a number of tools to help small businesses create customized checkout experiences, such as Stripe Elements, which is for designing custom payment forms.

Customer support.

Stripe offers 24/7 live chat and phone support, which can help address concerns in real time. You can also get support via email and chat.
Cons
Developer-focused.

If you're not a tech-savvy business owner, you may have trouble using Stripe's application programming interface, or API, and tools.

Complexity.

Stripe has a variety of products, each with their own fees, integrations and customization capabilities, which may overwhelm time-constrained small-business shoppers.
PayPal
Pros
Relative ease of use.

Small-business owners who want something simple to set up may appreciate PayPal Payments Standard, as it's specifically designed to make integration simple for non-programmers.

International.

PayPal accepts about two dozen currencies.

Customer support.

PayPal has phone support from 8 a.m. to 8 p.m. CT Monday through Friday. It also has text support, an online community, and a resolution center for transaction or account issues.
Cons
Relative cost.

PayPal can be more expensive than Stripe or Square on a per-transaction basis.

Less customization.

Small businesses that are keen on detailed customization might find PayPal's copy-and-paste approach to integration a detraction.
Square
Pros
Relatively flat in-person pricing.

Square charges the same fee for in-person card transactions regardless of which card the customer uses, and there are no monthly fees. Some prices are findable on the website. Square has a handy calculator on its website that can help you estimate what your business will pay.

Customer support.

Square has an online knowledge base and community. You can also get support via email (possible two-day turnaround), chat and Twitter. There's phone support, though the company makes no promises of speedy results, warning that "there may be a wait when you call, so feel free to use our callback option if you can't wait on the line."
Cons
Less price transparency for some businesses.

Small businesses that have more than $250,000 in card transactions per year don't necessarily get the same rates as everyone else. They have to call and get a quote.

Not very international.

Square supports card payments in relatively few countries, which could be a problem for companies doing business overseas.
Stripe features overview
Stripe is a popular payment service provider that allows small businesses to accept credit cards, mobile wallets, ACH payments and more. There are a lot of ways to integrate Stripe into your e-commerce site because it's built with developers in mind. It also provides a payment terminal for in-person card transactions if you have a brick-and-mortar store.
Stripe supports global transactions, can process over 135 currencies and supports multiple languages, including Chinese, Spanish, French, Dutch and Italian; this can be valuable for small businesses that want to expand overseas. Stripe's services work with major e-commerce platforms such as BigCommerce, WooCommerce and Magento.
Stripe has two primary payment processing products.
Stripe Connect
Stripe Connect can process over 135 currencies and complete transactions in over 30 countries. Connect is highly customizable, letting small businesses control signup, onboarding and payout timing, and get financial reporting. Pre-made user interface components exist, or you can customize everything using the Stripe API.
Stripe Checkout
Stripe Checkout streamlines checkout on mobile via an API that creates a Stripe-hosted payment page. It works across desktop and mobile, as well as with Apple Pay and Google Pay, and you can customize the buttons and background color. Discounts, sales tax and email receipts are also supported. It works in over 25 languages.
PayPal features overview
PayPal lets small businesses accept and process payments in person and online. It offers two payment gateway services: PayPal Payments Standard and PayPal Payments Pro. PayPal's services work with major e-commerce platforms such as BigCommerce, Wix and Shopify.
PayPal Payments Standard
This product may be best if you don't have coding experience or a developer on your team, as you'll simply need to copy and paste a line of code or install a plug-in that works with your existing shopping cart. Either option should only take 15 minutes, according to PayPal's website.
PayPal Payments Pro
This is a customizable checkout solution that also provides access to a virtual terminal so you can accept credit cards online, via mobile or with devices that don't have an external card reader. Also, you can accept payments in 25 currencies from 200 countries, accept phone payments, and get simplified PCI compliance.
Square features overview
Square may be known best for its point-of-sale software and its little white tile that plugs into checkout systems, but Square is also a payment service provider. It works with credit cards, debit cards, corporate cards, prepaid cards and reward cards.
Card payment acceptance with the Square app is available only in the United States, Canada, Japan, Australia, the Republic of Ireland, Spain, France and the United Kingdom. It doesn't support payment card processing in U.S. territories, nor does it support cross-border card payments (i.e., you can't receive card transactions if you're outside the country where you activated your Square account).
Square integrates with Wix, BigCommerce, GoDaddy and other e-commerce platforms. The company's APIs allow for customization. Businesses can also invoice customers digitally and take card payments without using the Square POS.
In addition to using its POS hardware systems for in-person payments, Square can process payments three ways.
Online payments
Square offers online payment services that you integrate into your online store or mobile app. You can also get a free e-commerce website and add pickup and delivery services or sell on social media.
Remote payments
Square lets small businesses create and send digital invoices to customers, and those customers can then pay with a card or via ACH. You can also send customers a payment link by text or email.
Manual payments
If you need to take a payment over the phone and key-in the information, you can do that with Square's app or by using its Virtual Terminal.
Here's how these providers compare on monthly fees and transaction fees.
The Standard version of Stripe Connect has no platform-specific fees, but a custom version starts at $2 per account per month.

PayPal Payments Standard has no monthly fee.

PayPal Payments Pro is $30 per month.

Square does not charge monthly fees.

Stripe charges 2.9% plus 30 cents for each online transaction.

Stripe Connect charges 0.25% on payout volume and 25 cents per payout.

ACH direct debits cost 0.8% with a $5 cap.

International transactions in other currencies have different fees.

PayPal charges 2.99% plus 49 cents per transaction if the funds are from a U.S. account. Nonprofit organizations get a discounted rate.

For American Express cards, the transaction fee is 3.5%.

International transactions in other currencies have different fees.

In-person payments using the Square POS: 2.6% plus 10 cents for all card types.

Online or phone payments: 3.5% plus 15 cents per transaction.

These rates are for businesses that process less than $250,000 per year and have an average ticket size under $15. If your business is larger, Square will do custom pricing. Note that sometimes the custom rates are more than 2.6% plus 10 cents.

There's a 1% upcharge for international cards and a 1% upcharge if currency conversion is required.

Disputed charges incur a $15 fee.

Small businesses can also design custom packages. Rates vary depending on volume discounts, multiproduct discounts and country-specific rates. Pricing is also quote-based for the custom Connect plan.

Optional recurring billing services cost $10 per month.

Optional advanced Fraud Protection Services are $10 per month plus 5 cents per transaction.

Other fees, including chargeback fees and mobile card reader fees, are on PayPal's merchant fees page.

Online invoices cost 2.75% per invoice.

Appointment prepayments run 2.9% plus 30 cents.

Manually entered transactions are 3.5% plus 15 cents per transaction.
Stripe may be your best option if you want customizable software at a relatively low price. But if a simple setup is more important, you may want to go with PayPal. On price alone, Square may be tough to beat.
Accept payments, avoid surprises
Answer a few questions to match your business with our selected payment partners.