What Car Expenses Are Tax-Deductible?
What counts (driving to a business meeting), what doesn't (parking at your office), and how you can claim your deduction (get out your calculator).
Many or all of the products featured here are from our partners who compensate us. This may influence which products we write about and where and how the product appears on a page. However, this does not influence our evaluations. Our opinions are our own. Here is a list of our partners and here's how we make money.
---
Wait, the law has changed
---
If you used your own car, truck or van for business purposes, you might be able to deduct some of the cost. It's not the simplest part of the tax code, and there are a lot of exceptions, but knowing the basics could cut your tax bill.
Don't be intimidated by the phrase "business use." You don't have to be a business owner to get this deduction. Even if you're an employee, trips like these can get you a tax break for the 2017 tax year:
Visiting clients or customers

Going to a business meeting away from your regular office

Travel from your main job to your second job

Travel from home to a temporary (less than a year) work location

Travel from your main job location to a temporary work location
Generally, you can deduct either:
Your actual operating costs and depreciation
The IRS usually doesn't allow a tax deduction for:
The personal use of your vehicle

Your daily commute to the office, even if you're working on the way

Parking at your regular place of business

Tickets or fines related to your driving

Interest on your car loan, if you're not self-employed

Mileage or expenses your employer reimburses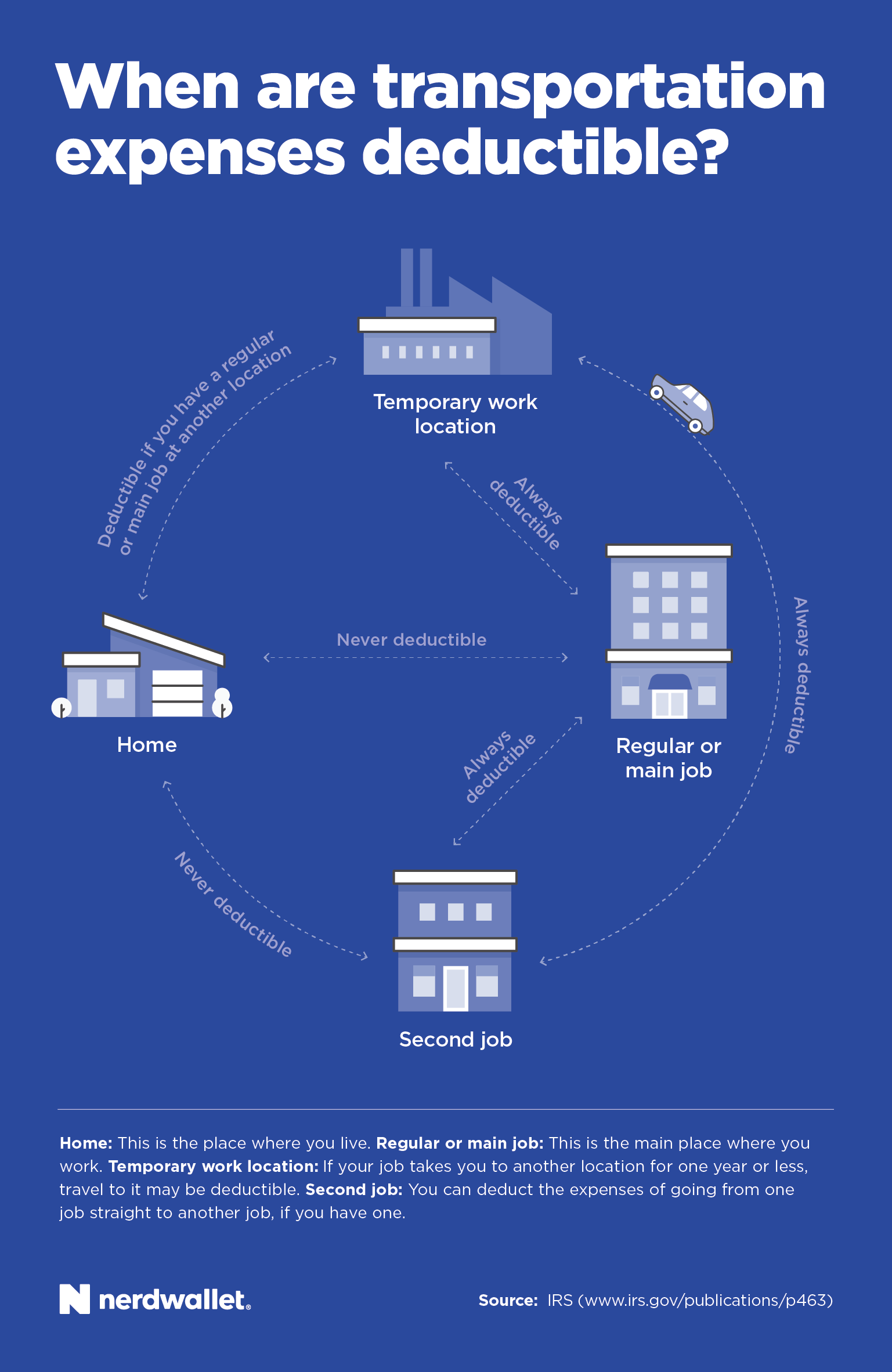 How to take the auto expenses tax deduction
1. Determine how much of your vehicle use was for business
Start by calculating how many miles you drove for business purposes during the year. Figure out what that is as a percentage of all the miles you put on the vehicle. For example, if you put 20,000 miles on your car during the 2017 tax year and 5,000 were for business purposes, then 25% of those miles were for business purposes.
Note: Contrary to popular belief, putting a display ad on your vehicle doesn't mean you can write off every trip. Only trips for business purposes count.
2. Decide whether you'll deduct actual expenses or flat rate
As noted, for the 2017 tax year you can deduct either:
Your actual operating costs and depreciation

A flat rate of 53.5 cents per mile
Figure your deduction both ways to see which is bigger. If your operating expenses were $5,000 for the year, then in our example the decision becomes whether to deduct:
$5,000 x 25% business use = $1,250

53.5 cents x 5,000 miles = $2,675
Actual operating expenses generally include stuff like:
Think ahead: Generally, if you deduct your actual expenses in the first year you use the vehicle for business, you can't change your mind later and use the flat rate the next year.
"A lot of people don't have the time or want to keep every single gas receipt and every single tuneup receipt. All of that stuff throughout the year is a lot to keep track of," says Amy Northard, a certified public accountant in Indianapolis. "I think a lot of people end up opting for the mileage option, just because it's easier."
"

Putting a display ad on your vehicle doesn't mean you can write off every trip. Only trips for business purposes count.

"
The auto deduction typically isn't life-changing for many people, says Denver-area CPA Josh Bauerle. That's because if you're an employee, you can deduct only the amount that's over 2% of your adjusted gross income for the 2017 tax year. So if your AGI is $100,000, you can deduct the expenses that are above $2,000. In our example, only the flat-rate method would get you a deduction in that case (it would be $675). The good news is a ton of other auto-related deductions are available. Scroll down to the bottom of the article to see a list of examples.
The IRS doesn't accept guesses as proof you're entitled to a deduction, Northard warns. Be sure you have receipts. To deduct mileage, you'll need a record of:
The purpose of the business trip

The business miles driven on the trip

The car's odometer readings at the beginning and end of the year
5. Use Schedule A or Schedule C when you file your return
That's where you figure your deduction. Schedule A is for individual filers; Schedule C is for the self-employed. If you want this deduction, you'll have to itemize your taxes instead of taking the standard deduction. It'll probably take more time, but you could end up with a lower tax bill. (Learn how to decide whether itemizing is worth it for you.)
The auto expense tax deduction isn't the only way to write off vehicle expenses. Other parts of the tax code have car perks, too. Here are some examples of other things you might be able to deduct in the 2017 tax year, and where to learn more.
17 cents per mile or actual expenses while moving to a new home

17 cents per mile or actual expenses for medical purposes

14 cents per mile for volunteering

53.5 cents per mile for job hunting in your current field

The portion of your registration that is personal property tax